DRAX has entered into carbon capture agreements with services company Bechtel, and industrial firm Mitsubishi Heavy Industries (MHI) that will further progress on bioenergy with carbon capture and storage (BECCS).
The UK-based energy company signed a contract with MHI to use its CO2 capture technology Advanced KM CDR Process.
Drax and Bechtel have partnered to explore global opportunities to build BECCS, which combines combustion of biomass to generate energy, with carbon capture and storage (CCS). Engineers have said development of the technology will be vital  for achieving climate goals.
Combining technologies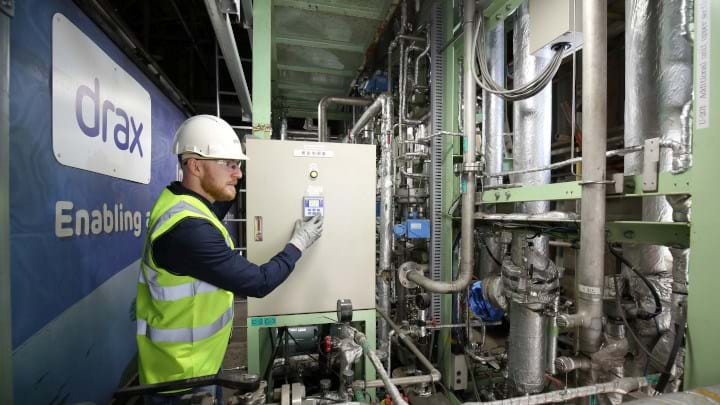 Drax
Drax is licensing MHI's carbon capture solvent KS-21, an amine-based adsorbent which Drax has already trialled. Drax announced a pilot plant to test MHI's capture technology last year, which Drax CEO Will Gardiner said would further its understanding of the potential for deploying BECCS at scale, at Drax.
The new agreement will see the energy company use MHI's solvent at its power station near Selby, North Yorkshire, UK.
MHI will locate a core CCS team at the company's European headquarters in London, and explore opportunities for additional UK employment in the future. The firm is looking for ways to strengthen its supply chain, including producing its solvent in the UK.
CO2 captured using MHI's technology will be stored in geological formations under the North Sea.
With climate action in sharp focus this week, as world leaders convene in the UK for the G7 Summit, Drax says this partnership will help the country achieve its goal of cutting emissions by 78%, by 2035.
Gardiner said: "The world urgently needs to move from making climate pledges to taking climate action. This game-changing contract between Drax and MHI could contribute to a decade of global environmental leadership from the UK and provide further stimulus to a post-Covid economic recovery."
Exploring BECCS opportunities
According to Drax and Bechtel, over the coming decades, BECCS will be critical for delivering the Paris Agreement climate targets and keeping the world en route to limiting global warming to 1.5°C.
Together, they will look for options and locations to build BECCS power plants around the world. They will also work to identify how to optimise the design of a new build BECCS plant using the latest technology and best practice in engineering design.
Drax has converted its power station near Selby to use biomass instead of coal. This has reduced emissions by more than 85%. By employing BECCS, the company aims to become carbon negative by 2030.
With effective policy and investment framework from the government, Drax says the first BECCS unit at its site could become operational as soon as 2027. This would deliver the UK's largest carbon capture project, generate jobs as early as 2024, and capture and store 8m t/y of CO2 by 2030.
In March, the company "kickstarted" the planning process for proposals to build BECCS technology, marking a major milestone in the project.