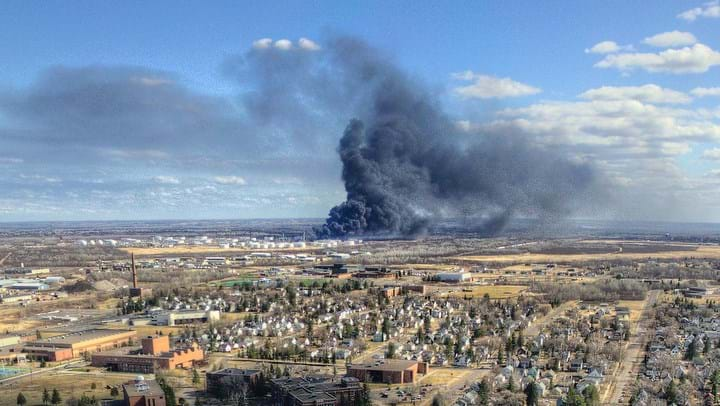 FAILURE to learn from a similar incident investigation released less than a year prior is among six key safety issues that contributed to the 2018 explosion at the Superior refinery in Wisconsin, US, says the US Chemical Safety and Hazard Investigation Board (CSB).
The explosion injured 36 workers, released 17.7 t of flammable hydrocarbon vapour, and caused about US$550m in damage to the facility operated by Husky Energy. While it did not occur, there had also been the potential for a leak of hydrofluoric acid (HF), a highly toxic chemical which was stored and used at the refinery.
The CSB's final report explains how the 2018 incident occurred while the fluid catalytic cracking (FCC) unit was being shut down for planned maintenance. Two FCC vessels exploded and propelled fragments up to 365 m away, puncturing a nearby asphalt storage tank at the refinery. About 17,000 bbls of hot asphalt spilled and ignited, causing multiple fires.
Less than a year before the Superior incident, the CSB released a similar investigation for another FCC unit in California. It therefore said that Husky Energy employees were either unaware of or did not learn from the California incident. CSB further highlighted a lack of common process safety expectations for FCC units, highlighting that more than six companies offer their own designs and configurations for license and many older units in the US have been revamped by multiple technology licensors.
CSB also pointed to a lack of implemented or effective transient operations safeguards for FCC units at the time of the explosion. FCC technology processes both air and flammable hydrocarbons inside interconnected process equipment, which increases the likelihood of explosion. During FCC shutdown, it is important to separate these gases to prevent explosive mixtures.
Limited use of external experts
Another key issue was lack of process knowledge. CSB explained that throughout Superior's history it has had several owners and FCC expertise was mostly in-house with limited use of external experts and minimal technical engagement with other refineries. At the time of the incident, Husky Energy had owned the plant for just six months and employees did not adequately understand or know how to effectively control the FCC unit's transient operations hazards.
The hazard investigator further blamed a lack of process safety management and emergency preparedness, as well as inferior vessel construction.
Subsequently, CSB makes 16 safety recommendations to several organisations including Cenovus Energy which merged with Husky Energy in 2021. In particular, CSB outlines actions for Cenovus to improve refinery operations and calls on the US Environmental Protection Agency (EPA) to develop a program that prioritises FCC unit inspection in refineries that operate HF alkylation units. Part of the program would verify FCC safeguards to prevent explosions during transient operations.   
In 2019, CSB called for the EPA to review and update its 1993 HF study to determine whether existing risk management strategies were adequate to prevent catastrophic releases.
Steve Owens, CSB chairperson, said: "Refineries with FCC units…especially those with [HF] alkylation units, should review our report thoroughly and ensure that they have the necessary safeguards in place to prevent a similar disaster from occurring at their facilities during shutdowns and startups. This accident could have been avoided."
CSB board member Sylvia Johnson additionally called on trade groups and regulators to examine the report and learn lessons towards improving safety.
Alkylation options
Refineries use HF as a catalyst for producing high octane gasoline through alkylation, which is carried out in the presence of a strong acid such as HF or sulfuric acid. Release of the toxic chemical can be a concern when incidents occur, as in the 2018 incident. Though no release occurred, it had been a possibility as the HF unit was closer to the point of explosion than the asphalt tank.
Such concerns could be avoided with implementation of safer alternative alkylation technologies, such as Honeywell UOP and Chevron's ionic liquid-based technology, which the partners began operating at commercial scale in 2021.