ON 31 July an explosion and subsequent fire broke out at an ExxonMobil plant in Baytown, Harris County, Texas injuring 37 people, reports local news media site Click 2 Houston.
American news company CNN reports that according to Exxon spokesperson Natasha Barret, the fire started at 11:07 local time. Harris County Judge Lina Hidalgo said that the fire was contained by 17:35, reports Click 2 Houston.
The explosion occurred at Exxon's Baytown Olefins Plant, one of the largest ethylene plants in the world. According to Exxon's Baytown Area Twitter page the unit involved is used to process light hydrocarbons, including propane and propylene. To extinguish the fire the unit was isolated, leaving the fire to burn itself out, reports Click 2 Houston.
Exxon said that 66 employees and contractors were examined at an occupational health clinic, adding that media reports that 66 people were injured are incorrect. According to Click 2 Houston, 37 people experienced non-life-threatening injuries which Plant Manager Jason Duncan described as "minor burns". Exxon said workers received first-aid treatment before being released.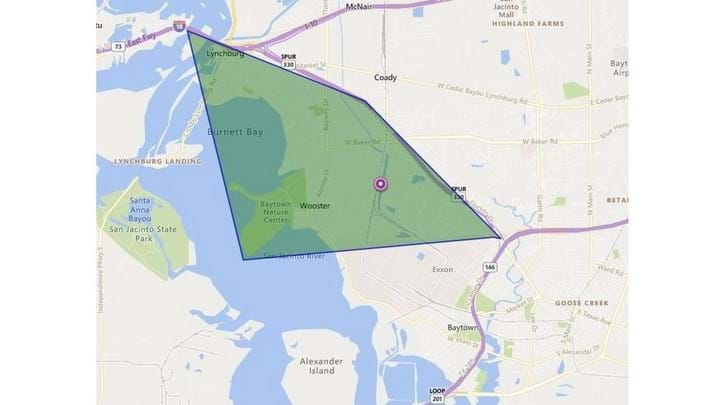 @CityofBaytown
After the fire broke out Exxon requested that Baytown issue a "Shelter in place" west of its plant and south of the Texas Spur 330 Freeway out of an "abundance of caution," according to the City of Baytown Twitter page. The warning instructs those in a specific area to seek safety in the building they are occupying. According to CNN, the Shelter in place was issued about 10 minutes after the incident occurred. Baytown announced that it had lifted the Shelter in place at 15:05 local time.
As a precaution, Exxon's industrial hygiene staff conducted air quality monitoring at the site and at the fenceline. The information available so far indicates no adverse impacts. According to CNN, the city and county are also monitoring the air. According to Houston news company abc13, the Texas Commission on Environmental Quality is also monitoring the air.
CNN reported that the cause of the incident is unknown. An investigation into the incident is underway, said ExxonMobil, adding that it is cooperating with relevant government agencies and local stakeholders.
"Our first priority remains the safety of people, including our employees, contractors and the community," the company said.
"We regret any disruption or inconvenience this incident has caused to the community."
Abc13 reports that in March a fire occurred at an Exxon refinery, in Baytown, Texas. Reportedly the incident caused pollutants, including sulfur dioxide, hydrogen sulfide, and benzene to be released for eight days. The report adds that Harris County issued Exxon with a violation notice and is currently suing the company in relation to the incident.
Furthermore, abc13 adds that so far this year the refinery has experienced 17 other incidents, though those did not lead to fires, and the olefins plant has emitted unpermitted chemicals into the air twice.