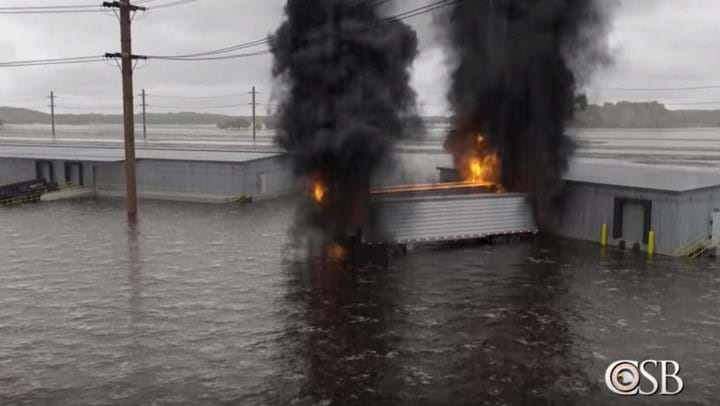 A US court has dismissed charges against Arkema relating to the peroxide fire and harmful emissions that occurred when Hurricane Harvey hit its Texas site in 2017.
The facility in Crosby, Texas, was flooded during the hurricane which caused a power cut and led to the ignition of organic peroxides, which need to be refrigerated. This led to the evacuation of around 200 people and 21 first responders were admitted to hospital after inhaling the fumes.
The US Chemical Safety Board (CSB) published its final report on the Arkema incident in 2018, noting that the risk of severe flooding was not documented by Arkema during its hazard analysis despite the site being located on a flood plain.
Criminal charges of reckless emission of air pollutants were brought against Arkema, the CEO of Arkema North America Rich Rowe, and former plant manager Leslie Comardelle by Harris Country District Attorney Kim Ogg in 2018. Arkema was facing a US$1m fine and Rowe and Comardelle were facing up to five years in prison if convicted. The prosecution argued that Arkema failed to prepare the plant for the hurricane by not moving the organic peroxides before the storm arrived.
However, Judge Belinda Hill acquitted Rowe on 30 September on the grounds that there was insufficient evidence to bring the case to a jury. The same argument was used on 1 October to dismiss the charges against the company and Comardelle.
Arkema said in a statement: "We're pleased to see the end of this trial, which should never have taken place at all. This trial sought to criminalise the impact of a natural disaster that Harris County itself was not prepared for. While Arkema was found to have been prepared for a 500-year flood, our Crosby plant had a 5,000–20,000 year rainfall and the resulting flooding rose 30 inches above the 500-year flood level. Our plant employees went to heroic lengths to protect the public, and when flooding overwhelmed their every effort, we proactively notified emergency responders and the public, days before the first fire started.  We communicated extensively with the Unified Command that coordinated emergency response, and explicitly warned that emergency responders should wear respirators if they might be exposed to smoke from the fires. We cannot fathom why they did not do so, but it certainly was not for lack of warning."
Dane Schiller, spokesman for the Harris County District Attorney's office, said: "Today's ruling by a judge doesn't change the fact that dangerous chemicals on Arkema property ignited and were belched in a cloud of toxic smoke over the surrounding communities, and a first responder there protecting people is now on a lung-transplant list."