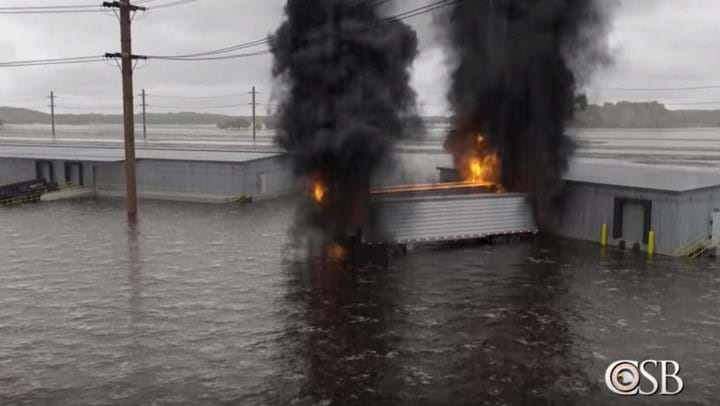 ARKEMA, its CEO and the manager of the plant in Texas that caught fire after Hurricane Harvey battered the US last year, have been indicted for recklessly releasing chemicals.
A grand jury concluded that Arkema North America, its CEO Richard Rowe and the Crosby plant manager Leslie Comardelle were responsible for the release of a toxic cloud over the local community. The indictment charges that all had a role in "recklessly" releasing chemicals into the air and placing residents and first responders at risk of serious bodily injury, a press statement from Harris County District Attorney reads.
Arkema has hit back saying it is outrageous to assert the company or any of its employees have behaved criminally.
Unprecedented rainfall
In August 2017, a fire broke out at the Arkema chemical plant Texas after flooding from Hurricane Harvey caused power failures at the plant. Arkema manufactures organic peroxides, some of which must be stored below freezing to prevent them from combusting. The unprecedented rainfall during the hurricane caused power and backup power to fail at the low-temperature warehouses. Staff moved the organic peroxides into refrigerated trucks, which also succumbed to power failures.
Employees were evacuated along with residents living within a 2.4 km radius. Around 150 t of organic peroxides decomposed and caught fire, releasing fumes and smoke that resulted in 21 people seeking medical attention including emergency responders, and the evacuation of more than 200 residents who could not return home for more than a week.
An investigation by the US Chemical Safety Board (CSB) found that though Arkema had not specifically planned for flooding, the safeguards at Crosby were sufficient to guard against a once-in-a-500-year-flood; unfortunately, Hurricane Harvey was much greater than this. The CSB pointed out that there is limited guidance for industry on the subject of flooding, and had it been available it likely would have been insufficient to provide conservative enough levels of action "to protect against the hazards posed by the immense flooding that occurred during Hurricane Harvey".
Unprecedented indictment
In response to the indictment, Arkema said: "No one needs a reminder that Hurricane Harvey devastated a wide region. It overcame the preparedness efforts of millions of individuals, and many, many companies and government agencies. It is hard to believe anyone would seek to criminalise the way in which one facility was impacted by such a crushing natural disaster."
If convicted, the CEO and plant manager face up to five years in prison and the company a US$1m fine.
"Companies don't make decisions, people do," Harris County district attorney Kim Ogg said. "Responsibility for pursuing profit over the health of innocent people rests with the leadership of Arkema."
Rusty Hardin, an attorney who represents Arkema, said the indictment has no legal precedent and there is no foundation for a criminal case.
"It was only when faced with the worst tropical rainfall event ever recorded in US history – one that overwhelmed an entire region – that the Arkema facility was overcome. It's hard to imagine any reasonable, objective person calling that criminal," Hardin said.
"Ultimately, in pursuing these charges against Arkema, Harris County will have the daunting task of trying to prove that Arkema anticipated the possibility of six feet of floodwater and then decided not to prepare for it. This will prove to be impossible, because it's not what happened."
In the wake of its investigation, CSB called for more robust industry guidance to be developed to help hazardous chemicals facilities better prepare for extreme weather events so that similar incidents can be avoided. It also called on companies to evaluate and mitigate the risk from extreme weather events and apply a sufficiently conservative approach to risk management.
"When considering flooding, facilities should ensure that critical safeguards and equipment are not susceptible to failure by a common cause [in this case flooding] and that independent layers of protection are available in the event of high water levels."