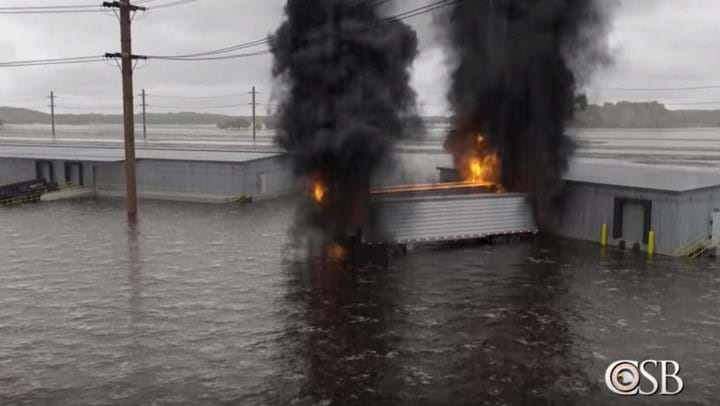 THE US Chemical Safety Board (CSB) has released its final report and an updated animation on the Arkema chemical fire which occurred due to flooding during Hurricane Harvey last year.
On 31 August 2017, a fire broke out at the Arkema chemical plant Texas after flooding from Hurricane Harvey caused power failures at the plant. Arkema manufactures organic peroxides, some of which must be stored below freezing to prevent them from combusting. The unprecedented rainfall during the hurricane caused power and backup power to fail at the low-temperature warehouses. Staff moved the organic peroxides into refrigerated trucks, which also succumbed to power failures.
Employees were evacuated along with residents living within a 2.4 km radius. The organic peroxide decomposed and caught fire, releasing fumes and smoke that resulted in 21 people seeking medical attention.
In its final report, the CSB highlights that assessing the risks for flooding and planning emergency procedures is essential.
"Our investigation found that there is a significant lack of guidance in planning for flooding or other severe weather events," said CSB chairperson Vanessa Allen Sutherland. "Based on other government reports, we know that there is a greater likelihood of more severe weather across the country. As we prepare for this year's hurricane season, it is critical that industry better understand the safety hazards posed by extreme weather events." 
The video notes that workers at the facility assumed that the water levels would stop rising. Another issue that was highlighted was that a highway through the evacuation zone remained open, exposing emergency responders to hazardous fumes. In addition, the risk posed by severe flooding was not documented by the team who did the process hazard analysis for the low-temperature warehouses. A 2007 flood map showed that the entire facility was located on a flood plain.
Experts discussing the video on social media noted that basic lessons have not been learned, as a flood that led to power failure was the same initiating event that caused the meltdown at the Fukushima Daiichi nuclear power plant in 2011.