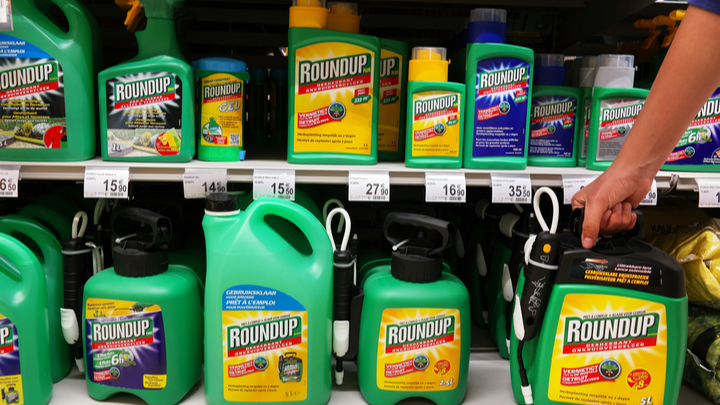 tdefotoberg / Shutterstock.com
A JURY has ruled in favour of a terminally ill cancer patient who claimed that Monsanto's glyphosate-based weedkiller caused his cancer.
In 2015, the International Agency for Research on Cancer (IARC), which is part of the World Health Organization, concluded that glyphosate is probably carcinogenic to humans. This led to hundreds of lawsuits being filed in the US against Monsanto claiming that the company's Roundup and Ranger Pro weedkillers causes cancer. Dewayne Johnson's case was the first to go to trial because he has less than two years to live.
Johnson regularly used Ranger Pro weedkiller while working as a school groundskeeper in Benicia, California. He also had two accidents, including when a hose broke, when he was completely drenched with the product. Johnson was diagnosed with non-Hodgkin lymphoma in 2014.
Johnson's lawyers claimed that Monsanto has known for decades that glyphosate is carcinogenic but didn't include a cancer warning label on the product. Monsanto has denied that glyphosate causes cancer and argued that the weedkiller could not have caused Johnson's illness, as cancer takes at least 2.5 years to develop, and his symptoms appeared too quickly. The company suggested that his cancer was inherited.
The trial lasted eight weeks and concluded on 10 August when the jury ordered Monsanto to pay US$289m in compensation to Johnson. The jury found that the use of Ranger Pro had contributed "substantially" to Johnson's terminal illness and that Monsanto had acted with "malice" by not providing a warning label on the potential carcinogenic properties.
Monsanto said in a statement: "We are sympathetic to Mr Johnson and his family. We will appeal this decision and continue to vigorously defend this product, which has a 40-year history of safe use and continues to be a vital, effective, and safe tool for farmers and others."
Bayer, which acquired Monsanto for US$63bn in June but plans to drop the Monsanto name, said: "Bayer is confident, based on the strength of the science, the conclusions of regulators around the world and decades of experience, that glyphosate is safe for use and does not cause cancer when used according to the label."
Shares in Bayer dropped 12% following the ruling.
Glyphosate controversy
Glyphosate was introduced by Monsanto in 1974. It is sold in products by various different manufacturers since the patent expired in 2000 and it is now the most commonly-used weedkiller in the world.
The link between glyphosate exposure and non-Hodgkin lymphoma is inconclusive, with studies both for and against the link arguing that measurement errors and different statistical methods have skewed results. Many regulatory bodies have ruled that there is no link between glyphosate and cancer, including the European Food Safety Authority. The EFSA concluded in 2015 that glyphosate  is unlikely to cause cancer in humans, but also introduced an acceptable exposure level for operators and acceptable daily intake for consumers.
Paul Pharoah, professor of cancer epidemiology at the University of Cambridge, commented: "The epidemiological evidence that glycophosphates are associated with an increased risk of lymphoma is very weak. This is why IARC class them as possibly carcinogenic. Furthermore if there were a risk, it is modest and would not be big enough to conclude that it is more likely than not that in any given individual with lymphoma who was exposed to glycophosphates that the exposure was cause of their cancer."
Sophien Kamoun, group leader at the Sainsbury Laboratory in Norwich, said: "Unfortunately, the press coverage of the trial decision does equate this to a decision on glyphosate. But it is more complex than that, and the formulations discussed at the trial from what I understand were a combination of Roundup and Ranger Pro. I think that we as scientists should acknowledge that even if glyphosate is safe there is little data to conclude that Roundup and Ranger Pro are safe."
Legislation
Glyphosate was first approved by the European Commission (EC) in 2002 with a 15-year licence. In 2016, the EC proposed to member states to renew the license for a further ten years, but this resulted in an 18-month deadlock due to countries failing to agree on a decision. A five-year licence was eventually granted in November 2017.
Many other countries and regions have restricted or banned the use of glyphosate products in the last few years. Sri Lanka was the first country to issue a nationwide ban in 2015, but lifted the ban in July following a drop in tea production due to plantations being plagued by weeds.
Guy Smith, deputy president of the National Farmers' Union, told The Guardian: "We're in the same place as when they ruled it was safe to use. We don't think the opinion of a Californian jury should change that. Its most common use in UK farming is to kill weeds in the autumn before seeds are planted. Without glyphosate, I would have to plough and cultivate the land. That would use extra diesel, which is bad for the soil and the environment."
Emma Hockridge, head of policy at environmental group Soil Association, said: "The ruling in this court case is a dramatic blow to the future use of glyphosate. We need to urgently change our systems of weed control to stop relying on herbicides. It was disturbing in this case to hear that Monsanto had knowledge of the potentially harmful effects, but the court case also really highlights the problem with relying on chemical pesticides globally, as so little is known about the long-term environmental and health impacts."