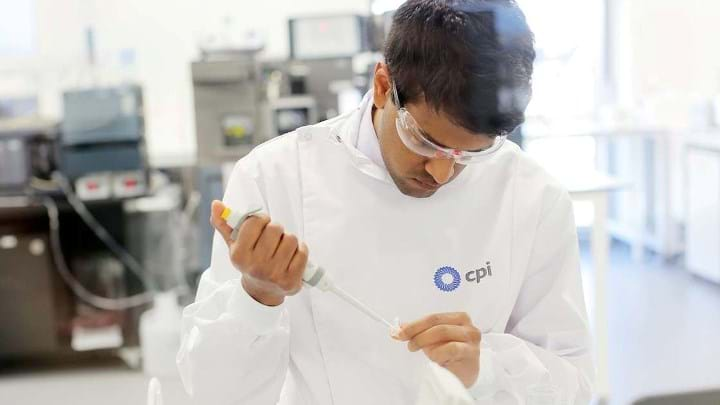 CPI
CPI is partnering with ImmunoBiology (ImmBio) to develop a vaccine that protects against illnesses such as pneumonia but is stable when stored at higher temperatures.
Low income countries often do not have the storage and transport infrastructure needed to keep vaccines refrigerated, which is vital to keeping the vaccine active. This reliance on refrigeration is known as the cold chain, and breaking it is important to bring life-saving vaccines to places where they are urgently needed.
The bacterium Streptococcus pneumoniae causes diseases such as meningitis, septicaemia, and pneumonia. There are 50m cases per year with a fatality rate of 0.7%, with the elderly and very young being the most vulnerable.
According to the World Health Organization, around 90 distinct pneumococcal serotypes – variations in a species of bacteria – have been identified. Pneumococcal vaccines are typically serotype-specific which means they are designed to cover the serotypes most likely to cause pneumococcal diseases.
UK-based biotechnology company ImmBio has developed a vaccine candidate called PnuBioVax which can provide broad protection against pneumococcal diseases. It uses a well characterised mix of proteins and can vaccinate against pneumococcal diseases regardless of serotype. The vaccine was successfully demonstrated in a human trial in 2016. It was well tolerated and produced an increase in the desired antibodies.
The partnership with CPI will allow the development of a heat-stable formulation of PnuBioVax that will remove the requirement for the cold chain for this vaccine. CPI will evaluate the current formulation before producing a formulation that is stable at 2–8oC and higher.
Enrique Tabares, CEO at ImmBio, said: ​"The cold chain contributes to the high cost of biologics and there is a risk that sensitive vaccines may be wasted due to environmental shocks. We are therefore delighted to be working with CPI on the development of a heat-stabilised PnuBioVax formulation. This will be a fantastic step towards improving the accessibility of this exciting vaccine."
Lucy Foley, Director of Biologics at CPI, said: ​"PnuBioVax has the potential to provide broad protection against very serious pneumococcal diseases and we are excited to be applying our biopharmaceutical expertise in order to help optimise the vaccine's formulation. By leveraging our knowledge and experience in the development and production of biopharmaceuticals, we aim to significantly improve the vaccine's transport and storage costs and also improve accessibility."