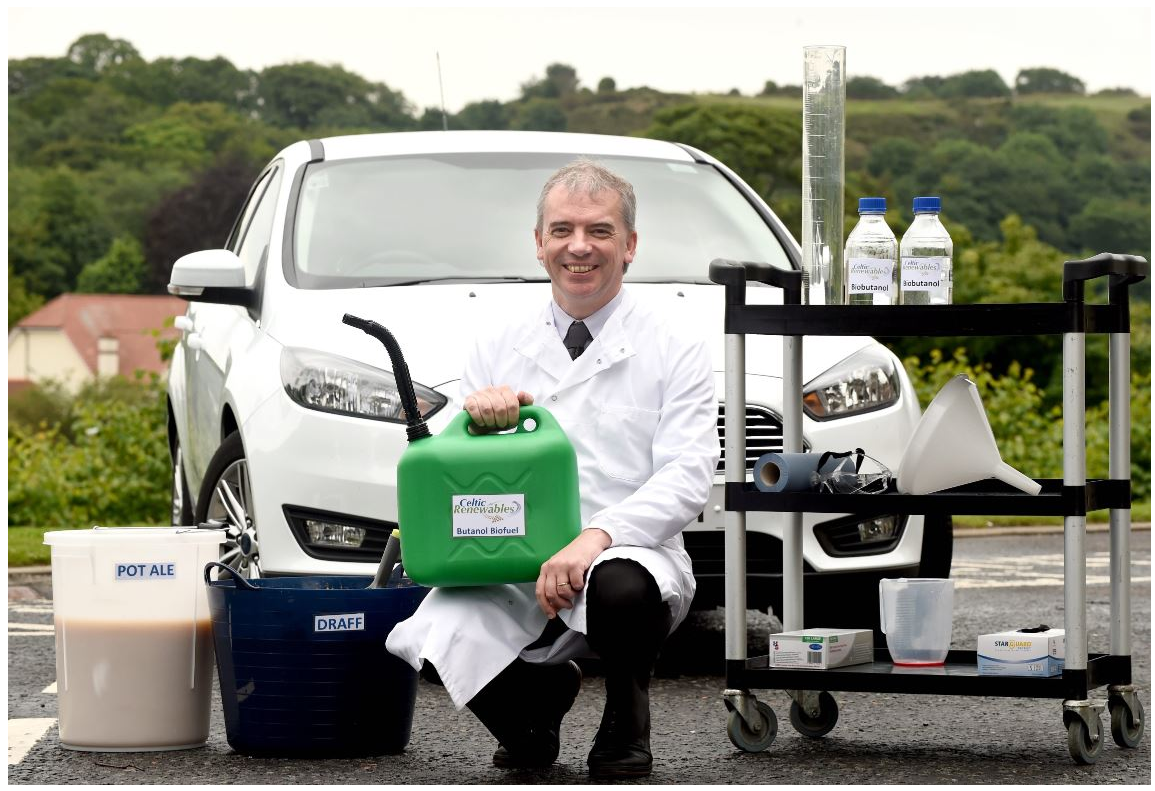 PROCESS developers are celebrating a roadtrip fuelled by whisky waste.
Celtic Renewables, which took home an IChemE Award in 2012 for its innovative work on biofuels, is claiming a world-first after driving a car fuelled with biobutanol produced from draff and pot ale whisky byproducts from Scotland's Tullibardine Distillery.
Company founder Martin Tangney said: "This is the first time in history that a car has ever been driven with a biofuel produced from whisky production residues. It is fitting to do this historic drive in Scotland, which is famous not just for its world-renowned whisky but also for being a powerhouse for renewable energy."
Each year, Scotland's malt whisky industry produces around 750,000 t of draff, the sugar-rich kernels of barley which are soaked in water to facilitate the fermentation process necessary for whisky production, and 2bn l of pot ale, the copper-containing yeasty liquid that is left over from distillation.
The company uses bacterial fermentation to turn a mixture of the draff and pot ale into a broth of chemicals including acetone, butanol, and ethanol. This year, Celtic Renewables received £9m (US$11.6m) in funding from the Scottish government to build a commercial facility at the refining and chemicals hub in Grangemouth. This is scheduled to be commissioned next year. Tangney told The Chemical Engineer that he expects it to produce "at least half a million litres of butanol a year."
The fuel can be burned in existing engines without modification, he explains.
"Technically, you can burn it 100% in a car but legally the ratified blend across Europe is 15% - so that is what we did yesterday."
"We took a bottle of butanol, measured out 1.5 l and chucked it in on top of 8.5 l of petrol in a petrol can. There and then, no problem. Mixed it. Chucked it straight into the car."
Promoting the virtues of butanol, Tangney explained that it can be transported in existing fuel infrastructure without modification; and has an energy density similar to petrol but higher than ethanol, which has been the focus of considerable subsidisation by governments.
The broth produced by the process contains acetone, butanol, and ethanol at a ratio of 3:6:1. They are separated using distillation, with the acetone suitable for use as a feedstock for the plastics industry, and ethanol produced in small volumes likely to be used initially in-house for cleaning and for laboratory purposes. The process also produces hydrogen, which would be suitable for use as a source of energy at the operations, and a solid fraction that will be sold as animal feed.
The so-called 'ABE' process is modified from an old out-of-favour production route. Tangney explains that at its peak in the 1960s it was the workhorse of the second biggest biological industry in the world (after the alcohol drinks industry) producing acetone for explosives. However, it was superseded by petrochemical sources which were cheaper than crop-based feedstocks.
"The material [we use as a feedstock] is sugar-depleted because you've already taken the glucose out to make the whisky. So that is the innovation – adapting the fermentation to a sugar-depleted medium. It is counter intuitive to use something like that [for fermentation] – but we got it to work."
Producing butanol from biological sources is not particularly novel in itself, though questions have been raised about the ethical, environmental and economic benefits of the wider use of food crops grown specifically for the purpose.
"Celtic Renewables is playing its part in sustainability by taking this initiative from a research project at Edinburgh Napier University to, what we believe will be, a multi-billion-pound global business with the opportunity to turn transport green," said Tangney.