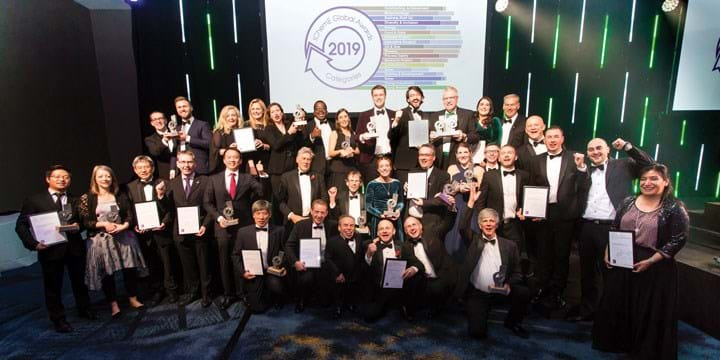 Event paints picture of 'why and how chemical engineering matters'
ICHEME's Global Awards were hosted on 7 November by actor Warwick Davis in Hull, UK. The awards saw The University of Birmingham's Centre for Energy Storage, together with Chinese firm Jinhe Energy, triumph with their technology that can use surplus wind power.
The partners have designed a thermal energy storage technology using a new composite phase change material (CPCM). A phase change material stores heat when it changes from a solid to a liquid, and releases heat when it returns to the solid state. However, the phase change also changes the shape. The project, known as The NexGen-TEST Project, resolved this issue by creating the composite. They added a structural material to stabilise the shape and provide mechanical strength, along with a heat transfer enhancement material.
The CPCM can address the "wrong-time" generation of renewable electricity by using surplus wind energy, that would otherwise be wasted, to store energy as heat for space heating. This can be used to replace coal-fired boilers. The technology has been demonstrated at the world's first CPCM-based plant in Altay of Xinjiang, China, and is commercially-viable at scale. The plant has used 28,920,000 kWh of surplus wind energy and reduced its CO2 emissions by 10,000 t.
They aim to double the current installations in the next two years.
The NexGen-TEST Project won both the Energy Award  and Research Project Award, before going on to be presented with IChemE's  Outstanding Achievement Award, sponsored by ExxonMobil.
Young talent
The Young Researcher Award went to Florence Gschwend, co-founder of Imperial spin-out company Chrysalix Technologies, for her company's bio-economy technology, which turns unwanted waste wood into renewable chemicals, material and fuels. The Young Industrialist Award was won by Thomas Isaac at Progressive Energy for his work on overcoming barriers to hydrogen deployment within the UK energy system with the HyDeploy energy programme.
The Sustainability Award was won by Avertana, a New Zealand based company that has developed a process for converting industrial waste streams, such as steel slag, to raw materials such as titanium dioxide, gypsum, alum, and Epsom salts. These can be used to make products such as paint, paper, fertiliser, and cement. The process has a lower production cost and environmental footprint than conventional methods. It can also be deployed at new facilities or retrofitted to old ones.