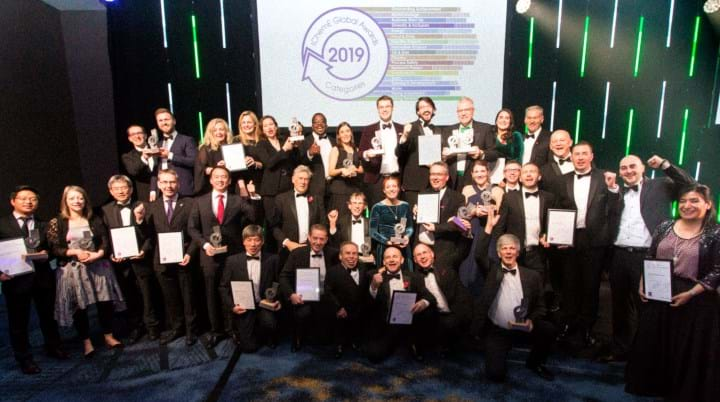 ICHEME's Global Awards saw The University of Birmingham's Centre for Energy Storage, together with Chinese firm Jinhe Energy, triumph with their technology that can use surplus wind power.
The partners have designed a thermal energy storage technology using a new composite phase change material (CPCM). This can address the "wrong-time" generation of renewable electricity by using surplus wind energy, that would otherwise be wasted, to store energy as heat for space heating. This can be used to replace coal-fired boilers. The technology has been demonstrated at the world's first CPCM-based plant in Altay of Xinjiang, China, and is commercially-viable at scale. The plant has used 28,920,000 kWh of surplus wind energy and reduced its CO2 emissions by 10,000 t.
The project, known as The NexGen-TEST Project, won both the Energy Award and Research Project Award, before going on to be presented with IChemE's Outstanding Achievement Award, sponsored by ExxonMobil.
The awards were hosted yesterday evening by actor Warwick Davis in Hull, UK.
Micropore Technologies won both the Pharma and Innovative Project awards for its membrane emulsification which can produce monodisperse droplets at industrial scale.
The Young Researcher Award went to Florence Gschwend, co-founder of Imperial spin-out company Chrysalix Technologies, for her company's bio-economy technology, which turns unwanted waste wood into renewable chemicals, material and fuels. The Young Industrialist Award was won by Thomas Isaac at Progressive Energy for his work on overcoming barriers to hydrogen deployment within the UK energy system with the HyDeploy energy programme.
The Sustainability Award was won by Avertana, a New Zealand based company that has developed a process for converting industrial waste streams to raw materials. University College London received the Business Start Up Award for their single-mode microwave reactor that can create defect-free graphene without the need for toxic chemicals.
University College London also won the Training and Development Award for its project Bioprocess Engineering Leadership Centre, which works closely with industry to focus on company-collaborative research that addresses real world engineering challenges. The Diversity and Inclusion Award was won by Costain, for its pioneering inclusion strategy, aimed at addressing key diversity concerns within the engineering industry such as LGBT and female representation.
The Team Award went to Engie Fabricom UK, Nippon Gohsei, INEOS Oxide, and Zeeco for their design of a temporary flaring solution that allowed Nippon Gohsei's EVOH Plant in Hull to continue manufacturing whilst its permanent flaring facility was non-operational.
The full list of winners is available here and more detail on each project can be found here.
IChemE President Ken Rivers said: "Our profession has always shown incredible passion. Today, chemical engineers are constantly striving for better products, improved processes, and more environmentally friendly solutions. The Global Awards has always managed to distil the best of chemical engineering into one glorious evening, and last night we were able to paint a picture of why and how chemical engineering matters. Congratulations to all the winners."