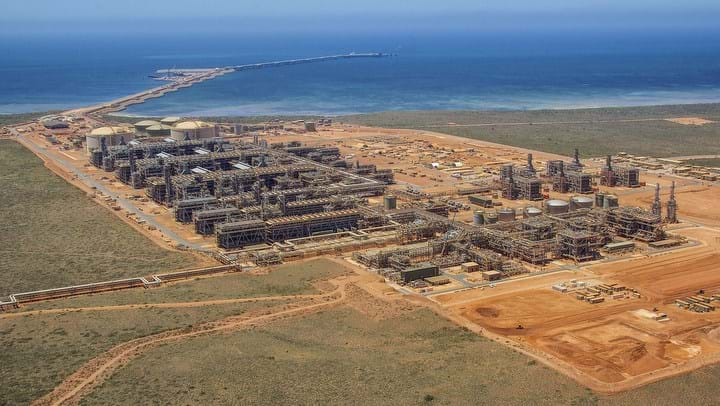 Chevron
ON 7 August, Chevron was ordered to inspect critical equipment at its Gorgon LNG project in Australia by 21 August, amid concerns about worker safety, with reports stating that this could result in a shutdown. This follows news that repairs are underway to resolve welding issues discovered during routine maintenance.
The Chevron-operated US$54bn Gorgon project – based on Barrow Island, off the coast of Western Australia – is a three-train LNG operation producing 15.6m t/y of liquid natural gas (LNG). Last month, cracks were discovered on Train 2 propane heat exchangers, or propane "kettles", during routine inspection. Heat exchangers are used in various steps in the processing of oil and natural gas, including liquefaction of natural gas, and are subject to severe environmental constraints and high pressures.
Multiple sources reported that thousands of cracks were found. Initial reports stated that the cracks are up to 1 m long and 30 mm deep on 8–11 propane kettles. According to Western Australian safety regulator the Department of Mines, Industry Regulation, and Safety (DMIRS), eight propane kettles are present on the train. Chevron denied claims that the cracks were deeper (up to 39 mm) and therefore unfixable, reported Australian Financial Review.
Steve Emery, Director of Dangerous Goods and Petroleum Safety at DMIRS, said the inspection notice was issued because the nature of the reported cracking in Train 2 "is such that there may be similar defects in Trains 1 and 3". Chevron has attributed the cracks to manufacturing defects, and multiple sources have said that all of the Gorgon kettles were produced by the same South-Korean company. The company has not been named.
A notice was not issued for Train 2 as it has been shut down, but DMIRS may reassess the train at a later date.
Chevron did not disclose the outcome of an inspection, or if one has taken place, but a spokesman said that "appropriate safety measures are in place and we continue to deliver LNG and domestic gas under our contractual commitments with customers". He added that a further updates could be forthcoming.
Previously, State Secretary of the Australian Manufacturing Workers' Union Steve McCartney called for Chevron to "put workers' safety first and shut down for an independent investigation". This prompted DMIRS to conduct an inspection of the LNG plant.
According to Emery, DMIRS continues to take the matter seriously and is in close contact with Chevron. He added that the short-term measures Chevron has taken to mitigate consequences of any potential gas leaks appear sufficient until the welds are inspected.
A Chevron spokesman said: "We are committed to operating safely and reliably and continue to work closely with DMIRS in planning and implementing repairs and inspections in the safest and most efficient way."
Repairs on Train 2 are ongoing, and the company expects operations to restart in early September.
Chevron was also issued improvement notices on 29 July for each of the kettles on Train 2. These came as the vessels were found to be manufactured differently to the registered design, said Director of the DMIRS Worksafe unit Sally North. Chevron has until 28 August to make the needed modifications.
On 6 August, further improvement notices were issued relating to plant registration, weld repairs, and the requirement to inspect – and if necessary, repair – vessels on Train 3. Chevron must comply by 24 September, and Worksafe's investigation is ongoing.
The issues at Gorgon are just the most recent in a string of delays experienced by the project, including the LNG project as well as Gorgon's now operational carbon capture and storage project.