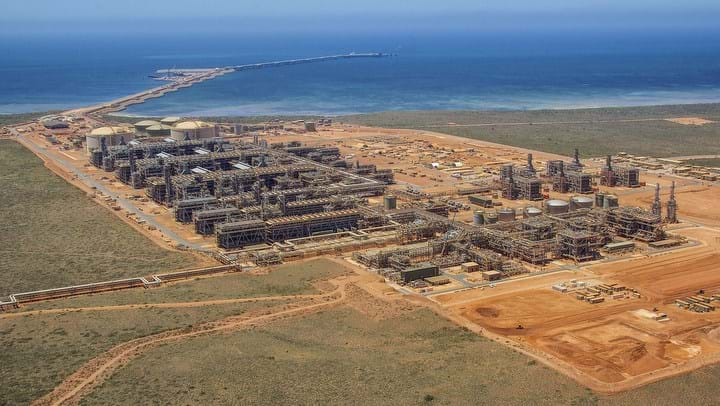 Chevron
REPAIRS are underway to resolve welding issues at Chevron's Gorgon liquid natural gas (LNG) project, one of the world's largest LNG projects, after cracks were discovered in critical equipment during routine maintenance. According to multiple sources, thousands of cracks were discovered.
The Chevron-operated US$54bn Gorgon project, based on Western Australia's Barrow Island, is a three-train LNG operation producing 15.6m t/y of LNG. Welding problems were found in Train 2's propane heat exchangers, or propane "kettles", during routine inspection. Heat exchangers are used in various steps in the processing of oil and natural gas, including liquefaction of natural gas, and are subject to severe environmental constraints and high pressures.
Initial reports stated that the cracks are up to 1 m long and 30 mm deep on 8–11 propane heat exchangers. According to Australian Financial Review (AFR) there are also claims that the cracks are up to 39 mm deep, which according to trade union Australian Manufacturing Workers' Union (AMWU) make then unfixable and the equipment would need to be replaced. Chevron denies that the cracks were irreparable.
All of Gorgon's heat exchangers were produced by the same South Korean company, said multiple sources. Reports did not name the company. AFR reported that there are concerns within industry that similar cracks could have arisen in Gorgon's other production units, with investigations being carried out by Chevron.
Steve McCartney, AMWU's State Secretary, said: "If multiple kettles are showing cracks in testing on Train 2, there is a high risk there are cracks in the vessels on other trains," and these would have to be replaced immediately."
"Chevron needs to put workers' safety first and shut down for an independent investigation. If something goes wrong, it would be catastrophic."
Steve Emery of the Department of Mines, Industry Regulation, and Safety (DMIRS) said that the regulator does not have any immediate concerns for worker safety but is taking the matter seriously. Emery is the Director Dangerous Goods and Petroleum Safety at DMIRS.
However, in response to AMWU's call for a shutdown, Emery said that DMIRS would conduct an inspection of the LNG plant "as soon as possible". AFR reported that inspectors from Australia's "safety watchdog" were to visit the Gorgon site on 29 July. There has not yet been news of the visit.
With repairs underway, AFR reported that according to a Chevron spokesman, appropriate safety measures are in place and the company is working closely with DMIRS to plan and implement work.
Following repairs, Train 2 is expected to start operating again in September, delayed a few months from the restart date that was expected prior to the discovery of the cracks. Maintenance work began on 23 May and restart had been expected on 11 July.
The Gorgon LNG project is the largest single-resource development in Australia's history. According to AFR, when asked about the impact an extended shutdown of the whole plant would have on Western Australia's economy, state Premier Mark McGowan highlighted that only part of the plant was shut. He reportedly added that "obviously they need to fix whatever problem is there, but we are working effectively with them to make sure that happens"
According to Reuters, a spokesman said that Trains 1 and 3 of Gorgon are operating and delivering LNG and domestic gas under contractual commitments.
Reuters adds that the extended shutdown is expected to boost Asian spot LNG prices which rose to a nearly four-month high on 24 July, though still seasonally weaker compared to previous years.
AFR noted that due to the Gorgon outage, as well as technical problems at Shell's LNG plant in the Browse Basin (which halted production in March), Western Australia is producing well below its capacity for LNG. It added that maintenance at other plants has been extended, partly due to social distancing requirements (as a result of the coronavirus) as well as weak prices.
The operation delay at Gorgon comes amidst the coronavirus pandemic, which has seen a glut in oil and gas supply and low market prices.
The recent issue is another in a string of delays experienced at the project, the first of which occurred due to maintenance problems just weeks after operations began. Operations at Chevron's carbon capture and storage project for the LNG facility were delayed for two years before beginning in August 2019, and becoming fully operational in March 2020. It will capture 4m t/y of carbon dioxide (CO2), and inject more than 100m t of CO2 underground over the Gorgon project's lifetime. It is expected to remove around 40% of the project's emissions.
In September 2019, it became clear that Chevron could be facing emissions penalties following the delays. The Guardian reported in June 2020 that Chevron could be forced to pay for offsets worth more than US$100m for emissions released from the Gorgon CCS project.