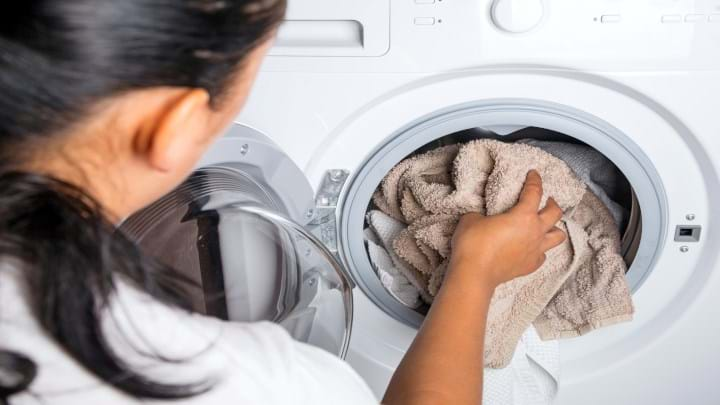 UNIVERSITY of Surrey and UK-based washing technology group, Xeros Technology, have teamed up to accelerate research into upcycling the microfibres captured from laundering clothes into a useful and valuable carbon material. 
Despite their name, microfibres are anything but little when it comes to pollution. These tiny 'threads' that are smaller than 5mm, break loose from garments through the everyday acts of cleaning and wearing our clothes. They have become such a huge problem that they can be found on the summit of Mount Everest to the deepest parts of our oceans in the Mariana Trench. 
And that's because according to research anywhere between 700 and 4,000 individual fibres can be released per gram of fabric during a single wash. Multiply that by the amount of people doing regular laundry across the globe, and it's not hard to see how more than half a million tons of microfibres finds its way into the world's oceans every year simply from washing our clothes. You don't even have to wash your clothes for the microfibres to be released, as clothes can shed up to 400 fibres per gram of fabric during just 20 minutes of normal activity. 
It is not surprising since about 60% of material made into clothing is plastic, which includes polyester, nylon, acrylic and polyamide, and because of their small size, up to 40% of microfibres can pass through water treatment plants into our rivers, lakes and oceans. 
Their release into the environment inevitably leads to ingestion by fish and other marine animals, as evidenced by studies which have found textile fibres in fish and shellfish on sale for human consumption, from markets in Makassar, Indonesia, and from California, US. 
With an aim to address this situation, Rotherham-based Xeros Technology has developed XFilter, a washing machine filtration device which can capture more than 99% of microplastics. The firm has since signed a ten year agreement with Hanning Elektro-Werke allowing the German production company to manufacture and sell filters incorporating Xeros' proprietary XFilter technology. 
The filters, which are designed to last the life of a machine, are built into a washing machine and will allow consumers to capture and easily and safely dispose of over 90% of the microfibres released during a laundry cycle. 
Upcycling filtered microfibres 
Usually, microfibres collected this way are placed directly into a bin and disposed of with other household waste, the way that similar mixed fibres collected in tumble driers and vacuum cleaners are. While that would stop some of the fibres from reaching our waterways, they would still end up in landfill, so Xeros have partnered with the University of Surrey to jointly fund pioneering research into upcycling the microfibres into clean hydrogen and solid carbon nanomaterials as a by-product. 
"There is nothing better than to convert, what is today considered to be waste and a problem in the world, into a highly valuable product," said Paul Servin, application development director of Xeros. 
Led by Melis Duyar, a senior lecturer of chemical and process engineering at the University of Surrey, the team face a number of challenges as microfibre waste from filtration not only contains a mix of materials, but also dirt and soil captured in the process.  
"This partnership with Xeros will allow us to bring our technology closer to commercialisation, by developing methods for upcycling real microfibre waste collected from commercially available filters," Duya said. "We are excited to see our patent pending processes in action as applied to mixed fibre feedstocks, which is a big step towards developing a viable, real-world solution." 
The project will begin this month with research conducted over a 12-month period, and it is anticipated that the carbon nanomaterials developed using this upcycling method, can be used in various products including batteries, solar cells and medical devices.