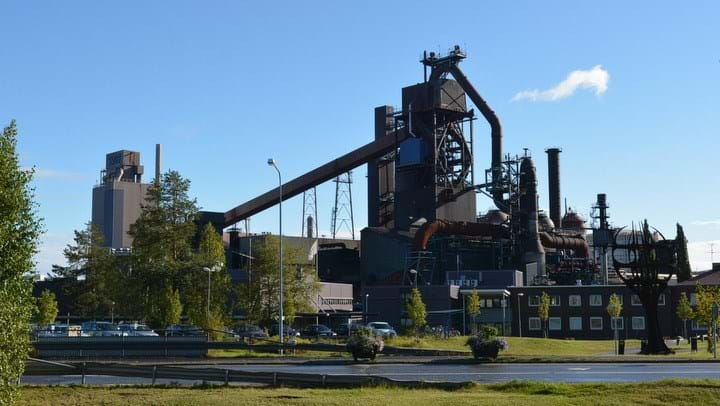 AN INDUSTRIAL consortium in Sweden will build a pilot plant to test a steel production process that emits water rather than CO2.
The project partners – steelmaker SSAB, iron pellet supplier LKAB, and electricity generator Vattenfall – announced in 2016 that they wanted to modify the direct reduction method of steelmaking. Conventional iron-making setups use hydrogen and carbon monoxide from natural gas or coal to remove the oxygen from iron oxide pellets, producing CO2.
The consortium instead wants to reduce the iron using only hydrogen, produced by splitting water with electrolysis powered by clean electricity. Rather than using fossil fuels and emitting CO2 its Hybrit process will use, reform and emit water instead.
"It is with great pleasure that we can announce today that we are giving the green light to the initiative to proceed with the planning and designing of a pilot plant for fossil-free steel in Luleå," said Mårten Görnerup, CEO of Hybrit.
Work will now begin to plan and design the pilot plant at an expected cost of SEK20m (US$2.5m). Trials are set to run from 2021–2024. A decision to build the pilot plant is expected by mid-2018 and could cost SEK1bn–SEK2bn with production at around 1–2 t/h of steel.
Work to scale up to a demonstration capacity of 500,000 t/y would begin in 2025 with completion set for 2035.
The pre-feasibility study found that at today's prices for electricity, coal and CO2 emissions, fossil-free steel would be 20–30% more expensive than conventional steel. However, it is expected to compete as the cost of clean power declines and emissions rise.
Meanwhile SSAB is looking to cut CO2 emissions from its existing operations by converting its blast furnaces to electric arc furnaces that would be powered by fossil-free energy. A study is underway on converting its blast furnace in Oxelösund. This would occur around 2025 and reduce SSAB emissions in Sweden by 25%. Between 2030–2040, it aims to convert its operations in Luleå, Sweden and Raahe as part of its push for greener steel.
"Hybrit is a significant part of the road towards SSAB's goal of being fossil-free by 2045, and the report from the pre-feasibility study shows not only that is it possible to carry out this initiative, but it can also create exciting future opportunities for us as a company. We want to be part of the solution to climate change," said SSAB CEO Martin Lindqvist.