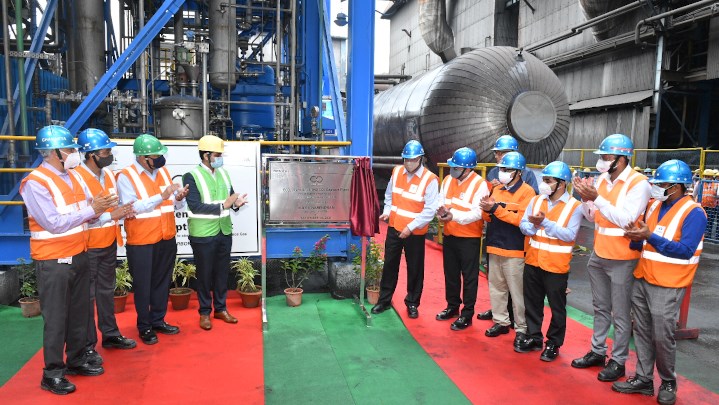 Carbon Clean / Tata Steel
CARBON Clean has installed a carbon capture plant at a blast furnace owned by Tata Steel in India.
Carbon Clean's technology, consisting of a modular carbon capture skid, has been installed at Tata Steel's Jamshedpur steel plant in India. The facility is capturing 5 t/d of CO2 from the blast furnace. The captured CO2 is reused onsite for a variety of applications such as for water treatment. Tata Steel plans that scaled-up facilities in the future will be able to use captured CO2 to produce methanol and other value-added products.
The companies say that the facility is the first of its kind within the steel industry.
Aniruddha Sharma, CEO of Carbon Clean, said: "Following our successful demonstration, we plan to rapidly accelerate the number of carbon capture projects. Capturing CO2 from blast furnace gas will not only decarbonise the steel plants but will also create opportunities for Tata Steel to enter the hydrogen economy."
Tata Steel is aiming to reduce its CO2 emissions intensity and freshwater consumption, develop sustainable supply chains, and contribute towards a circular economy.
T. V. Narendran, CEO of Tata Steel, said: "For the sustainability of the steel industry globally and particularly in a growing country like India, it is essential that we find economical solutions for capturing and use of CO2 at scale. Leadership in mitigating emissions, accessing low-cost clean energy, and providing circular economy solutions will define our sector's journey going forward."