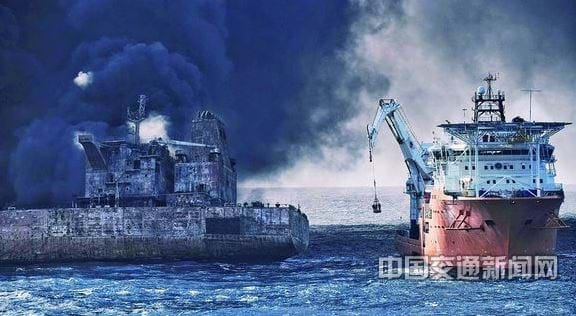 AN oil tanker that had been ablaze since it collided with a freight ship in the East China Sea on 6 January sank on Sunday.
The Sanchi tanker detonated before it sank, Reuters reports and now a large amount of spilled oil is burning on the surface of the sea, according to China's official Xinhua news agency.
The bodies of three sailors have been recovered by rescue teams, while 29 crew members remain missing. Two of the bodies were discovered on the deck by rescuers who boarded the ship on Saturday, wearing respirators.
The 274 m-long vessel was delivering 136,000 t of condensate from Iran to South Korea before the collision occurred, around 300 km east of the Yangtze River.
The environmental damage that will result from the spill is expected to be less severe than a crude spill, as the Sanchi's light oil more readily burns and evaporates. The volume of oil aboard was roughly 3.5 times more than was carried by the Exxon Valdez, which spilled an estimated 35,000 t of crude off the coast of Alaska in 1989.
The 225 m-long freight ship, which was carrying 64,000 t of grain from the US to China, has damaged its bow but was reported not at risk of sinking. All 21 of its crew were safely rescued.