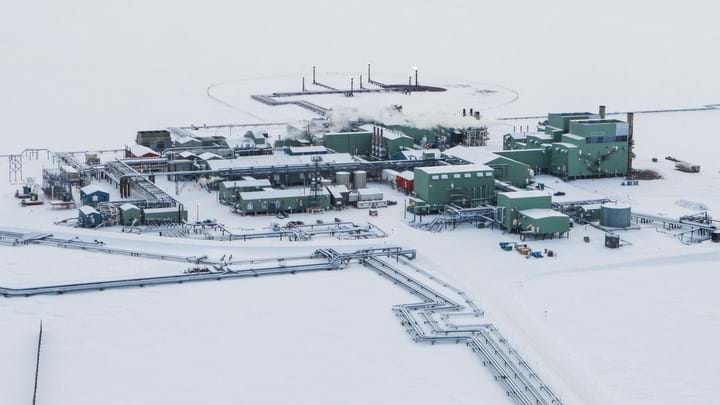 BP
BP is selling its entire Alaska business to energy company Hilcorp for US$5.6bn, including its share of the prolific Prudhoe Bay. The sale is part of BP's wider efforts to reconfigure its portfolio including plans to sell assets worth US$10bn.
BP began operations in Alaska in 1959 and in the mid-1970s was involved in building the 800-mile (1287.5km) Trans Alaska Pipeline Systems (TAPS), which conveys oil from Prudhoe Bay to Valdez, Alaska. Operated by the Alyeska Pipeline Service Company, it is one of the largest pipeline systems in the world.
The sale includes BP's upstream and midstream businesses including BP Exploration (Alaska), which owns all of BP's upstream oil and gas interests in Alaska, and its interest in TAPS.
Prudhoe Bay, where operations began in 1977, is a giant oil field and one of the most prolific in the US. To-date the field has produced 13bn bbl of oil, exceeding the predicted 9.6bn. It is estimated to be capable of producing another 1bn bbl. In 2017,  the field produced 280,000 bbl/d of oil and accounted for more than half of Alaska's oil production. In addition to owning a 26% stake in Prudhoe Bay, BP also operates the field.
The other upstream oil and gas interests BP is selling include its 50% stake in the Hilcorp-operated field Milne Point and its 32% stake in the ExxonMobil-operated field Point Thomas. BP will also sell in 50% stake in the Liberty project, which is operated by Hilcorp, and its non-operating interests in exploration leases in the Arctic National Wildlife Refuge (ANWR), the largest wildlife refuge in the US.
Drilling for oil in the ANWR has been debated since 1977. Despite environmental concerns the Trump administration passed a law in 2017 to open the area to developers. 
BP's midstream sales include its interest in TAPS (49%) and its operator Alyeska Pipeline Service Company (49%). Further midstream divestments include interest in the Point Thomas Export Pipeline (32%) and the Milne Point Pipeline (50%).
BP will also sell Hilcorp its 25% stake in the Prince William Sound Oil Spill Response Corporation.
Currently, BP Alaska employs about 1600 people and it supports more than 8,000 jobs in Alaska. BP said that it is committed to providing its direct employees clarity about their future as part of the transaction as soon as possible.
BP CEO Bob Dudley said the company has other opportunities in the US and around the world that better align with their long-term strategy and are more competitive. The deal also underpins a two-year US$10bn divestment programme that is expected to strengthen BP's balance sheet and allow it to pursue new opportunities. 
Hilcorp has operated in Alaska since 2012 and is currently the largest private oil and gas operator in the state with 75,000 bbl/d of production. In 2014, Hilcorp purchased BP's interests in four oilfields on the Alaska North Slope.
The latest transaction is expected to close in 2020.
Dudley said: "Alaska has been instrumental in BP's growth and success for well over half a century and our work there has helped shape the careers of many throughout the company.
"We are committed to a safe and smooth transition of operations so that our employees, partners and local, state and federal government officials all feel that we have handed over these important assets in the right way."
He added that the company's exit does not diminish BP's commitment to the US.
"We remain very bullish on the US energy sector. In just the last three years we have invested more than $20 billion in the US and we will continue to look at further investment opportunities here."
Alaska's oil production peaked at almost 2m bbl/d in 1988, making up about a quarter of US output that year. Currently Alaska produces about 500,000 bbl/d of oil. The US Energy Information Administration forecasts that the US will produce an average of 12.3m bbl/d of oil this year.
Alaskan locals and environmentalists have sued the Trump administration, accusing it of hiding information about the impact of oil production on the ANWR.
According to the Union of Concerned Scientists, the Trump administration ignored 18 memos from federal scientists who raised concerns about the effects that oil production in the ANWR would have on locals, wildlife, and the environment. The memos were published by the Public Employees for Environmental Responsibility.
BP in the US
BP says that it continues to develop its US business, including its business in the Gulf of Mexico where it is to bring on a series of new projects on its major producing assets. The company expects its new US$9bn Argos platform, on the Mad Dog field, to be onstream in 2021.
In Q2 2019, BP's net oil and gas production from the US averaged more than 921,000 bbl/d.