Former chemical engineering student faces decades in jail for misleading investors
ELIZABETH HOLMES, a former chemical engineering student who garnered praise as a Silicon Valley biotech pioneer, has been found guilty of fraud in a high-profile case in the US.
In January, a jury found Holmes guilty of fraud, for lying to investors to raise money. She could face decades in prison after it turned out the company's blood testing machine, which she claimed would disrupt the healthcare sector, didn't work. The case raises serious questions about the ethics of entrepreneurship, especially the hyperbolic "fake it until you make it" approach to innovation that is popular in Silicon Valley.
Speaking after the verdict was given, FBI Special Agent Craig Fair said: "Elizabeth Holmes chose fraud over business failure. A jury has determined, beyond a reasonable doubt, that she intentionally misled investors."
Holmes' rise to prominence began in 2004, after she dropped out of Stanford University aged 19 to develop a startup company called Theranos. Her ambition was to revolutionise healthcare by developing a miniaturised diagnostic device that could perform hundreds of tests – ranging from cholesterol to cancer warnings – but using just a drop of blood pricked from a patient's finger rather than vials of blood drawn conventionally from a vein.
The technology – dubbed Edison – promised patients would get faster results and the healthcare system would save billions of dollars. This vision attracted high-profile investors, including Rupert Murdoch and Henry Kissinger. Hundreds of millions of dollars poured into the company and Holmes was held up as a darling of Silicon Valley, drawing comparisons to Apple's Steve Jobs. At its height, Theranos was worth more than US$9bn, its blood-testing service was offered in more than 40 pharmacies, with ambitions for a countrywide rollout. But ultimately the technology turned out not to work.
In 2015, the Wall Street Journal published a series of exposes detailing how Theranos' technology could handle only a fraction of the tests claimed, and that it was secretly running many on traditional machines bought from companies including Siemens. Ahead of shutting down in 2018, Theranos voided two years' worth of its blood tests and settled fraud charges brought by the US financial regulator. But the Justice Department wouldn't settle there. It pushed for criminal convictions against Holmes and her then boyfriend and Theranos President Ramesh Balwani, whose case is expected to be heard later this year.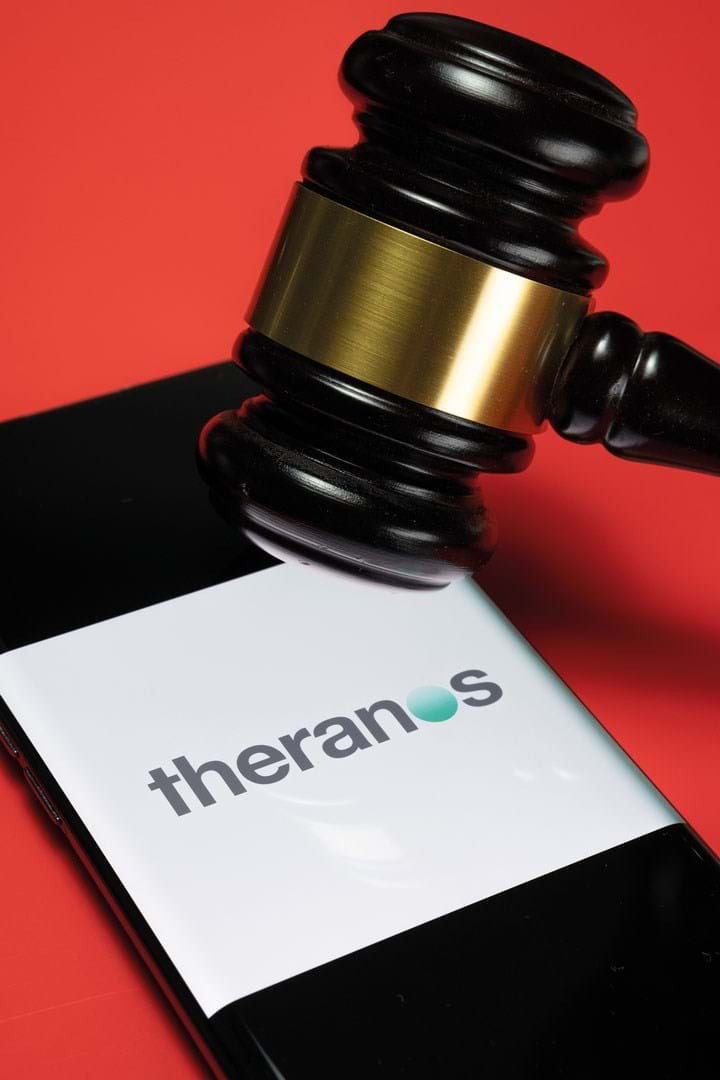 mundissima/ Shutterstock.com
On trial
During Holmes' 15-week trial, prosecutors presented evidence that she made false claims to investors about the accuracy and number of tests the Edison machine could perform; that she had misrepresented the financial projections of the company; claimed that the military had deployed the technology to the battlefield when it hadn't; and added the logos of pharmaceutical companies including Pfizer to company documents that were shared with investors. This, the prosecution argued, falsely suggested that the pharmaceutical companies had endorsed Theranos' technology.
In his closing argument, prosecutor Jeffrey Schenk told the jury that Holmes knew that honest statements to investors about the state of the Theranos' technology and its financial position would not have led to the investments the company needed. "She chose a different path," he said. "She chose fraud over business failure."
The jury found Holmes guilty on four charges: one count of conspiracy to defraud investors, and three wire fraud counts involving transfers of funds totalling more than US$140m. She faces a maximum sentence of 20 years in prison. She was found not guilty on four other charges related to defrauding patients. And the jury was unable to reach a verdict on three other counts of defrauding investors.
In her defence, Holmes' lawyers questioned why investors had not done more research to vet Theranos' claims; they tried to push the blame on to others including lab directors who worked for Holmes; and in a sensational turn of events Holmes took to the stand and accused her former partner Balwani of sexual and emotional abuse that had impacted her mental state. Balwani has denied the allegations, branding them "outrageous".
Throughout the trial, Holmes' lawyers made much of her entrepreneurial spirit and sincere ambition to change the world, arguing she should not be punished for falling short of achieving her dream. She was "building a company, not a criminal enterprise," her defence lawyer Kevin Downey told jurors.
Don't fake it until you make it
Commentators have said the verdict is an indictment of the popular ethos among innovators – especially in Silicon Valley – of making exaggerated claims about the world-changing nature of their technologies.
Pointing to the Statement of Ethical Principles published by the regulator Engineering Council, IChemE Deputy President David Bogle said: "Our code of ethics particularly highlights honesty and being objective and truthful. This case is so far out of line it is illegal. But the lessons are there for all entrepreneurs who oversell and bend the truth. Credibility is key in engineering but also for raising investor money. Once lost it is very difficult to regain."
Commentators have said the verdict is an indictment of the popular ethos among innovators of making exaggerated claims about the world-changing nature of their technologies
Bogle chairs the Engineering Ethics Reference Group on behalf of Engineering Council and the Royal Academy of Engineering, which is set to publish a report later this year advising how the profession can embed a culture of ethical behaviour.
Talking to ABC Audio about what the verdict means for entrepreneurs, Santa Clara University Law professor Ellen Kreitzberg said it sends a warning signal about making inflated claims that go beyond outlining a "vision statement" about what you want a technology to achieve. "I think it sends a clear message to CEOs to be mindful of where that ethical line is and to be even more careful not to cross that line. And remember the line they said she crossed was that she shifted from the projection of 'I have an incredible machine that will potentially revolutionise healthcare'…to saying 'and here is what my machine already does'."
This echoes what the US Securities and Exchange Commission (SEC) said when it brought civil charges against Theranos back in 2018: "The Theranos story is an important lesson for Silicon Valley," said Jina Choi, Director of the SEC's San Francisco Regional Office. "Innovators who seek to revolutionise and disrupt an industry must tell investors the truth about what their technology can do today, not just what they hope it might do someday."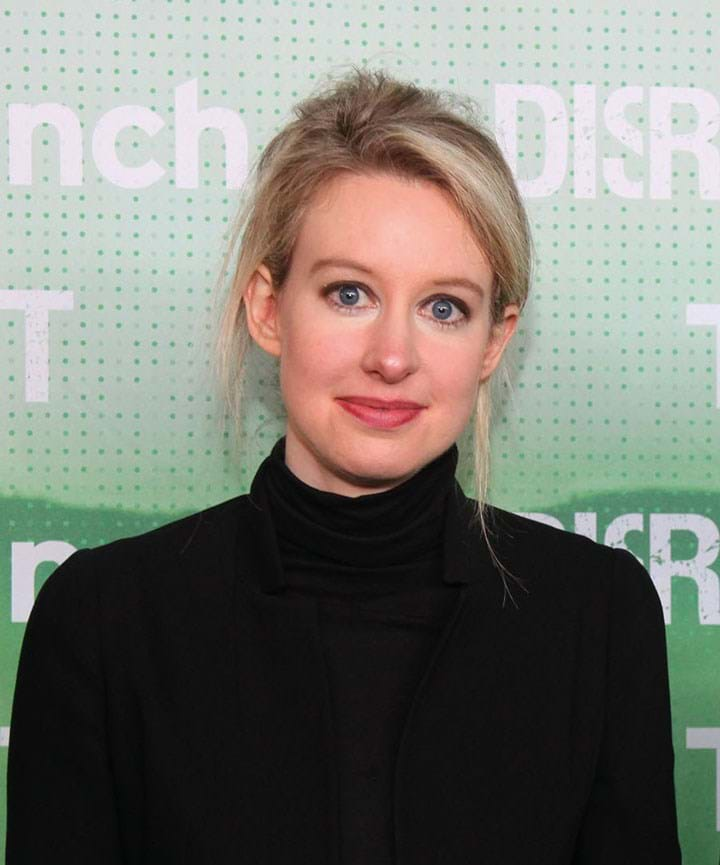 Max Morse /TechCrunch /Wikimedia Commons
Writing for The Conversation, Ana Santos Rutschman, a researcher on health technology regulation, said the case offers an important cautionary tale about how certain medical devices are made available to patients in the US. Rutschman pointed to loopholes that did not require Theranos to have its tests evaluated by regulators before offering them to patients. These loopholes still exist and medical professionals have described the case as a "wake-up call" for the Food and Drug Administration.
The case against Holmes has caught mainstream media attention, spawning the HBO documentary The Inventor: Out for Blood in Silicon Valley, and a dedicated podcast called The Dropout, which has followed the trial and has itself inspired a drama series of the same name set to air in March.
Holmes is set to be sentenced in September and is expected to file an appeal.