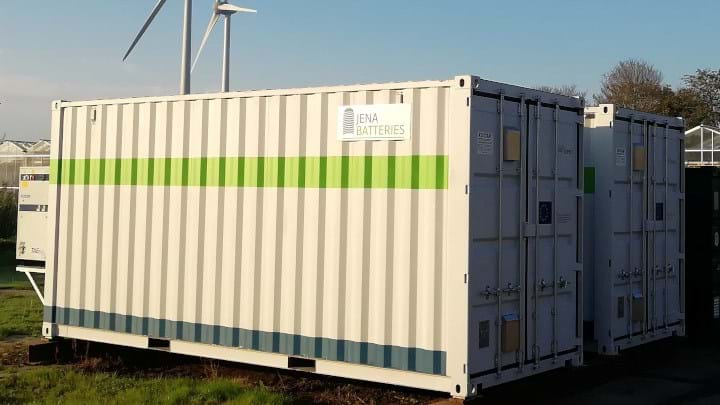 JenaBatteries/BASF
BASF and German startup JenaBatteries are cooperating to produce battery technology suitable for stationary storage of energy from renewable energy sources and for stabilising conventional transmission grids.
JenaBatteries has developed novel redox flow battery (RFB) technology. RFBs are electrochemical cells in which energy is provided by two liquid electrolytes contained within a system and separated by a membrane. The innovative feature of JenaBatteries' technology is that it employs organic materials, making it safer and more sustainable than metal-containing RFBs. The company has the first commercially-available technology of this kind.
In JenaBatteries' metal-free RFB, the two organic liquid electrolytes (representing the anode and cathode) are each stored in tanks separated by a membrane. For charging and discharging, a saline solution is pumped through the cell. This causes electrons to be bound and then released again, resulting in power storage.
As part of the collaboration, BASF will supply one of the electrolytes used in JenaBatteries' system. The battery material is based on an amine chemical intermediate that BASF can produce on an industrial scale.
RFBs enable power and capacity to be scaled independently of each other. The electrolyte quantity determines the capacity of the battery, while the area and number of cells determines the power. This enables the battery to function as a demand-based storage solution for numerous applications. RFBs can be used for large-format, stationary energy storage.
According to JenaBatteries, the flexibility and high output and capacity of RFB technology provides an ideal solution for storage of power from renewable sources, such as wind turbines and photovoltaic systems. JenaBatteries' RFBs have a scalable capacity of 100 kW to 2 MW and 400 kWh to 10 MWh, and a service life of more than 10,000 charge cycles.
JenaBatteries plans to market the first RFB this year.
Oliver Cullman, Global VP of BASF and Head of Specialty Amines Europe, said: "JenaBatteries is a startup that supports the use of renewable energies with its solutions and therefore fits perfectly with our sustainability strategy. For BASF, the cooperation offers a new, attractive and future-oriented field of application for our amine chemistry."
JenaBatteries' batteries do not contain heavy metal or rare-earth metals, like lithium, lead, hybrid, or vanadium-based RFBs, and therefore protect the environment and resources. Additionally, they avoid sourcing raw materials in unstable countries under inhumane conditions, which is often observed for the materials used in metal-containing batteries, such as cobalt, lithium, or nickel. The metal-free components used by JenaBatteries can be produced in Europe at low cost. Additionally, the metal-free batteries are non-flammable, non-explosive, and low-maintenance.
RFBs are a flexible alternative to lithium-ion batteries for stationary storage. Various consortia in Europe, Asia, and America, are currently working to develop them.