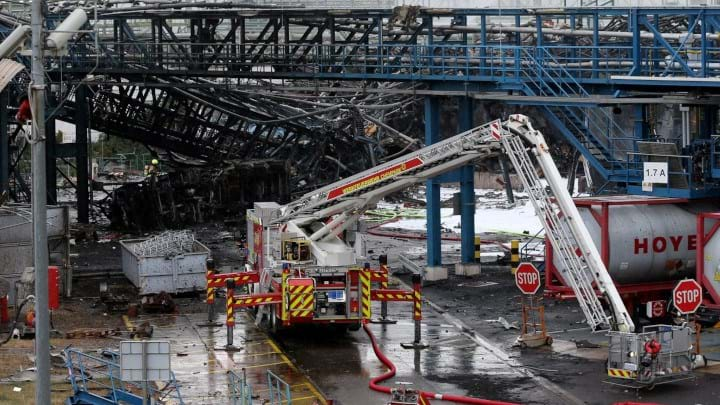 Currenta
AN EXPLOSION at a hazardous chemical disposal site in Germany has killed at least two people, with an additional five people considered missing. Another 31 workers were injured, three seriously, one of whom sustained life-threatening injuries.
As of a 28 July update from site manager and operator Currenta, the search for missing workers is ongoing.
The explosion and subsequent fire occurred at around 09:40 local time on 27 July. It occurred in a tank farm containing chlorinated solvents, at the Bürrig Waste and Recycling Management Center. The centre is responsible for handling hazardous chemical waste from chemical site Chempark Leverkusen, but is not on the plant premises.
Following the explosion, emergency services were quickly deployed. Local police sealed off the surrounding area and ordered residents to shelter indoors, keep doors and windows closed, and switch off air conditioning systems. Motorways were also closed. These closures and orders were lifted on 27 July, in the hours after the fire was extinguished, at about 13:00 local time.
The explosion sent plumes of smoke into the air, and saw soot subsequently precipitating in the surrounding area. In response, residents were warned against actions such as consuming food from their gardens, coming into contact with the soot, or attempting to clean it. They have also been asked to report any precipitate.
Analysis of the soot is being carried out, and results are expected towards the end of this week.
According to Currenta, there was a noticeable odour in the air following the explosion. Air pollution has not yet been detected, although air monitoring which began after the explosion is ongoing, as a precaution.
To allow extinguishing to begin, a local power line had to be disconnected from the grid. Due to the temporarily unsecured power supply at the site, administrative employees were asked to leave the Chempark site. During this time the power supply was secured so that employees could return. Companies at the site have since restarted regular operations.
However, due to the continued presence of fire services, restrictions are still in place at the Bürrig disposal site, and operations are not expected to resume for a "long" time. The extent of the damage and impact from the blast has yet to be assessed.
According to Frank Hyldmar, CEO of Currenta, efforts to cope with the impacts of the explosion are ongoing and are expected to continue for a few days.
The cause of the incident is not yet known. According to BBC News, the explosion completely or partially destroyed three tanks at Bürrig, making it difficult to discern where it occurred.
The Leverkusen location is part of Chempark, one of the largest chemical sites in Europe, managed and operated by Currenta. More than 5,000 chemicals are manufactured at Chempark Leverkusen, primarily nitration and chlorination products, aromatics, fine chemicals and silicon chemicals. More than 31,500 people work at the site.