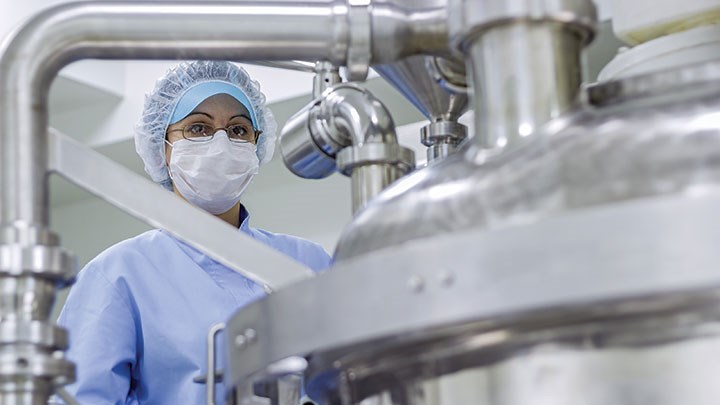 ASTRAZENECA is beginning to manufacture a coronavirus vaccine candidate, following a commitment from the Coalition for Epidemic Preparedness Innovation (CEPI) to provide up to US$383m in funding. The partnership aims to produce 300m doses of the candidate, AZD1222, by mid-2021.
CEPI also has a partnership with biotechnology company Commonwealth Serum Laboratories (CSL) and the University of Queensland (UoQ), Australia that is accelerating the development, manufacture, and distribution of another vaccine candidate.
Vaccine manufacture
AstraZeneca's candidate has progressed into Phase II/III clinical trial in more than 10,000 people across the UK. Pascal Soriot, CEO of AstraZeneca, told the BBC that the partners are beginning manufacture now to ensure that it is ready when the results become available. If it proves successful, the first doses could become available in early 2021. Doses would be produced on a rolling basis with a full quota of 300m expected by July 2021.
The US$383m investment from CEPI will support technical transfer of the vaccine production technology to manufacturing sites predominantly in Europe to create additional manufacturing capacity. Additionally, it will be used to purchase manufacturing materials and reserve manufacturing slots to help secure production of the doses for the COVID-19 Vaccine Global Access (COVAX) Facility. The financing mechanism is coordinated by Gavi, the Vaccine Alliance.
In May, AstraZeneca and CEPI entered a US$750m agreement with Gavi to support manufacturing, procurement and distribution of 300m doses of the vaccine, with delivery starting by the end of the year. During the pandemic, AstraZeneca is to supply the vaccine to COVAX on a no profit basis. AstraZeneca also signed a licencing agreement with the Serum Institute of India (SII) to supply 1bn doses for low and middle-income countries, with 400m doses to be provided by the end of 2020. SII manufactures immunobiological drugs including vaccines in India.
The manufacturing agreement with AstraZeneca builds on CEPI's initial funding for the vaccine candidate that supported the University of Oxford, which developed AZD1222, in manufacturing clinical trial materials. AstraZeneca and researchers at Oxford joined forces for a vaccine earlier this year. Additionally, CEPI funded preclinical studies at Australia's Commonwealth Scientific and Industrial Research Organization.
Accelerating candidate development
CEPI's recent agreement with CSL and UoQ formalises support which CEPI and CSL have been providing to the university since the outset of the coronavirus pandemic.
Funding given to the so-called molecular clamp-enabled vaccine will provide support for the pending phase 1 safety study being led by UoQ and subsequent late stage clinical production of potentially millions of vaccine doses per year, if the product is approved. Molecular clamp technology enables targeted and rapid vaccine production against multiple viral pathogens.
Initially, large-scale production would take place at CSL's biotech manufacturing facilities in Melbourne, Australia. The company expects that the vaccine production technology could be scaled up to produce up to 100m doses of the vaccine towards the end of 2021. CSL intends to subcontract to manufacturers around the world to increase capacity and broaden the geographical distribution of production.
If trials are successful, the vaccine could be available for distribution in 2021.
UoQ received additional funding to develop its vaccine from Australia's Queensland State Government (A$10m, or US$7m), and Federal Government (A$5m), and philanthropic partners.
In January 2019, CEPI and UoQ announced a partnership worth up to US$10.6m to develop a molecular clamp vaccine platform. This coincided with A$4.5m of funding from the Australian Government to support CEPI's vaccine development efforts, bringing the nation's total investment to A$6.5m at the time. This January, the partnership between CEPI and UoQ was expanded to use the molecular clamp platform to develop a vaccine for coronavirus.
CEPI was established in 2017 following the Ebola outbreak in west Africa, to help finance and coordinate the development of new vaccines for epidemic outbreaks. In its efforts to support development of coronavirus vaccines, the organisation has so far provided support and funding to a range of institutions including UoQ; Curevac; Inovio Pharmaceuticals; Moderna; the University of Hong Kong, China; a consortium led by Institut Pasteur; and Clover Biopharmaceuticals.
In May, CEPI invested US$338m to develop and manufacture a vaccine from biotech company Novavax.
According to a paper from CEPI released in April, 70 vaccine candidates were under development. Other efforts to accelerate the development and manufacture of vaccines include a consortium of companies involving GSK and Pfizer in collaboration with the Bill & Melinda Gates Foundation.