How do you dismantle a chemical plant for re-erection at the other side of the world? Richard Vann explains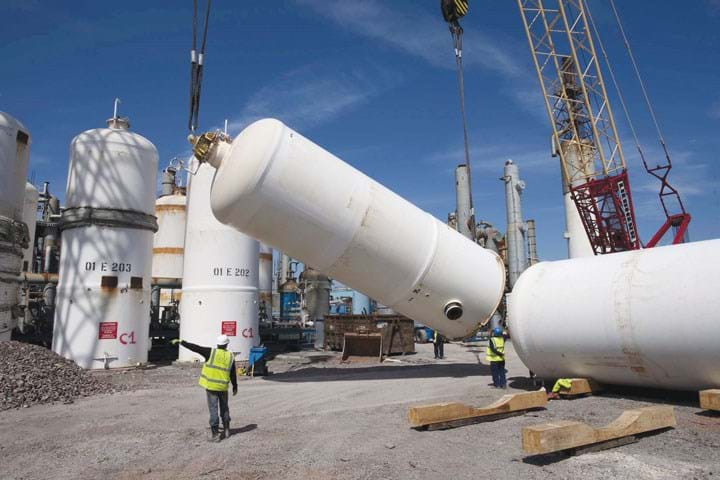 A DECOMMISSIONING project may represent the end of a chemical plant's useful life for one operator, but there are occasions when assets can be carefully salvaged, dismantled and reinserted into the global supply chain. Here we take a look at what is involved in such a complex assignment.
As the world of chemical engineering advances apace, the market continues to pose both new-found pressures and opportunities for operators across the globe. Consequently, the number of decommissioning projects being planned on an international scale, is vast. Arguably, it could even be at an all-time high. However, the catalysts for this level of activity are varied.
Some chemical plants, particularly those constructed in the 1960s and 70s, have simply reached the end of their design life – certainly in the Western Hemisphere. They therefore present too many inefficiencies – not to mention safety and reputational risks – to warrant ongoing operation.
Others have effectively reached their sell-by-date as a result of evolving EHS legislation and compliance standards, so they must be decommissioned and ring-fenced if operators are to remain on the right side of the law.
Economics have a role to play too, but markets are extremely fragmented – it would be naïve to assume there is only one, single global trend. We only have to look at India for example, and the number of assets being transferred out to this emerging economy, to see that growth is ongoing here. There is often an additional driver to move production closer to the end-user to mitigate unit cost, time and impact on the environment.
This geographical variance is often the reason why some plants are dismantled for re-erection. Whilst a facility may have reached the end of its useful life for one chemical manufacturer, it may still have operational potential elsewhere. In some cases, a second-hand plant is used as a stop-gap measure by a client to get to market quickly, for example, whilst a more modern and efficient plant is being constructed.
The sequential dismantling of these inherently hazardous facilities is naturally very complex, with multifaceted variables affecting whether the project can be executed safely, without any environmental concerns, and with a commercially viable outcome. The important thing to note, however, is that it is possible.
A 5,000-mile journey to Azerbaijan
RVA has completed more than 770 decommissioning projects over the past 27 years, across virtually every continent in the world. Whilst the driver for every assignment has varied on a case-by-case basis, less than 1% of these projects has seen clients' sites cleared completely and assets carefully dismantled for re-erection at a remote location.
However, a project with the State Oil Company of Azerbaijan Republic (SOCAR), required us to carefully strip down a plant for reuse at the other side of the world. Appointed by European Petroleum Consultancy (EPC), who ran the overall contract, we provided project management, technical engineering and EHS advice for the six-month duration of the works.