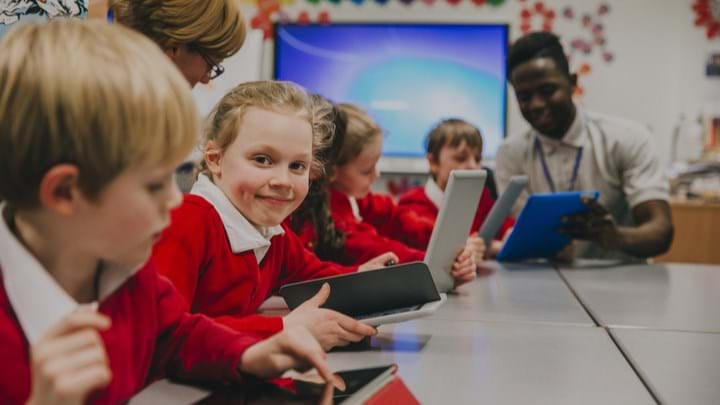 THE UK government's 2018 Year of Engineering campaign serves as a timely reminder of the importance of a coordinated approach to STEM outreach. Research suggests that of the 75,000 people who graduated with a STEM degree in 2016, only 24% were known to be working in a STEM-related job within six months. Should businesses, individuals and new graduates be ready to step up and play their part in addressing this problem?
Designed to celebrate the wonder of engineering and inspire the next generation, the government's Year of Engineering campaign unites industry and academia in their efforts to capture the imagination of tomorrow's engineers.
The timing of the campaign is good, and promises a breath of fresh air on a problem that has been referenced so many times, it's at risk of becoming an accepted reality rather than a shock. We all know the statistics: 186,000 new skilled engineering recruits are needed annually until 2024 if we are to deliver critical UK infrastructure and tackle real-world challenges.
186,000 new skilled engineering recruits are needed annually until 2024 if we are to deliver critical UK infrastructure and tackle real-world challenges.
Things are looking up and a report this month from the National Audit Office (NAO) reveals some encouraging insights. But while it's clear that individual STEM initiatives have had a positive impact, and participation levels are growing, the NAO report also highlights that more could be done to coordinate efforts and deliver a genuinely coherent programme of activity.
These comments, while largely aimed at government, should also ring true for business. All efforts to engage and inform young people are, of course, commendable but to maximise impact, they need to form part of an overarching STEM outreach strategy.
At Air Products, this is something that is central to our approach. It's all too easy to think of STEM outreach as school visits and careers fairs. But to reach a representative sample of the population requires a more holistic approach, targeting different age groups and backgrounds, and inspiring them via a diverse mix of events and engagement activity. Critically, this must happen both via the education system but also within the community at large, reaching the parents, grandparents and carers that influence young people's decisions daily.
Our work in this regard is far-reaching. It's sponsorship of events such as Techniquest's Air-mazing show, TeenTech, the Educate Awards, and The Big Bang that help to raise awareness of the diverse range of engineering roles that we offer – careers that young people might otherwise never have considered. But it's also bespoke and tailored engagement that helps bring engineering to life in an interactive and fun way, and link it to the real-world – from employer-led projects with university technical colleges, to interactive liquid nitrogen demonstrations.
It's also thinking smart about how to reach those students that might otherwise go under the radar. At some recent career aspiration awards we sponsored (instead of inviting), for example, fellow businesses onto our table at the event, we extended the invitation to schools that otherwise could not have attended.
Putting new recruits at the heart of this engagement activity is key. Fresh out of the education system, they can relate closely to the young people we are targeting and sympathise with the challenges and hurdles they may face. Our Graduate Council helps to play an important part in running this activity, not only focussing on informing and inspiring existing recruits, but also taking on STEM outreach activity too.  
We believe that taking a coordinated approach pays dividends in a number of different ways. Not only does it maximise the impact of what we are doing – taking the opportunities of a STEM career out to a much more diverse and representative mix of the population – it also inspires and motivates our recent recruits. They develop new skills from STEM outreach activity and find the opportunity to give back both rewarding and inspiring.
My advice to students? Take advantage of STEM outreach activities. Those businesses that invest in a robust approach ultimately attract leading talent, and by default offer a more diverse and varied place to work.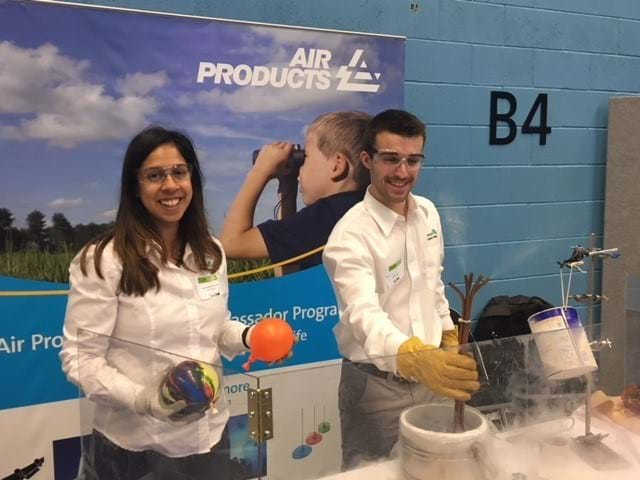 Jessica Nanayakkara and William Davies are chemical engineers on Air Products' five-year graduate programme. They believe that seeking an employer with a strategic approach to STEM outreach offers benefits at every level.
Operations process engineer Nanayakkara says: "Having been at an all-girls' school, I didn't benefit from much STEM outreach activity and it was only in year 12 when two people came in from an engineering company that I learnt about chemical engineering and the career opportunities it offered. It's not an exaggeration to say that this one small interaction was a defining moment for me.
"Having made it onto a chemical engineering course, I decided I wanted to pursue a graduate scheme rather than a direct entry job, in the hope it would give me a more rounded picture of potential career paths. Air Products' graduate programme really appealed to me and I'm now three-and-a-half years into it, during which I have experienced asset management, project management, process systems and operations process roles.
"For me, the opportunity to volunteer and be involved in STEM outreach from day one was key. I ended up taking on a Graduate Council role, organising things like careers fairs and work experience weeks. I also run a Brownie unit and am using the experience I have gained from STEM outreach activity at work to really get the children excited about science.
"When students are looking for prospective employers, I'd suggest seeking out businesses that have a strategic approach to STEM outreach activity – it's an indication of an employer that's committed to an open and inclusive environment. Getting involved in STEM outreach will also help you build softer skills, engaging with people from diverse backgrounds, and presenting to large groups.
"Ultimately, we all, as young people, have a responsibility to give something back. It's a chance to make a real difference to students' lives and it's really satisfying to share something you are good at. You never know, you could be responsible for inspiring one of tomorrow's engineers!"
Davies, a process engineer with Air Products, is equally enthusiastic: "At school I was always of a science and engineering mindset and, having looked into the options, I decided that chemical engineering was the best course for me. I think that if I had benefited from more proactive STEM outreach activities, I would have made my decision much sooner.
"For me, it's important that outreach extends all the way from primary school through to university.
"As a recent graduate, now just five months into Air Products' graduate programme I feel I can really make a difference to this. I act as outreach officer on behalf of our Graduate Council, getting involved with events such as TeenTech and The Big Bang. 
"I also organise and run an engineering work experience week for school children aged 15–18. This includes a site visit to an air separation unit, presentations and exercises including a design project to give an insight in to how we operate globally. It's amazing to see how young people can really open up and get inspired when you offer them a window into our industry.
"I'd encourage any new recruit to really get involved in STEM outreach work. Once you're in the mindset of giving back, the opportunities just keep coming – I now act as a mentor for a second-year student at the university I graduated from, for example. Strengthening the links between industry and education like this is really important and helps give an insight into what working life is like. I wish I had benefited from that sort of insight when I was still studying.
"It's not all altruistic either. I'm not only helping to inspire and inform young people, I'm also gaining management and engagement skills that I wouldn't have necessarily gained from my job itself. It's a win-win situation."