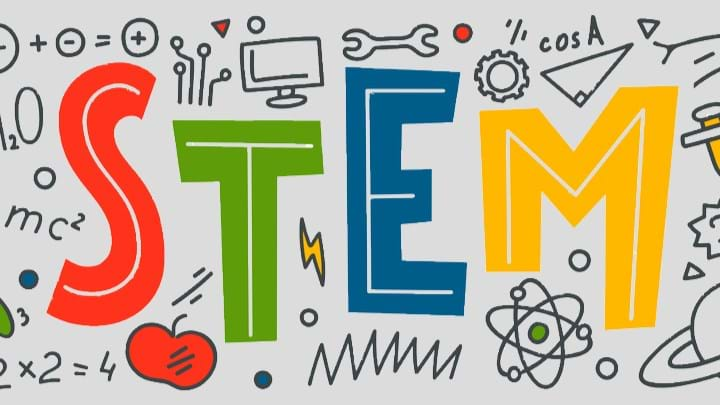 Ioulia Bykova shares the positive experiences of giving back and inspiring the younger generation
My name is Ioulia Bykova and as well as being a Senior Process Engineer at BOC, I look after school STEM visits and attend school science fairs with other like-minded colleagues in the UK's South Yorkshire region.
When I first started volunteering for IChemE, all I knew was that I had passion for developing my career and I wanted to share it with the students. Was I nervous? Absolutely! Every time I started speaking in front of a class of 30+ students and a teacher I would blush. It was petrifying, but I kept coming back, kept organising more school visits and the interest towards engineering talks grew year by year.
I remember one of my first school talks at my old technical college in Barnsley; I felt proud. Having completed my A-levels, I never returned to my college and none of my old teachers knew what career path I chose, so it was certainly a great opportunity and privilege to thank them for sharing their passion for physics and chemistry with me: it influenced the career choices I've made.
I often get asked by my colleagues: "Why do you do this?" The answer is it's rewarding, and I love volunteering. Not only do I get to promote engineering and (hopefully) inspire young generations, but there are also plenty of benefits for me as a volunteer. Over the years I have developed my personal skills, grown my professional network, and met hundreds of inspiring young students. And most importantly, nothing compares to the look of excitement on students' faces when you tell them about the opportunities that engineering brings: you can work in any industry, as the skills are fully transferrable.
The Secret World of Gases
I'm involved with delivering BOC's Secret World of Gases (SWoG) demonstrations. This is a BOC initiative aimed at engaging, inspiring and involving schoolchildren with via amazing stories and science of gases. The programme investigates latest innovations, dispels myths, and explores how gases will be used for a greener future. The original SWoG project was delivered by nine science centres across the UK, reaching over 100,000 children. More recently, 1,850 students were reached in 2019–2020, and 800 in 2020–2021.
SWoG includes a range of liquid nitrogen experiments and a demonstration of a hydrogen-powered bus. The programme was developed with expertise from the Royal Society of Chemistry and BOC, which is part of the Linde Group and the UK's biggest industrial and medical gases company.
Nationally, SWoG has around 40 active STEM ambassadors, who collectively delivered science demonstrations to almost 900 students in 2019 alone.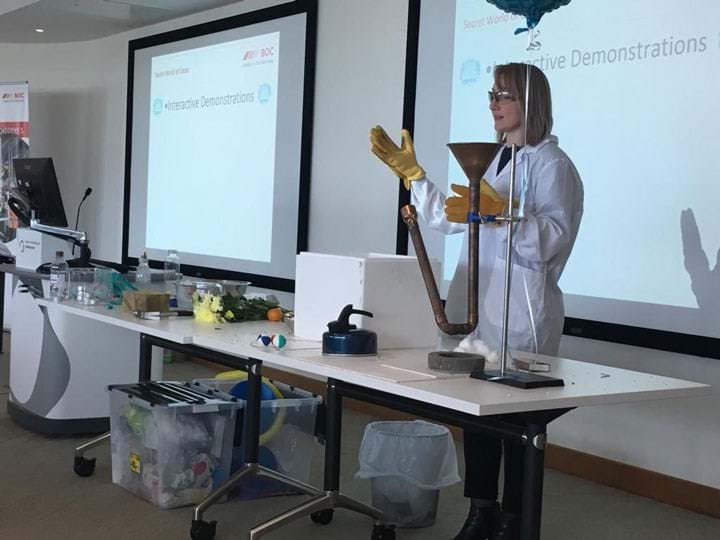 Community is the core value for BOC and the work of STEM ambassadors not only helps the communities, it also brings benefits back to the business; as a result of our hard work, our contribution has been officially recognised by BOC. In 2019 BOC's Global Giving Team presented us with a Community Engagement Award, including  prize money which will further support and develop the SWoG initiative.
IChemE, in collaboration with BOC, delivers two SWoG events per year as part of the Engineering Extravaganza (EE) event. This is a fantastic event carried out with other local professional engineering institution branch members including IMechE, IET, ICE and IOM3, in collaboration with STEM Learning and the Derbyshire Education Business Partnership. It's there to help young people and their teachers understand more about the engineering opportunities available to them. The aim of EE is to give the students hands-on experience of different types of engineering.
Over 400 students have participated in the SWoG demonstrations since IChemE got involved in the Engineering Extravaganza events in 2018.
It's easy to forget about the impact that we as professionals can have on younger generations: we get so involved in our own careers and personal life commitments. I think we should take more opportunities to take a step back and remember ourselves at the age of 16: young, ambitious, but undoubtedly confused about our career choices. I think all of us should take opportunities to listen and help in guiding students towards long-lasting and rewarding career choices.
So, I would highly recommend becoming a volunteer – check with your local IChemE member group to see what opportunities there are: you can make a significant difference to someone's career and based on personal experience, I am certain that you will see the benefits of your involvement.