Chris Lucas speaks to Adam Duckett about accelerating the UK's emergency vaccine production capability
IN early September, the UK's Vaccines Manufacturing and Innovation Centre (VMIC) received planning approval to construct a facility near Oxford that it had already begun building. At any other time that would seem highly irregular but not during these times, not with the pressure on to mass produce a vaccine to fight Covid-19.
In May, the UK Government awarded VMIC £93m to expand the facility's production capabilities by more than 20-fold and to fast-track construction at Harwell so that operations start next year – one year earlier than originally planned. 
For insight on how the project has been reshaped by circumstance and how the ensuing risks of a significant shift in scope are being managed during these extraordinary times, we caught up with Chris Lucas, a chemical engineer and VMIC's Chief Operating Officer.
VMIC – sudden scaleup
"VMIC was originally for emergencies expected to be limited to [producing] around 3m doses within three months," Lucas says. "We are now being asked to deliver 70m doses in 4-6 months."
On top of this, VMIC – which was first awarded funding in 2018 – had been focussing on viral vector technology but with so many differing vaccine candidates being developed, the Government has charged the team with expanding capabilities to make the facility "technology agnostic".
"That's a huge number of challenges all rolled into one, which are all being developed in parallel," Lucas says.
Asked how the team is successfully managing such change, Lucas says it basically comes down to good project- and risk management but recognises the timescales are very tight – pretty much the minimum anyone has ever seen.
"What VMIC is doing is accepting the challenge to target meeting the shortest timescale on every activity that sits on or close to the critical path."
Discussing the facility's planned filling line, he explains that typically you'd schedule around nine months to get one operational.
"We have a plan to do that installation, site acceptance testing, qualification, and media fills in half that time. We believe that is achievable."
The funding provided by the Government is being used to accelerate the project, expand the scope, take on more resource, and work double shifts and weekends.
"We're taking on more staff than we were planning to take on, and we're taking them on earlier."
This of course brings inherent risk.
"In terms of activity on the site, we have full Covid risk assessments in place. We are operating socially distanced and the main contractor Glencar has been doing a fantastic job of maintaining progress on site while at the same time ensuring the social distancing measures required by Covid are in place.
"Clearly when we ramp up to the fit-out part of the project there will be more people on site. That will increase the risk, but we expect to still be able to maintain social distancing measures and where that impacts on the schedule we will have to manage accordingly."
Despite all this, Lucas says the technical risk is limited. For example, a recent comparison of the original process utility requirements against the revised scope showed they could cover the work without risk to the schedule.
However, he goes on to say that at the top of VMIC's risk assessment is that a local rise in infections could shut down construction. New measures have been inserted, such as daily temperature checks for all construction and development teams but the risk is still high as the UK sees a resurgence in Covid-19 cases. He adds: "We remain at the point where a Covid spike on site or in one of the suppliers of a key piece of equipment could derail us significantly. But that is not something we can do [anything about] other than put in place the relevant risk-mitigation measures."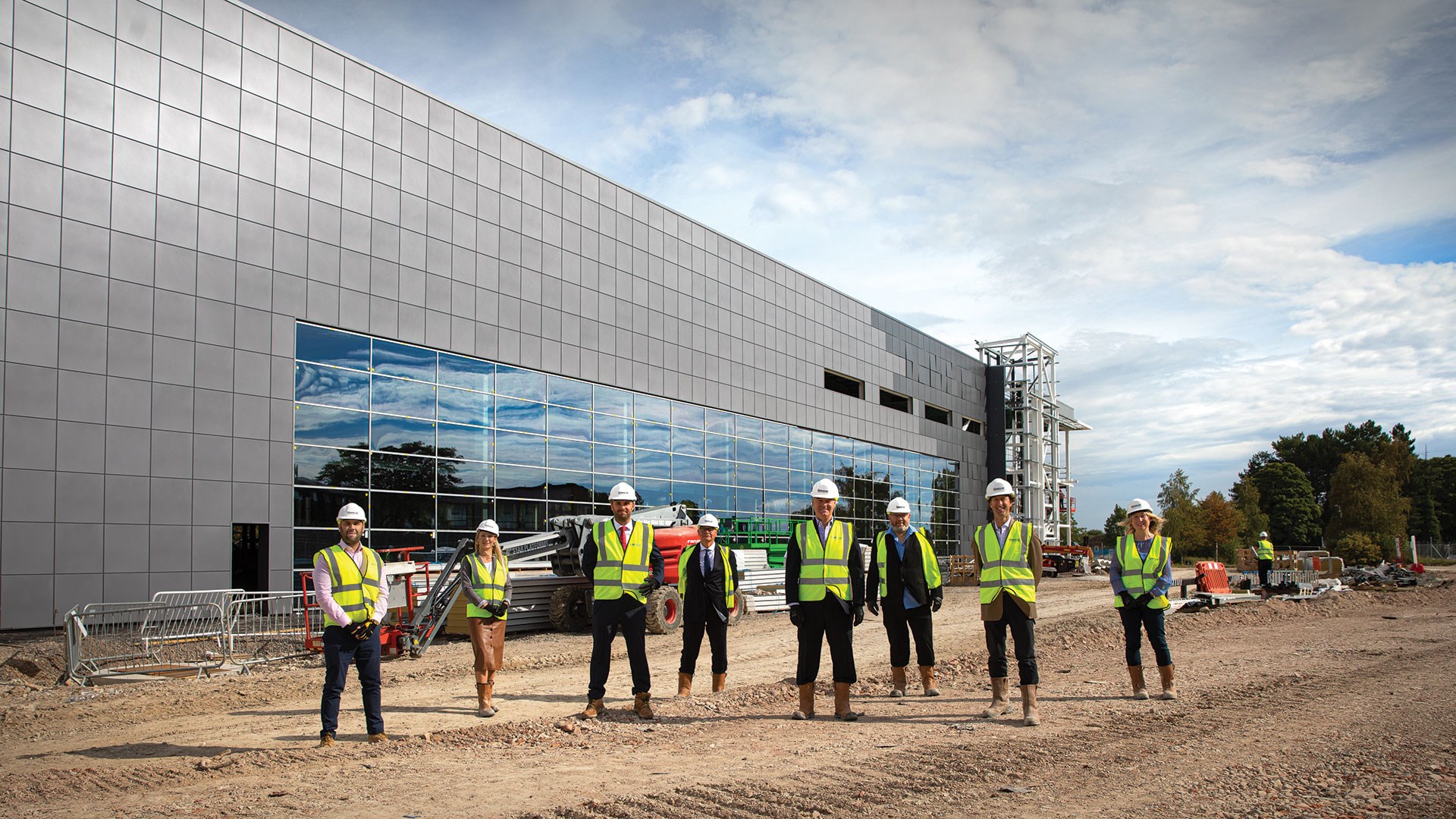 VMIC
Elsewhere in Oxford
Alongside this parallel work, the VMIC team has also been given £38m to establish a separate rapid deployment facility – known as Virtual VMIC – that will use existing facilities in Oxford to begin producing Covid-19 vaccine as early as October this year.
This temporary facility is being established at a local site owned by gene therapy firm Oxford Biomedica with support from the National Vaccines Industry Taskforce. The team chose to house the facility at Oxford Biomedica because it had suites available that were nearing the end of their qualification to achieve GMP compliance and the already-trained people that the Oxford Biomedica team bring to this collaboration.
"Basically, it was a very good synergy to use their facility and procure our equipment and recruit our people to be able to get that rapid deployment capability in place.
"We remain at the point where a Covid spike in one of the suppliers of a key piece of equipment could derail us significantly. But that is not something we can do [anything about] other than put in place the relevant risk-mitigation measures"
The risk with Virtual VMIC is that it is being set up on the assumption that it will produce just one of the Covid-19 vaccines, the the University of Oxford and AstraZeneca adenovirus vector vaccine candidate AZD1222 (previously known as ChAdOx1 nCoV-19).
"We know that there are other vaccines in development and we recognise the other vaccines may have different manufacturing technologies and different platforms. So, yes there is a risk there. VMIC itself – the VMIC facility being constructed at Harwell campus – has looked at some of the other platform technologies that are being used and we recognise that we would be able to manufacture those technologies but not on the timescale that rapid deployment in Virtual VMIC allows."
Looking to the longer-term
Lucas says the team is in close contact with the medicines regulator about the acceleration of the project and changes to the design, and he expects the VMIC facility at Harwell will be declared GMP-compliant by the end of next year.
Asked how easy it will be to transfer in processes from other companies, Lucas says: "There is a clear technology transfer process which is well known in the pharmaceutical, the biotech and the vaccines industry.
"Our Head of Process and Analytical Development Jon Humphreys has been actively involved in the technology transfer of the AZD1222 vaccine from Oxford University; from the start of the project, through the non-GMP development, and scaleup work. This work is ongoing as we move through the first GMP runs and continue to assist AstraZeneca to transfer that technology to Virtual VMIC and indeed other CMOs globally."
Looking ahead to when VMIC also begins to fulfil its role of providing facilities for researchers to take their vaccines research to the next level, Lucas says VMIC is recruiting engineers with experience of scaleup.
"The intention is that VMIC will have its own in-house development team. We will have a number of pre-GMP and a number of GMP development and manufacturing suites at small scale, intermediate scale, and at large scale (see Boxout). We would be welcoming collaborators both from academia and SMEs, and indeed Big Pharma that have programmes that they can't handle internally, to come to VMIC and work with us to develop their processes, including the scaleup aspect of it."
While hiring in Oxfordshire can be difficult due to the high costs of living in the area, this isn't currently proving a challenge.
"I've heard it said the cost of living in Oxford is higher than London. That's an issue that we will constantly see. The fact that we're not-for-profit is also an issue that we have to contend with."
Despite this, Lucas is happy to report that the campaign to recruit 35 new staff members is working well. He says the pandemic is driving interest in VMIC's work and the opportunity for innovation.
"We've been able to attract people that are wanting to be at the sharp end – if you like – of vaccines development and manufacture."
Member questions
Ahead of the interview, Members of IChemE's Covid-19 response team submitted questions they wanted to put to the VMIC team. These exchanges have been edited for clarity and length. This is a selection of the questions asked:
HOW MANY VACCINES CAN BE MANUFACTURED IN PARALLEL?
"In the longer-term we will have four small-scale pre-GMP development suites. We will also have six small-scale suites which are GMP that can be used either for development or small-scale clinical manufacture. Those ten suites will have a 10–30 L production capability.
"We will have two medium manufacturing suites that are each expected to offer a 50–200 L scale operation.
"And then we have two large-scale manufacturing suites that are capable of comfortably hosting up to 1,000 L capacity. For the pandemic, the designed layouts suggest we will be able to accommodate two 1,000 L bioreactors running in parallel.
"We would not be resourcing VMIC such that every single one of those suites would operate all the time. At least initially.
"So that covers drug substances manufacturing. In terms of filling we have two medium-to-high speed filling lines which are on order and being progressed to cater with a pandemic capability. In addition to that we are proposing to procure smaller-scale filling machines to cater for clinical supply and safety study supply."
WHAT IS THE MAXIMUM BIOSAFETY LEVEL (BSL) FOR THE SITE?
"BSL2. That is on the basis of need. Prior to starting the design process we had a number of scope-setting sessions which included academics and industrialists.
"The step change to BSL3 and indeed BSL4 is relatively significant in terms of the supporting equipment required. It isn't to say that in the future we couldn't either modify the facility or extend the facility but it is something we cannot do on day one.
"I think it's fair to say as vaccine processes have evolved over the years more from live and attenuated vaccines and deactivated vaccines to the modern vectors that the biosafety level is going down rather than up."
WHAT MATERIAL HANDLING FACILITIES WILL THE PLANT HAVE?
"We're not handling huge quantities of solids. We have got a media and buffer preparation area where solid powders will be made into the liquid buffers that are required. We expect to pack columns in situ. And as part of process development we will develop column life studies. But we're not talking about handling tens or hundreds of tons of materials here. We're talking relatively small quantities of solid materials."
WILL YOU BE USING SINGLE-USE TECHNOLOGY?
"Yes, the basis of the VMIC facility design is single-use technology. We do have traditional stainless steel in our media prep area but only there. All the processing equipment and the facility design is that the manufacturing suites – certainly the larger-scale manufacturing suites – will be focussed on single-use technology."
HOW WILL YOU DECONTAMINATE EQUIPMENT AND CONTAINERS?
We have vaporised hydrogen peroxide (VHP) passthroughs and autoclaves for decontamination. And sterilisation of the equipment coming into the facility.
HOW ARE YOU TREATING EFFLUENT?
We have a heat treatment system designed for deactivation of BSL2 material. This involves holding the BSL2 waste at a given temperature for a given time period prior to release.  We also have a capability to do biological decontamination of the process wastes and then to tanker them offsite if they are unsuitable for discharge.