LITHIUM-ION battery storage goes hand-in-hand with renewable energy, but these batteries are extremely difficult to repurpose or recycle, creating a huge waste problem. I spoke to Amrit Chandan, co-founder and CEO of Aceleron, about the company's battery pack design which allows lithium-ion batteries to be recycled, as well as its role in providing off-grid energy in developing economies.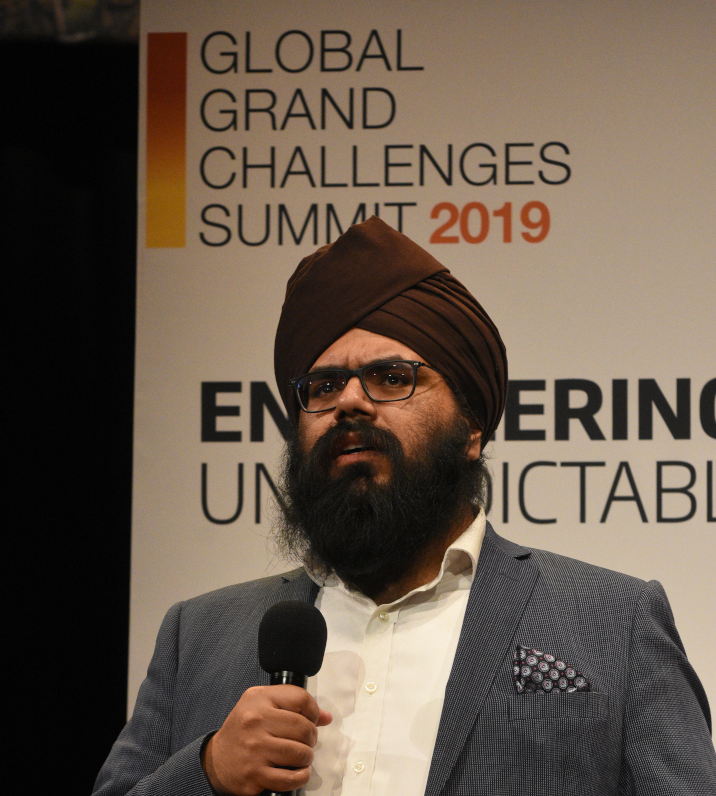 The deployment of wind and solar energy has been increasing rapidly worldwide, and the uptake of electric vehicles has also been rising. Both require batteries, but the growing number of batteries required to deal with the climate crisis is leaving a waste problem in its wake. A faulty lithium-ion battery may have years of life left but cannot be repaired due to its design. They are extremely difficult to recycle, and even if they are, it is wasting resources and energy by recycling a battery that could have been repurposed instead. Aceleron, founded by Carlton Cummins and Amrit Chandan, set out to tackle this problem by creating a sustainable lithium-ion battery.
Chandan developed an interest in sustainable technologies, particularly fuel cell technology, during his PhD in chemical engineering at the University of Birmingham, UK. While working at a consultancy in 2015, he met his co-founder Cummins, a mechanical engineer, and the idea for Aceleron emerged from a lunchtime conversation. "We started talking about all the electric vehicles coming to market and the batteries that others would produce. We started thinking that there was potentially a problem coming here because all this waste was coming to market but there isn't a solution for dealing with the waste. We decided it was big enough of a problem to leave our jobs the following March, three months later, and started taking apart as many lithium batteries that we could get our hands on to understand why they were failing, what was going wrong with them, how much life they had left and if we could reuse them."
During the process, they realised that assembly methods such as using structural adhesive or spot welding meant that batteries are not typically designed to be repaired or easily recycled. Battery producers also strive to decrease their use of precious metals, which in turn lowers the financial incentive to recycle them. On top of that, recyclers often don't know the exact chemistries of the batteries, as the producers want to protect the design. As a result, companies often end up stockpiling old batteries as it is cheaper than recycling.
Cummins and Chandan developed a method for testing how much energy remains in a battery, which in turn led to a process for up-cycling batteries and a redesign of the battery pack to make it serviceable.
Designed to be repaired
Aceleron has developed a compression-based approach to assembling the batteries, using fasteners to connect the parts and complete the circuit. "It's almost like a sandwich," said Chandan. "We have a bottom tray with embedded electronics and connecting parts, we have our cells, and we have the reverse of the bottom tray."
This makes the batteries easy to disassemble and to replace parts when needed. The design also had the unexpected but welcome result of making the batteries safer. Typically, if one cell in a battery starts to overheat, the whole pack can ignite or explode due to the close proximity of the cells and the amount of energy being compressed into a small volume. "We're spacing cells apart a bit more but also we have protection on every single cell and also if a single cell does experience some kind of failure then the compression usually gives out first, which breaks the circuit and it helps to calm the situation down. We didn't realise that at the start."
Aceleron has developed 12 V batteries, which can be used as backup power for off-grid lighting, or for leisure applications such as in campervans or watercraft. There is also a scaled-up version, known as OFFGEN, which is a 10 kWh modular system that features new cells, and has solar inverters which enable it to work with solar panels that can be used for powering homes and business. Aceleron's batteries are designed to last for around 25 years with servicing.
"What we're hoping is that by having a battery that you can keep servicing and maintaining, it will reduce the amount that you need to send for recycling over its life," said Chandan. "First of all, we use all of the battery to the full extent, but secondly we also generate enough time that hopefully in 25 years or ten years or five years even, recycling processes will be more efficient so they will be close to 100%." He noted that nothing will ever get to 100%, but technologies being developed in universities could come close if scaled up.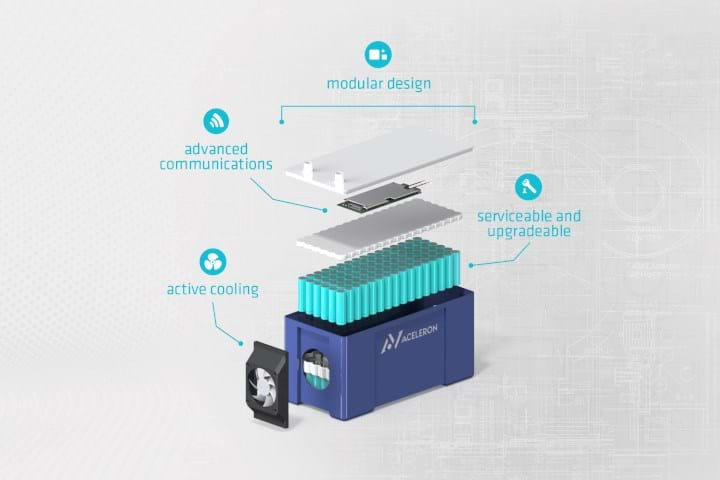 Funding entrepreneurship
Chandan also spoke about how hardware companies are very cash intensive, which can make funding a hardware startup one of the most difficult challenges. Aceleron has received around US$3m funding through innovation research grants, equity, philanthropic and prize-winning funds,  as well as funding from the UK Government as part of the Faraday battery challenge, which aims to develop high-performance recyclable batteries. However, he pointed out an aspect of grant-based systems that could be improved to encourage entrepreneurship. "One of the challenges that we face with grants is that you have to almost have to have money first to spend to be able to claim back the value of the grant, and if you don't have money starting out, it's really tough to do that. There's always a reason behind these things so I don't know how much they can change, but if they could change something like that, that would make it easier to do research."
Social impact
Aceleron has been putting battery packs into houses in fragile economies to power off-grid homes and help with disaster resilience. One location is the Caribbean ­– Cummins is originally from Barbados and had previously worked on installing solar panels there. Chandan told me that during the latest hurricane season there was a tweet from a user of their system who commented that their lights were still on. "It was really good to see that. Social impact is really important to what we do."
He also described the partnership that Aceleron has with the Shell Foundation, supported by the Department for International Development (DFID), to bring the technology to Kenya. "We built battery packs in Kenya and we are enabling solar home system providers, like BBOXX to put better quality battery systems into homes so people can enjoy for the first time perhaps, luxuries like a tv or a fridge or a set of lights. It makes a huge difference." BBOXX had previously been using lead acid batteries for its solar power storage.
Aceleron taught the local workforce how to make batteries in its repurposing facilities in Kenya, in partnership with Total. This upskilling enables local technicians to maintain the batteries.
Moving to a larger scale
As well as bringing the OFFGEN system to the UK, and expanding into other parts of Africa, Aceleron is also considering offering energy storage as a service in rural Africa. "We can always make sure that they're being serviced and maintained properly but it also fits in really well with the way business models work within rural Africa or within less economically developed countries where a lot of things are done on a pay-as-you-go basis as opposed to straight-up purchase"
Aceleron has rapidly moved from an idea formed during a lunchtime conversation in 2015, to providing its serviceable batteries where they are most needed. The next step will be to increase the scale to enable greater energy storage.
"The next thing we're working on to produce battery pack systems, all based on the same fundamental design but stacked in such a way that we can store MWh of energy storage, maybe even larger. These systems would be on a mini-grid scale with a focus between 10 kWh and 1 MWh, but up to 10 MWh, because we think that's where this technology has the most impact. These would be large installations that we can service and maintain in one location and it's easier to facilitate that."