Kariappa Karumbaiah explains how Hydroxsys hopes to place innovative membrane technology at the forefront of sustainable wastewater treatment
Water scarcity affects more than 40% of the world's population, according to the United Nations Development Programme: an alarming figure that is projected to rise still further. More and more countries are experiencing dwindling water supplies and water catchment pollution problems, and rely on outdated, energy-intensive wastewater systems. Hydroxsys, based in Auckland, New Zealand, aims to address these issues by securing the future of water and has developed an innovative technology to do so. Its technology was highly commended in the water category of the IChemE's 2022 Global Awards.
Our vision for a world of clean water started with a mission to solve a big industry problem: traditional industrial-scale wastewater treatment systems rarely function to the standards set by regulators and expected by customers.
No more forever blowing bubbles
Common wastewater practices in industrial processing plants involve large settling ponds or dissolved air flotation (DAF) systems – a process involving dissolving air in wastewater under pressure, then releasing the air at atmospheric pressure in large flotation tanks. As the air bubbles out of solution, pollutants such as oils and solids float to the surface, where a skimming mechanism removes them. These systems are not designed to deal with toxic permeate, and under-investment means they struggle with increasing throughput. For example, DAF systems popularly used by dairy processors are 30-40 years old and have not been expanded to cope with company processing capacity that, in some instances, has increased by 400%.
Looking for a smarter solution, the team and I zeroed in on filtration technology, building on our expertise with polyolefin membranes used in the lithium-ion battery market. We chemically transformed the membrane from being hydrophobic to hydrophilic, allowing water to pass through while rejecting unwanted pollutants like bacteria and suspended solids.
Hydrophilicitising polymers and crosslinking agents are coated onto the polyolefin membranes, creating thin hydrophilic layers. Chemical reactions occur on the membrane surface, producing covalent bonds between the membrane and hydrophilic polymers which render the coating resistant to harsh chemical environments. Applying this technology to low-cost polyethylene and polypropylene film produces a membrane just 20 microns thick, able to extract water from industrial waste.
Our technology uses a cross-flow system where the feed passes transversely across the membrane, under low pressure around 3 bar. Water molecules glide over the surface of the membrane, minimising the accumulation of solids. Field trials and more recently, commercial deployments, confirm our membrane filters do the job that traditional industrial treatment systems cannot: process chemically challenging industrial wastewater streams to recycle up to 98% of water and other precious resources from wastewater for reuse or safe discharge.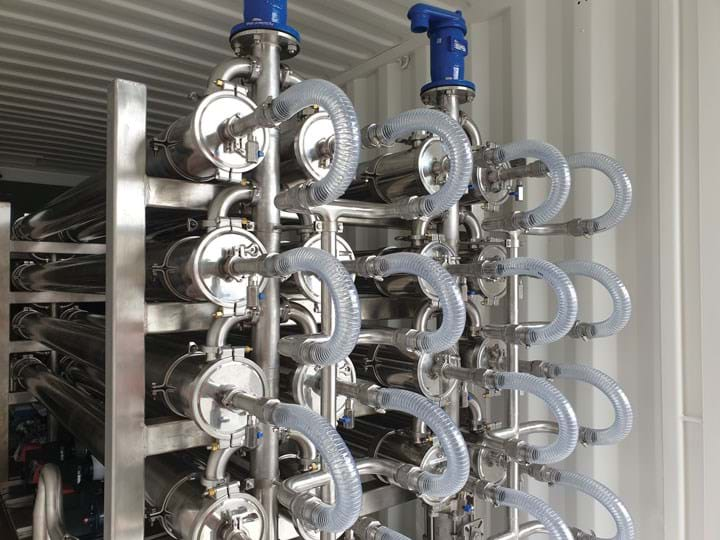 Superior membranes