Tim Harwood updates us on the collaborative gas industry programme to deliver the evidence on converting UK gas networks to 100% hydrogen
CLIMATE change, and how we tackle it, has become a defining issue for the global community in the last 12 months.
Greta Thunberg united a generation by calling out world leaders on their inaction. And although the Paris Agreement clock was already ticking, when Teresa May last summer committed the UK to reaching Net Zero emissions by 2050, the deadline became even more ambitious.
While the UK power sector has made great strides in decarbonising, a credible solution for heat is yet to be settled upon.
The UK currently relies on 1,500 terawatt hours (TWh) of energy to heat buildings, fuel transport and power electric generation. Currently, less than 10% of this energy comes from renewable sources.
Almost half of the energy consumed in the UK is used for heat (760 TWh), with around 57% of this (434 TWh) heating our homes and hot water. Natural Gas currently heats 83% of our homes.
As a nation, we benefit from a world-class gas grid designed to ensure the continued safe, resilient and reliable supply of energy, whatever the weather.
At its peak, the network transports up to five times more energy than the electricity networks, and by its nature, acts as a giant storage facility.
Two years ago, when the so-called "Beast from the East" left the country under a thick blanket of snow for a week, the Northern Gas Networks gas distribution grid alone delivered 470 GWh of energy in one single day, and provided 70 GWh of storage.
The scale of the challenge to replace it with a cleaner, greener alternative pathway is huge. If it cannot be repurposed, an asset worth £22bn (US$26bn), currently being reinvested in for another 100 years via the Iron Mains Replacement Programme (IMRP), risks eventually becoming stranded.
Hydrogen represents a credible pathway towards decarbonisation of heat. Zero carbon at the point of use, hydrogen could be deployed in our existing gas network, meeting the vast energy demand that natural gas currently supports today.
Repurposing the gas network to transport this clean gas would not only generate huge carbon savings, but also prevent disruptive and expensive change for consumers in our homes and highways.
Repurposing the gas network to transport this clean gas would not only generate huge carbon savings, but also prevent disruptive and expensive change for consumers in our homes and highways
Leading the work to present Government with the evidence on which to base policy is H21, a collaborative UK gas industry programme led by Northern Gas Networks, and focussed on conversion of the network to carry 100% hydrogen.
H21 received £9m of Ofgem Network Innovation Competition (NIC) funding in 2017, and a further contribution of £1.3m from the other distribution networks to deliver the first phase of critical safety evidence required. This will aim to show that a hydrogen network is of no greater risk than the methane network heating our homes today. A full report is due in Q3.
The NIC was followed with 2018's H21 North of England report, a detailed engineering scenario written in partnership with Equinor and Cadent.
This set out how 3.7m homes in the North's major urban centres could be converted, and the associated production and storage infrastructure, as well as CCS, that would be required to deliver clean heat across the North.
At the end of 2019, H21 received £6.8m of further NIC funding to develop Phase 2 of the safety case, which will begin in Q2.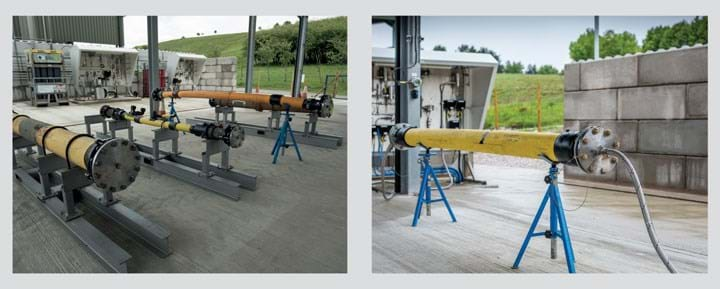 Background to H21
The H21 project began in Leeds as a feasibility study, examining whether converting the gas distribution network of a city (one of the same size and energy demand as Leeds) was both technically possible and economically viable.
In 2016, the Leeds City Gate study proved it was, and the carbon savings, if the UK converted wholesale, were calculated to be as much as 70% of total heat.
But without a robust and immoveable safety case to underpin it, no Government policy decision around hydrogen's use for domestic heat will materialise.
While the Government undertook the "downstream of the meter" work through Hy4Heat – a £25m project looking at hydrogen's use in buildings and appliances – H21 shifted from desktop study into heavyweight research and demonstration project to provide the Government with this essential data on the network.
H21 NIC
The H21 NIC focussed on delivering the essential critical safety evidence. This was aimed at proving that a 100% hydrogen network was of no greater risk than the natural gas network currently heating homes and fuelling industry today.
Backed by all of the UK GDNs – Northern Gas Networks, Cadent, SGN and Wales & West Utilities in collaboration with the Health & Safety Executive and DNV-GL – Phase 1 has centred around two main workstreams since the start of 2018.
Phase 1A
Phase 1A comprises asset collection and background testing on a bespoke facility at the Health and Safety Executive's Science Division in Buxton.
This set of tests covers the huge range of metallic and PE assets, valves, joints, fittings and pipes across the UK, ranging in different pressure tiers and diameter. As part of the UK IMRP, a cross section of these assets has been removed from across the network, and transported to the HSE site in Derbyshire.
Here, on a specially-built leakage test rig, controlled testing with natural gas and 100% hydrogen is providing the essential evidence for changes to background leakage levels in a 100% hydrogen network.
Phase 1B
Phase 1B involves consequence testing at DNV-GL's rig at RAF Spadeadam, in Cumbria.
This phase is measuring the risk associated with background leakage from Phase 1a, such as failure leakage, mains fracture, third-party damage and operational repairs. Testing will establish the consequences of leaking hydrogen, such as tracking and dispersion, in scenarios with different potential sources of ignition, and comparing them to those of natural gas.
In addition to the two key phases, the H21 NIC is also delivering a quantitative risk assessment (QRA) and master testing plan (MTP). The QRA will be used to update the computer-based modelling systems for natural gas to 100% hydrogen applications, while the MTP was finalised for both sites' testing regimes, to ensure credibility, and that tests were undertaken in accordance with agreed methodology.
Interest in H21 has steadily grown since the Leeds City Gate report, and around 100 stakeholders – including Ofgem CEO Jonathan Brearley – visited the Buxton site last July, to see this pioneering facility in action.
Results from Phase One will be shared in a full report in Q3.
Phase 2
Phase 2 was granted NIC funding of £6.8m at the end of last year, and will see another step forward for the evidence base. National Grid and Leeds Beckett University are also joining the H21 consortium for Phase 2.
The main focus of the work will involve simulating network operations on a specially-constructed mini network in Spadeadam, continuing to use the site deployed for Phase 1.
Network research trials on an unoccupied test site will also be undertaken, to demonstrate operational and maintenance procedures – an essential prerequisite to live trials – and will  take place on a decommissioned part of the gas network.
A combined QRA will bring together findings from the network testing and that of the Hy4Heat programme, currently exploring hydrogen's use in buildings and appliances.

Customer research
Phase 2 will also build upon customer research carried out as part of Phase 1, working with social sciences teams from Leeds Beckett University to understand further public perceptions of hydrogen.
With no established evidence for how customers would respond to the prospect of a hydrogen conversion, and its effects on heating and cooking, the initial research was carried out to delve into the detail of public awareness of hydrogen as an energy source, and unpack any perceived associations or barriers to its use.
The full results of this research will be shared later in Q2, at a special launch in Leeds, with outline findings showing customers are broadly supportive of hydrogen for heat, providing it comes at the right cost and without major disruption.
The social sciences workstream for Phase 2 will focus on developing resources to enable consumers to make informed choices on their future energy.
H21 North of England
While the NIC work got under way, back in November 2018, the H21 team published a second major report: H21 North of England.
This was delivered in partnership with global energy giant Equinor, a leader in the field of carbon capture and storage (CCS) technology, and Cadent, the UK's biggest gas network.
H21 North of England underpins the safety case, presenting a conceptual design for converting the existing networks of the North's major cities, and the precise requirements of the production, storage, transmission and CCS needed to deliver clean heat, at scale, across 3.7m homes, between 2028 and 2035.
The blueprint includes a 12.15 GW hydrogen production facility and 8 TWh of inter-seasonal storage, to generate carbon savings of 20m t/y by 2035.
What's next
Clean energy demonstrator projects are likely to take on increasing significance in the UK this year.
As the country prepares to host COP26 in November, expectation for us to take the lead on decarbonisation strategy will be high. Until Government policy on hydrogen is set, industry will continue to develop the evidence base to support it through projects like H21.
The H21 Phase 1 results report will be launched to key stakeholders in Q3.
As Phase 2 gets under way, plans are now in development for Phase 3, involving a live demonstration in an occupied area from 2022. Phase 4 – part conversion of the network – could begin as early as 2024–25.
In the meantime, hydrogen's potential as a decarbonisation solution is gathering strong support overseas, and public awareness is growing.
Learn more about H21 by watching our NIC update film at www.h21.green