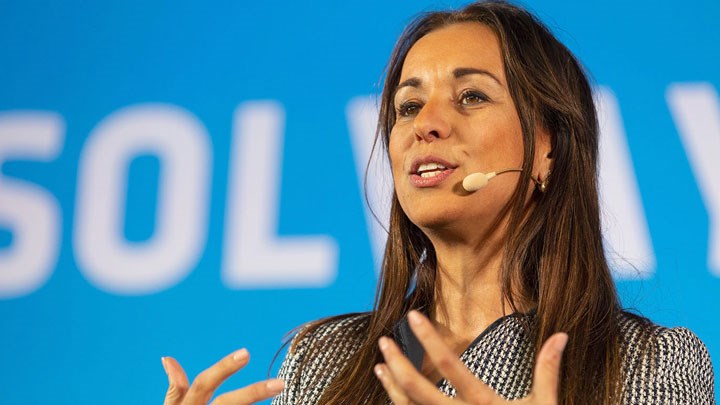 Solvay CEO Ilham Kadri's advice for women in STEM
AS the first woman to lead a major European chemical company, my hope is that I can inspire more women to pursue a career in science, technology, engineering and mathematics (STEM). Yet, when you look at the full picture of global leadership, my story remains an anecdote. While the industry is making progress, women are still underrepresented in leadership positions.
For instance, there are only two female CEOs in the Bel 20 blue chip index companies. Globally in 2020, women made up only 35% of STEM students and only 29.3% of people working in scientific research and development.
But fortunately, things are changing. Numerous studies have now shown that diverse companies perform better financially, and players in the industry are taking action to attract diverse talent. I truly believe the next generation of female STEM professionals will be sought after for the innovative and unique approach they bring.
So what advice can I give to women to be successful in this still male-dominated industry?
Don't play by the existing rules!
My best advice is to always bring your whole self to work and follow your dreams even if this means challenging the status quo and bypassing the existing rules. The truth is that if I had played by the existing rules I wouldn't be here! It means first getting to know yourself and understanding your roots – what makes you unique, what makes you strong, what makes you you. Once you've identified what singles you out, create your own path and make it viable by working hard – by learning, unlearning and relearning.
In my case, one of my passions is sustainability, and this started in my home in Casablanca where we didn't have the luxury of wasting anything. When I was offered my first general management job, my nickname in the Middle East was "The Water Lady" as I was the first business-woman to sign a public deal in the Kingdom of Saudi Arabia, leading to the construction of the first membrane water desalination plant in the whole Middle East region that didn't use fossil fuels.
When you're in the moment, when you are living your passion, when you are determined, you don't even realise that you're the first to do something. You're just living your life to the fullest, even when this means taking risks or starting from scratch, because this adds meaning to your life.
Find sponsors, not only mentors
Throughout my career, I have benefitted from incredible mentors from the academic, professional and personal spheres, who helped shape my path. But sponsors are equally important. To be clear, a mentor is someone who talks to you and advises you, while a sponsor is someone who talks about you and advocates for you when you are not in the room, such as when that great promotion is being discussed. Both mentoring and sponsoring need to be intensified.
From my professor in Strasbourg University who offered me the opportunity to be the first female working with a twin screw extruder in his lab, to the business leader who convinced me to learn sales in the highly male predominant automotive area, or my former CEO who appointed me as the first female leader in the Middle East and Africa region, mentors and sponsors who believed in me have played such an important role in the trajectory of my career. 
Expect companies to raise the bar
Last but not least, we need to expect companies to rise to the challenge and hold them accountable. To achieve real change, industry must do its part to create an environment where diversity can thrive.
This is a major priority at Solvay and I'm so proud that we increased maternity leave to 16 weeks and made it available to all co-parents regardless of gender, gender-identity or sexual orientation – because to help women get to the top we need to give their partners the opportunity to help them in critical times for families.
We also just launched a diversity, equity and inclusion initiative, called Solvay One Dignity, which has nine concrete targets to be achieved by 2025. Through this initiative, we are building a pay equality index to identify pay gaps and committing to close them by 2025. We're also launching a mentorship programme and putting measures in place for fair recruitment by ensuring our shortlists have 50% under-represented groups, including women. And, we've committed to achieve gender parity at all mid and senior levels by 2030.
It's important to deploy men in this journey as well, and I am a big believer in the Men Advocating for Real Change (M-A-R-C) movement initiated by Catalyst and deployed at Solvay. Since we launched Solvay One Dignity, I have actually received several  emails from our male employees to express their gratitude for giving them tools and space to act.
The chemical industry and all STEM careers need diversity – the future of innovation depends on it! I truly believe that if women with a passion for STEM follow their dreams – and companies continue making it a priority to create an environment where they can thrive – there's no limit to what we can accomplish.