IChemE surveyed students as it seeks to bolster engagement and improve member services. Andrea Hosey shares the findings and what comes next
OUR previous all-member research projects have shown that IChemE is not getting the same level of engagement from student members as we do with other membership grades. Yet the need for younger member engagement is critical to the future of IChemE, and ensures that the institution remains relevant across chemical engineering skills and sectors, as well as on sustainability, diversity and inclusion, and ethical best practice.
We also know that the pandemic has created a shift to a greater proportion of virtual interactions which are reducing face-to-face networking events and visits by IChemE staff to universities.
The IChemE Member Engagement Committee and the Board of Trustees have therefore prioritised students and early-careers engineers and wanted to gain a better understanding of students' needs, aspirations, challenges, and frustrations in order to develop suitable engagement strategies, resources, and services.
Through a combination of qualitative and quantitative research techniques, run by external marketing research company Research by Design, we aimed to:
clarify what students expect from IChemE as a membership organisation;
ascertain what the IChemE value proposition should be for students;
establish what "engagement" means to students,
understand how student engagement varies by location and other factors;
ascertain the optimal ways to grow engagement with students;
explore the communication channels students use and how IChemE can better access these;
explore how students first become aware of IChemE,
ascertain the reasons for joining IChemE as a student, and who/what influences this decision; and
understand barriers to joining IChemE, and what would cause non-members to join.
The research scope initially covered chemical engineering students (members and non-members) who are currently studying at universities in the UK and Ireland. The next stage will be to run a research project covering students studying in Australia, New Zealand, and Malaysia, later this year.
Ultimately the objective is to create a much more co-ordinated approach to student engagement and ensure that this is positioned as a priority for IChemE as part of Strategy 2028.
What we learned
Over 450 students took part in this research project which provides a good statistical base to start building on current approaches and developing new student engagement strategies. The key lessons from the research are:
students are already warm to IChemE and are overwhelmingly positive about their perceptions towards the institution, even if they don't actively engage. This will provide a wealth of opportunities to improve engagement;
while students are not a homogenous group, their aspirations and needs from IChemE are fairly consistent, especially around the need to help them launch their careers;
students do not currently join IChemE to access current benefits or for immediate gain. They join partly because it is "expected" that they should and also because of a perceived future value associated with being a chartered member;
students feel they do not have a lot of time to get involved with IChemE. As a result, IChemE has to be more visible and develop opportunities to "come to them";
networking is hugely important to students as are face-to-face interactions. They are looking for valuable connections that will help them make career decisions and apply for their first role or placement;
the research highlighted the importance of their tutors/lecturers in respect to how students hear about IChemE, with 63% of respondents saying that this was how they were first introduced to IChemE.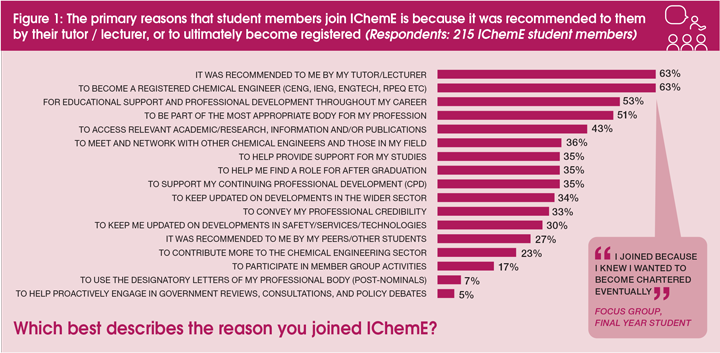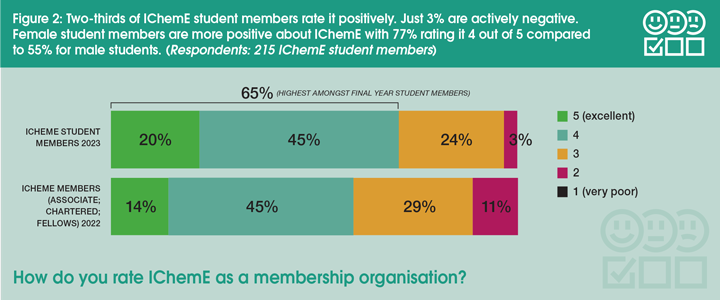 The primary reasons for joining were firmly underpinned by the fact that students are overwhelmingly positive in terms of their perceptions of IChemE, with three quarters describing the organisation as being "professional".
This positivity among respondents was also strongly reflected in how they view IChemE but there is also a recognition that they should be getting more from the institution.
Another important lesson from the research is that the majority of non-student members studying a chemical engineering-related degree would consider becoming an IChemE student member. Non-student members were also very open in explaining what they would need from IChemE to convince them to become a member.
Existing student members were also very clear about what support they need when making key decisions about career options and applying for jobs.