BRAZILIAN mining giant Vale is to invest in technology to reduce tailings dam use and increase operational safety.
Tailings dams are used to store tailings, the waste from ore processing, a slurry of fine uneconomic rock and chemical effluent.
The technology Vale is to invest in includes separation technology to enhance iron-ore recovery, and to process iron ore without the use of additional water.
The announcement came almost two weeks after the one-year anniversary of a fatal Vale dam collapse which killed at least 259 people.
Magnetic separation technology
Vale's investments will include up to US$100m to construct an industrial plant for dry magnetic concentration of low-grade iron ore.
The plant will employ Fines Dry Magnetic Separation (FDMS), a unique technology developed by iron ore technology company New Steel, which Vale acquired in 2018. The system enables improved recovery of iron-ore fines and superfines from iron mining waste. The FDMS patent is recognised in 59 countries.
The project is to begin by 2022.
According to Ivan Montenegro, President of New Steel, an FDMS pilot plant is to begin operating at the Ferrous Metals Technology Center in Nova Lima, Minas Gerais, in Q2. The almost US$3m plant is to concentrate 30 t/h of dry ore.
It will be the second pilot carried out by Vale. Between 2015 and 2017 a similar plant operated successfully at Vale's Fábrica mine in Minas Gerais.
Montenegro added that Vale is working to develop large-capacity magnetic separators of up to 100 t/h, to align with its future projects.  
Dry processing
Vale says that over the last decade it has invested almost US$17.8bn on deploying and expanding dry – or natural moisture – processing of iron ore produced in Brazil. Dry treatment doesn't use any water from the environment for ore processing and doesn't generate tailings, removing the need for tailings dams.
Over the next five years the company plans to invest US$3.1bn on similar facilities, to achieve its 70% dry production goal. Vale estimates that with New Steel, in 2024, 70% of its production will come from dry or natural moisture processing and won't use additional water or tailings dams.
Currently, 60% of Vale's iron ore is produced using natural moisture processing. The company plans to invest US$1.8bn in filtering and dry stacking in the coming years.
In Pará, Brazil, almost 80% of Vale's production already uses this technology and Vale's main plant in Carajás, Brazil – Plant 1 – is being converted to natural moisture processing. Eleven of the 17 processing units at the site already use dry processing, and the other six will be converted by 2023. Treatment plants in Serra Leste, Curionópolis, Pará, Brazil and S11D complex, Canaã dos Carajás, Pará, Brazil also don't use water to treat ore.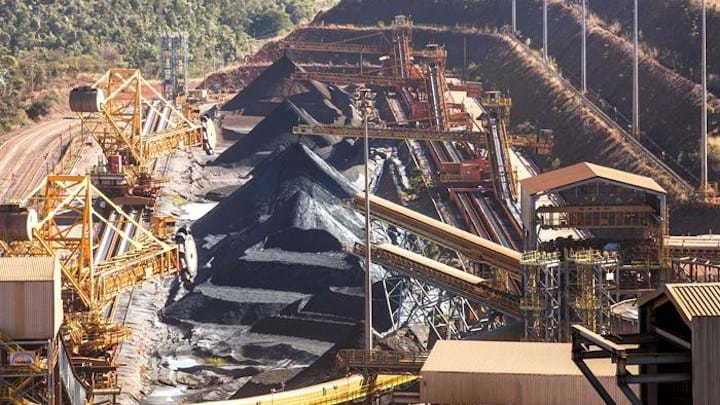 Ricardo Teles
In Minas Gerais, dry processing is used at several units, including Brucutu, Fábrica Nova, and Pico. The company expanded dry processing in this region from 20% in 2016 to 32% in 2019.
According to Vagner Loyola, Vale's Director of Ferrous Metals Value Chain, all the units in the region which could be converted to dry processing are already in operation. Additionally, tailings are being filtered and stacked, and New Steel's dry concentration technology is being employed to reduce dam use. Filtered tailings, or "dry stack" tailings are tailings that are dewatered to a high degree to produce a solid material, which can be stored as an unsaturated tailings deposit.
On 25 January, Vale's Dam 1 of the Córrego do Feijão mine, located in Minas Gerais collapsed, releasing a torrent of muddy slurry which buried the surrounding area, affecting Vale employees, contractors, and members of a nearby community. As of 28 December 2019, 259 people are confirmed dead and 11 people remain missing.
---
Correction
A previous version of this article incorrectly stated that the Fines Dry Magnetic Separation (FDMS) pilot plant was worth US$3bn. This should have read "almost US$3m".