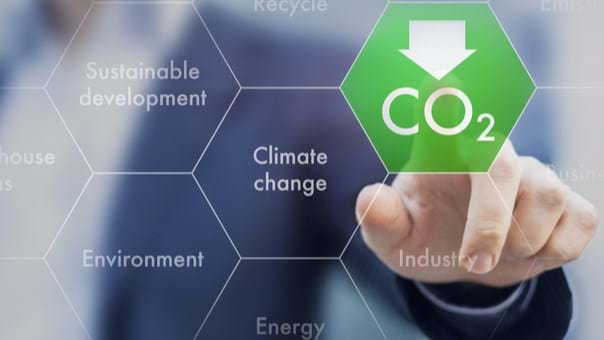 CARBONCAPTURE, which deploys direct air capture (DAC) systems, and carbon storage developer Frontier Carbon Solutions have announced an exclusive partnership to permanently remove 5m t/y of CO2 from the atmosphere by 2030.
Robby Rockey, President of Frontier said that "safe, permanent carbon storage and direct air capture are foundational to a low-carbon economy". Known as Project Bison, the new partnership will deploy CarbonCapture's DAC systems alongside Frontier's CO2 transport and storage infrastructure in Wyoming, US.
CarbonCapture has designed its systems to accept a wide variety of amines, metal organic frameworks (MOFs), hybrid solutions, and other novel materials. By integrating a modular technical design with open business practices, the company says it is creating a generalised DAC platform for solid sorbents that allows for incremental upgrades, minimises obsolescence, and speeds up development cycles.
Its modular DAC systems use solid sorbents to absorb atmospheric CO2, and then release concentrated CO2 when heated. The captured CO2 can be permanently stored underground or used to make products that require clean CO2.
In Project Bison, Frontier will gather and inject the CO2 underground for storage via Class VI injection wells, a regulatory designation established by the US Environmental Protection Agency and managed by the Wyoming Department of Environmental Quality. Class VI wells are used to inject CO2 into deep rock formations.
The project will be developed in multiple phases through to 2030, beginning at a scale of 10,000 t/y in the first phase in 2023–24. Carbon Capture and Frontier expect the project to become operational by late 2023, which would make it the first atmospheric carbon removal project to use Class VI wells for permanent storage as well as what the partners call the first "massively scalable" DAC project in the US. 
Project Bison will help to meet rapidly growing demand for carbon removal credits. Advanced sales have already begun.
Adrian Corless, CEO of CarbonCapture, said: "With the passage of the Inflation Reduction Act, the proliferation of companies seeking high-quality carbon removal credits, and a disruptive low-cost technology, we now have the ingredients needed to scale DAC to megaton levels by the end of this decade."
The US' 2022 Inflation Reduction Act made the single largest investment in climate and energy in the country's history according to the US Department of Energy. The investment is expected to allow the US to tackle the climate crisis, advance environmental justice, secure the US' position as a world leader in domestic clean energy manufacturing, and put it on a pathway to achieving the Biden Administration's climate goals, including net zero economy by 2050.