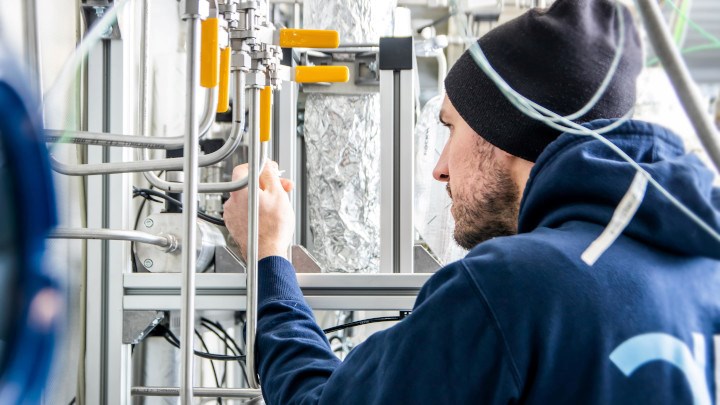 Moritz Leg
AS part of a project to reduce atmospheric carbon dioxide (CO2) by turning it into pure carbon black, the project partners are to build the world's first container-scale facility for the process. Carbon black, mainly produced using fossil petroleum thus far, is highly pure carbon in powder form and can be used by industry as a raw material for high tech applications.
The NEgative Carbon diOxide to Carbon (NECOC) research project is a partnership between direct air capture (DAC) technology company Climeworks and INTERATEC, a spinout of the Karlsruhe Institute of Technology (KIT), Germany. INTERATEC specialises in innovative, microstructured reactors for converting regeneratively-produced synthesis gases into climate-neutral liquid fuels or chemical products. The companies are each responsible for specific modules of the container facility.
The process involves capturing CO2 from ambient air by DAC, via adsorption. In a microstructured reactor, the CO2 is then combined with renewable hydrogen to produce methane and water. The methane is then passed through a bubble reactor filled with liquid tin. In the ascending methane bubbles, pyrolysis takes places, breaking the methane down into hydrogen – which is fed back into methanation – and solid carbon in the form of a microgranular powder.
The researchers have studied and developed the process at laboratory scale. While the modules are well known, they have yet to be realised in an integrated facility.
According to project coordinator Benjamin Dietrich, solid carbon is much less difficult to handle than CO2. Additionally, it can be used as a resource – for applications such as electronics, printing, and construction – offering an advantage over carbon capture and storage methods which aim to store captured CO2 in deep rock layers.
Dietrich said: "That is why our process represents a technological approach for a sustainable future in several respects. It combines the direct contribution to solving the climate problem with a process for post-fossil resource supply."
The planned facility is to be built at KIT. Future extensions are planned which are to increase performance per container and to enable parallel operation of multiple facilities. KIT will coordinate and operate the facility, in addition to contributing the pyrolysis technology.
The three-year project is being funded with a total of €1.5m (US$1.6m) from Germany's Federal Ministry for Economic Affairs and Energy.