DRAX has announced a partnership with cleantech company Econic Technologies, to explore the potential of using carbon dioxide (CO2) captured from Drax's biomass power generation to displace oil in plastics production.
Econic's patented catalyst technology allows waste CO2 to be used as a feedstock, and has the potential to transform segments of the plastics industry.
Econic will assess the suitability of CO2 captured from Drax's successful 1 t/d bioenergy with carbon capture and storage (BECCS) pilot for producing polymers used in polyurethane plastics. Econic's technology could save "as much as the equivalent of 4m petrol cars' worth of CO2 per year in this first market alone".
The partnership represents a major step which could allow other sectors, including automotive, consumer, and construction sectors, to produce more suitable polyurethane products.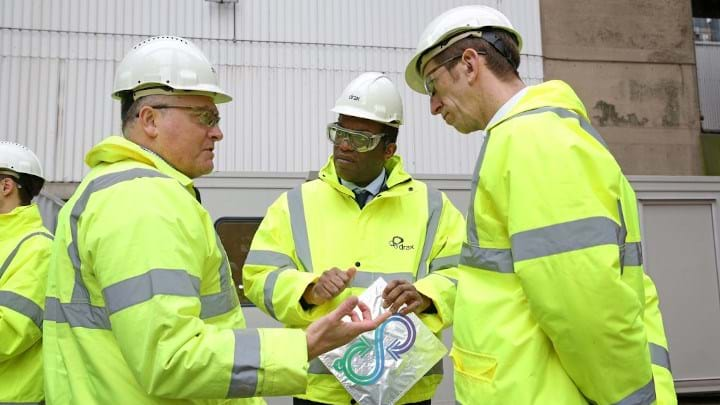 The project with Econic was announced amongst other carbon capture usage and storage (CCUS) projects during a visit from the UK's Minister of State for Business, Energy and Clean Growth, Kwasi Kwarteng. He visited Drax's North Yorkshire power plant to learn more about the company's "ambitious" plan to become carbon negative by 2030 using BECCS technology. During the visit Kwarteng also met with some of the businesses working with Drax on CCUS.
A new pilot plant installed by Deep Branch Biotechnology (DBB) at Drax was also announced. The plant will explore the feasibility of using Drax's CO2 emissions to make proteins for sustainable animal feed products. The partnership with DBB was first announced last year.
The projects could enable other sectors to decarbonise, contributing significantly to the UK's efforts to address the climate crisis.
Will Gardner, CEO of Drax, said: "Drax now produces 12% of the UK's renewable electricity. With the right negative emissions policy for BECCS, we can do much more, removing millions of tons of emissions from the atmosphere each year.
"By working with innovative tech companies like Econic and Deep Branch Biotechnology, we are exploring new opportunities for clean growth, which could be critical not only for beating the climate crisis, but also in enabling a just transition, protecting jobs across the North – delivering for the economy and the environment."
Rowan Sellens, CEO of Econic Technologies, said: Tackling climate change requires collaboration at all levels, and the Econic and Drax partnership is a significant step forward as industries establish viable, sustainable solutions. This project has the scope to unlock the endless potential of CO2 across a vast number of sectors. We're confident that the CO2 being captured by Drax will be suitable for use in our process, meaning that we could move forwards to explore potential commercial opportunities together and accelerate the roll-out of both our technologies and their positive climate impact."
Drax is also working with several companies to deliver a Zero Carbon Humber by 2040. CO2 from Drax and other industrial emitters across the region could be captured and transported for storage under the North Sea. This would create the UK's first zero carbon industrial cluster in line with UK Government targets.
Last year, Drax, Equinor, and National Grid Ventures signed a memorandum of understanding to investigate the construction of a large-scale CCUS network and hydrogen production facility in the Humber, UK in the mid-2020s.