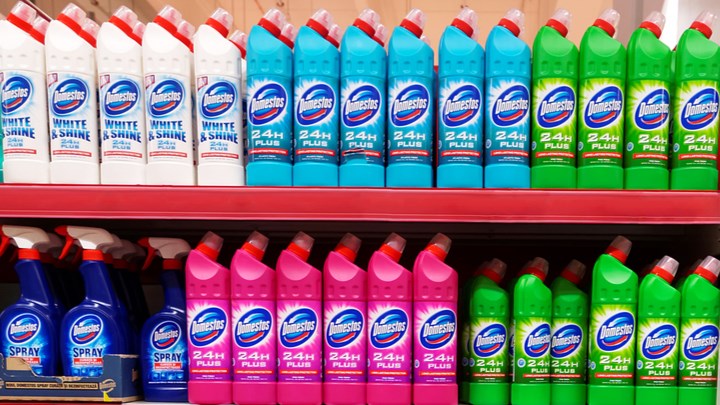 Emilio100 / Shutterstock.com
UNILEVER has announced that it will invest €1bn (US$1.18bn) over the next ten years, as it seeks to replace fossil-fuel derived ingredients in its cleaning and laundry product formulations with recycled and renewable alternatives, by 2030.
According to Unilever, the majority of cleaning products that are currently available are made using chemicals from fossil fuels. The company adds that its cleaning and laundry products are responsible for the greatest proportion of its carbon footprint across product lifecycles.
The €1bn investment will be used to finance biotechnology research, carbon dioxide (CO2) utilisation, low carbon chemistry, biodegradable and water-efficient formulations, and reducing the use of virgin plastic. Through its investment, Unilever aims to create affordable products with a significantly reduced environmental impact.
The company intends to diversify carbon sources through its Carbon Rainbow scheme. This will see Unilever replace non-renewable sources (black carbon) with captured CO2 (purple), plants and biologicals (green), marine algae (blue), and carbon recovered from waste materials such as plastics (grey). This new way of sourcing carbon will be guided by environmental impact assessments and work alongside Unilever's sustainable sourcing programmes to prevent unintended pressures on ecosystems.
Peter ter Kulve, President of Home Care at Unilever, said: "Diversifying sources of carbon is essential to grow within the limits of our planet. By sharing our Carbon Rainbow model, we are calling on an economy-wide transformation in how we all use carbon."
Its ambition to replace 100% of carbon derived from fossil fuels in cleaning and laundry products with renewable and recycled alternatives lies at the heart of Unilever's Clean Future strategy. The strategy is designed to fundamentally change the way cleaning and laundry products are created, manufactured, and packaged. The strategy is expected to transform the sustainability of global Unilever brands such as Persil, Cif, and Domestos. 
Unilever claims that Clean Future is unique in its ambition to embed circular economy principles into both formulations and packaging.  A circular economy is one in which resources are kept in use for as long as possible, with their maximum value being extracted during use and then recovering and regenerating products and materials at the end of each service life.
Clean Future is a big step in Unilever's pledge of zero emissions from products by 2039.
Additionally, the strategy is supporting industry-leading projects around the world. For example, Unilever has partnered with chemicals company Tuticorin Alkali Chemicals and Fertilisers (TACF) in southern India and Carbon Clean Solutions (CCSL), a CO2 separation technologies company. CCSL and TACF launched a project in October 2016 to produce soda ash, a key ingredient in laundry detergent, from captured CO2. In Slovenia, Unilever is partnering with specialty chemicals company Evonik Industries to develop rhamnolipids, a type of renewable and biodegradable surfactant used its Sunlight (Quix) dishwashing liquid in Chile and Vietnam. Unilever aims to significantly scale and build from both technologies.
Ter Kulve  said: "Clean Future is our vision to radically overhaul our business. As an industry, we must break our dependence on fossil fuels, including as a raw material in products. We must stop pumping carbon from under the ground when there is ample carbon on and above the ground – if we can learn to utilise it at scale.
"We've seen unprecedented demand for our cleaning products in recent months and we are incredibly proud to play our part helping to keep people safe in the fight against Covid-19. But that should not be a reason for complacency. We cannot let ourselves become distracted from the environmental crises that our world – our home – is facing. Pollution. Destruction of natural habitats. The climate emergency. This is the home we share, and we have a responsibility to protect it."
The recent €1bn Clean Future strategy investment is in addition to Unilever's €1bn Climate & Nature Fund. The fund will be used over the next ten years on initiatives to protect and improve the health of the planet, such as by restoring landscapes, reducing carbon emissions, and reforesting and reinstating wildlife habitat.