BIO-SOLAR panels have been printed to resemble wallpaper, and could lead to new types of electrical devices.
The research team, based at Imperial College London, believes that its method has the potential to be a cost-effective, environmentally friendly way to produce low-power devices such as disposable sensors, or biosensors to monitor human health.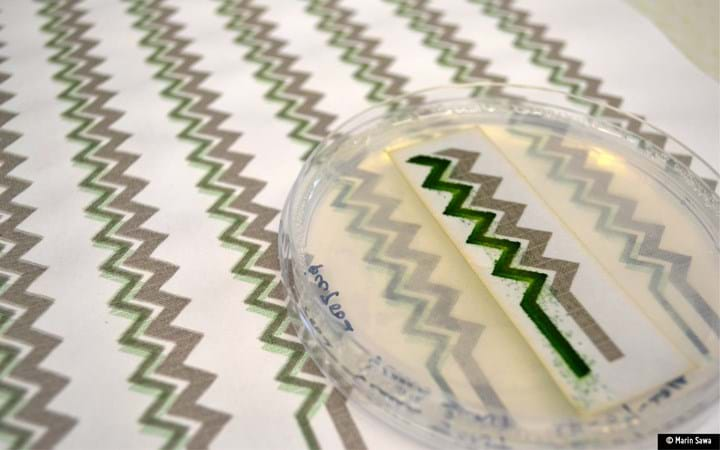 Imperial College London/Marin Sawa
The team used a commercial inkjet printer and standard A4 paper to fabricate a thin-film biophotovoltaic (BPV) cell consisting of a layer of cyanobacterial cells on top of an anodic carbon nanotube conducting surface. The microorganisms survived the process, and were subsequently able to photosynthesise, converting light energy into electrical current using water as an electron source.
A bio-solar panel made in this way, similar in size to an iPad, was demonstrated to power a simple digital clock at 1.4–1.5 V/1.5–2 µA in 30-minute intervals, requiring the same time to recover. It was also capable of functioning as a solar "bio-battery", by generating a sustained electrical current in the dark. Cells were also demonstrated to be capable of sustaining a small electrical current for over 100 hours, and powering an LED light.
Marin Sawa, a chemical engineer at Imperial College London, said: "Imagine a paper-based, disposable environmental sensor disguised as wallpaper, which could monitor air quality in the home. When it has done its job it could be removed and left to biodegrade in the garden without any impact on the environment."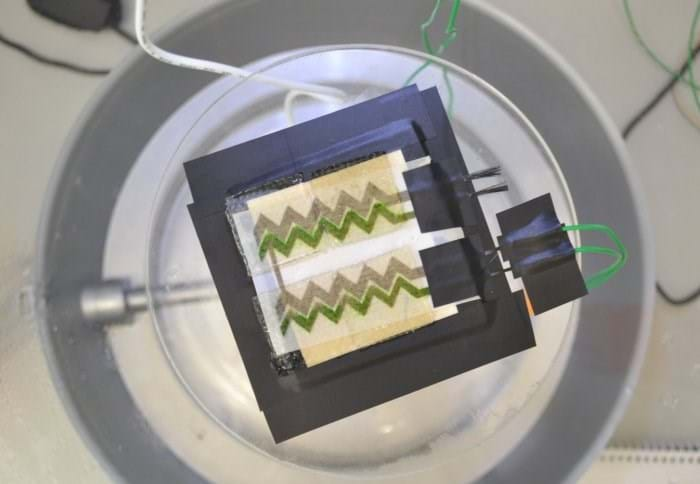 Imperial College London/Marin Sawa
The team says that their simple approach may pave the way for wider use of the technique, and make scaling up easier for applications that require a finite amount of electricity.
"Paper-based BPVs integrated with printed electronics and biosensor technology could usher in an age of disposable paper-based sensors that monitor health indicators such as blood glucose levels in patients with diabetes," said Andrea Fantuzzi from Imperial's life sciences department. "This approach has the potential to be very cost-effective, which could also pave the way for its use in developing countries with limited healthcare budgets and strains on resources."
Sawa told The Chemical Engineer that there are a number of ways the team hopes to make future panels more powerful, long-lasting and robust. This includes testing a more conductive environmentally-friendly ink that does not inhibit the growth of cyanobacteria, and testing a range of more dehydration-resistant algae and cyanobacteria strains.
"One of the challenges will be to find sustainable biocompatibility between the electron-producing cells and high-performance conductor. The greatest challenge overall might be to keep this system as cost-effective as possible as we try to improve functionality and performance," she added.
Nature Communications: http://doi.org/cf2r