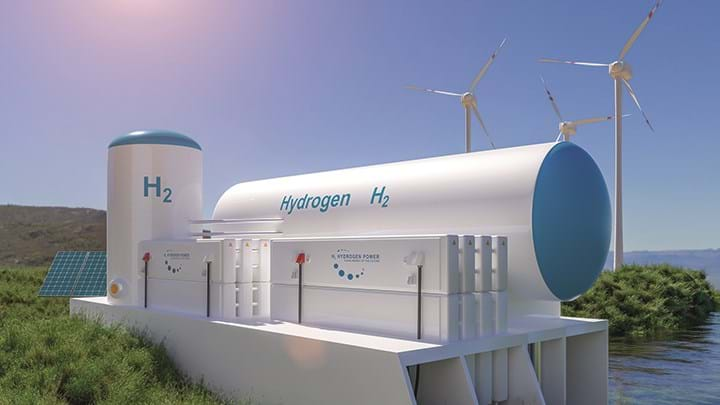 THE UK Government has released its long-awaited strategy on hydrogen, which details its plans to develop a hydrogen economy.
Most hydrogen produced in the UK today comes from fossil fuels without carbon capture and storage (CCS), but production now needs to transition to low carbon hydrogen to be consistent with the goal to reach net zero emissions by 2050. Transportation networks and storage solutions need to be developed, and industry needs to find ways to adapt to using hydrogen in processes where fossil fuels were used previously. The extent to which hydrogen can be used in transport and to heat buildings need to be fully assessed, and a supportive regulatory framework will be needed to incentivise investment and create a hydrogen market.
These are the broad aims of the Government's Hydrogen Strategy, which is focused on how it will work with industry to reach 5 GW of low carbon hydrogen production capacity by 2030, an ambition originally outlined in its Ten Point Plan. In the interim it is aiming for 1 GW of capacity by 2025. The Government notes that it already has set out some plans for the hydrogen economy in previously published reports such as its Energy White Paper and Industrial Decarbonisation Strategy, however the Hydrogen Strategy goes further by setting out additional commitments and actions.
The hydrogen economy could support more than 9,000 jobs in an economy that could be worth £900m (US$1,230m) by 2030. This could rise to 100,000 jobs and £13bn by 2050, and the Government analysis shows that 20–35% of energy consumption by 2050 could be hydrogen-based.
Kick-starting the hydrogen economy
The strategy includes a range of commitments from the Government including launching consultations and working with industry.
It has launched a consultation on a preferred hydrogen business model which could be based on the contracts for difference (CfD) scheme which helped the offshore wind industry to become successful. The aim of the business model is to help to rapidly lower the costs of low carbon hydrogen. This consultation will be finalised in 2022 to enable first contracts to be allocated from Q1 in 2023.
It is also consulting on the design of a £240m Net Zero Hydrogen Fund – originally announced in the ten-point plan – to support commercial deployment of new low carbon hydrogen production plants up to 2025. The fund will launch early next year.
It will collaborate with industry to create a standard for low carbon hydrogen to enable producers and users to have certainty that the hydrogen produced is consistent with net zero goals. It expects to finalise this by early 2022.
On using hydrogen for heating, it notes there is still a lot of uncertainty on the best route for decarbonising heat and that it is working with industry, network operators, and local partners on studies to test the feasibility of adding 20% hydrogen to the existing gas network.
It will also undertake a review to support the development of storage infrastructure. Early next year, it will launch a hydrogen sector development action plan to set out how it will support companies for the hydrogen economy.
Using hydrogen for transport has a lot of technology uncertainty, but the Government expects that by 2030 it will most likely be used for HGVs, buses and rail, and its use will be in the early stages for shipping and aviation. It plans to continue investment in research and innovation to support the rollout of this technology.
Philip Dunne MP, Chair of the Environmental Audit Committee, said: "While I welcome this step forward, I have to say it is disappointing that only now – after being promised the strategy in November last year – are the necessary consultations being launched on how to overcome funding issues and how to define 'low carbon' hydrogen. These critical issues should have been ironed out in advance of this strategy. I urge the Government to act swiftly on the outcomes of these consultations. The UK has a strategic advantage from the prospect of generating green hydrogen from surplus offshore renewable energy generation, but the opportunity should not be missed."
Blue and green hydrogen
The strategy aims to take a "twin track" approach and support both blue and green hydrogen. "Green" hydrogen is produced via electrolysis with renewable electricity and "blue" hydrogen is produced from fossil fuels but the emissions are captured.
It expects that production in the early 2020s will only be via small projects such as electrolysers up to 20 MW, rising to 100 MW by the mid-2020s along with the first CCUS-enabled hydrogen production facilities within industrial clusters. It expects to have multiple large-scale facilities by 2030. From 2030 onwards, a wider range of technologies could come to the market. This includes hydrogen from nuclear along with bio-hydrogen with CCUS.
It identifies several challenges that will need to be overcome for this level of hydrogen production by 2030 including high production costs relative to high-carbon alternatives, along with high technological and commercial risks. It also notes that the wider environmental impacts will need to be considered, such as the significant amounts of water needed. It is engaging with the Environment Agency and other groups to assess plans for sustainable water resources.
It aims to provide further detail on the production strategy and twin track approach in 2022.
Nilay Shah FIChemE, Vice-Chair of the National Engineering Policy Centre's net zero project, said: "We welcome the strategy overall; we see hydrogen playing an important role in getting to net zero but there are urgent innovation issues to address. A twin track approach makes sense because blue hydrogen can be made at scale and help establish whole value chains quickly and effectively while giving green hydrogen systems time to scale up. The UK has an active research base, and small and large companies with leading edge technology in this field – and the strategy provides an opportunity to take a leading international position."
Low carbon hydrogen in industry
For industry, it expects that the oil refining and chemical sectors will be important drivers of the transition to a low carbon hydrogen economy as they are both producers and consumers of hydrogen today.
Low carbon hydrogen has the potential to be used as an industrial fuel and can be used to fuel steam boilers and combined heat and power systems. It can also be used for direct heating processes such as melting glass in a furnace. It could be a good option for processes that are difficult to electrify, with demand likely to be greatest in sectors such as chemicals and steel.
It notes that the main way to decarbonise steel is using electric arc furnaces with hydrogen direct reduced iron or CCUS. It says that it is considering setting targets to help the steel industry reach net zero emissions by 2035, as the Climate Change Committee has recommended, and that it will provide an update in its upcoming Net Zero Strategy, expected to be published prior to COP26. However, the Government still has plans for a coking coal mine in Cumbria which would operate to 2049, which is inconsistent with net zero goals.
It noted that there are risks for industry switching to low carbon hydrogen, including the cost of retrofitting or replacing equipment, operational disruption from conversion, and the costs associated with optimising processes to work with hydrogen. It says that further research and testing will be needed in the 2020s to help industry better understand how using hydrogen will impact on chemical processes. It will launch further funds later this year to support the industry to switch to hydrogen. It will also engage with industry later this year to assess possible requirements of an R&D facility and will also launch a call for evidence on "hydrogen ready" industrial equipment.
Creating jobs
For the hydrogen economy to be successful, it will require the creation of secure green jobs. The Government plans to assess opportunities for employment in the hydrogen sector and will collaborate with stakeholders over the next year to understand the required skills needed and will ensure there is effective investment in relevant skills.
It will work to ensure the recommendations from the Green Jobs Taskforce are met in the upcoming Net Zero Strategy, as many of these are relevant to the hydrogen sector.
It also plans to set up an Early Career Professionals Forum under the Hydrogen Advisory Council to ensure that early-career professionals are engaged with the hydrogen economy and are in a position to advise the Government.
It aims to work with industry to support workers in high carbon industries that need training to transition. It expects that the industry will invest in skills and include ED&I as a core focus. It aims to incentivise project developers to demonstrate how they will advance skills while supporting equal opportunities.
Hydrogen may not always be the right solution
There have been concerns raised that the Government has not provided enough evidence to show that hydrogen is the best option to reach net zero in certain sectors. Tom Baxter FIChemE and Retired Senior Lecturer at Aberdeen University said: "There are influential groups lobbying parliament on behalf of hydrogen, such as the Hydrogen Taskforce, which represents members with a vested interest in the fuel who are set to receive a significant amount of business from this strategy. But is what is good for business good for UK consumers and taxpayers?
"The UK Government has failed to provide comparative evidence that hydrogen is a preferred net-zero route in many applications. Only by comparing the paths to net zero in a way that considers the holistic complete life cycle of hydrogen fuel, quantifying the impacts on people, profit and the environment can the case for hydrogen be made accurately. That evidence is lacking in this strategy."
The importance of a detailed comparison of all technologies needed for net zero was also raised in a recent report which outlined actions that would need to be taken for nuclear to have a role in the net zero target. The report said that there should be a "level playing field" where all technologies are assessed objectively using up-to-date information rather than "point scoring" between proponents of different technologies.
Jess Ralston, Analyst at the Energy and Climate Intelligence Unit (ECIU), also echoed these concerns, particularly over whether using hydrogen for domestic heating is advisable. "Some questions remain over whether the Government has truly grasped which areas will be most suitable for hydrogen use and which will not.
"For example, the case for hydrogen for home heating is far from proven, particularly hydrogen derived from fossil gas rather than from renewable energy. After all, any remaining fossil gas with a hydrogen blend in the grid is just not compatible with net zero and it's not yet clear how effective hydrogen will be, nor how much it will cost."
"The Government should also be alive to the risk of gas industry lobbying causing it to commit too heavily to blue hydrogen and so keeping the country locked into fossil fuel-based technology, making reaching net zero more difficult and costly. Instead, focussing on green hydrogen could unlock the full industrial potential, bringing with it lifelong jobs in places like the North East, supporting both the Government's climate goals and its levelling-up ambitions."
Chris Jackson, CEO and founder of green hydrogen company Protium, added: "It's critical to question the Government's 'twin track' approach. By investing in blue hydrogen, the Government will ensure that the UK is locked into a fuel import strategy, that by design cannot be a net zero solution and that will channel billions to the largest energy companies on Earth instead of supporting and growing leading UK SMEs."
5 GW is not enough
The strategy says that the 5 GW target – which is the combination of blue and green hydrogen production – is a "stretching but deliverable ambition" and a "signal of the Government's firm commitment to work with industry to develop a strong and enduring UK hydrogen economy". It also says that its vision is that the UK will be a "global leader" in hydrogen by 2030. However, there are many who think that the UK will be lagging behind other countries and that the 5 GW target is far from sufficient.
Dan McGrail, CEO of RenewableUK, said: "In the year when the UK is hosting the biggest climate change summit for years, we fear that international investors in renewable hydrogen may compare this strategy to those of other countries and vote with their feet. The Government must use the current consultation period to amend its plans and set out a clear ambition for green hydrogen.
"The UK has the potential to generate vast quantities of renewable hydrogen using clean electricity from offshore wind which can be stored and used whenever it's needed, providing flexibility to our energy system. We're urging the Government to set a target of 5 GW of renewable hydrogen electrolyser capacity by 2030 as well as setting out a roadmap to get us there, to show greater leadership on tackling climate change."
David Smith, Chief Executive at the Energy Networks Association (ENA), said: "We need further recognition that for hydrogen to play its part in net zero, producing 5 GW of hydrogen by 2030 will not be enough. We must set our sights higher, towards a figure twice that amount."
Celia Greaves, CEO of the UK Hydrogen and Fuel Cell Association, said: "We believe that the strategy could have been more ambitious. Industry believes that with the right support, a 20 GW mix of green and blue hydrogen power could be deployed by 2030."
Barbara Monterrubio, Energy Transition Analyst at GlobalData, said: "The 5 GW goal appears relatively achievable […] however, this is far behind the Netherlands and Germany, which already have 15 GW and 14 GW of respective projects in the pipeline. Additionally, the UK target is dwarfed by the EU's 2030 target of 40 GW of low-carbon hydrogen capacity."
Tom Crotty, INEOS Corporate Affairs Director, said: "The Government must start to commit to investment in the development of the UK's hydrogen infrastructure to enable the zero CO2 energy source to be used in feedstocks, transport and homes. At the moment, we are massively lagging behind Europe and words are not enough."