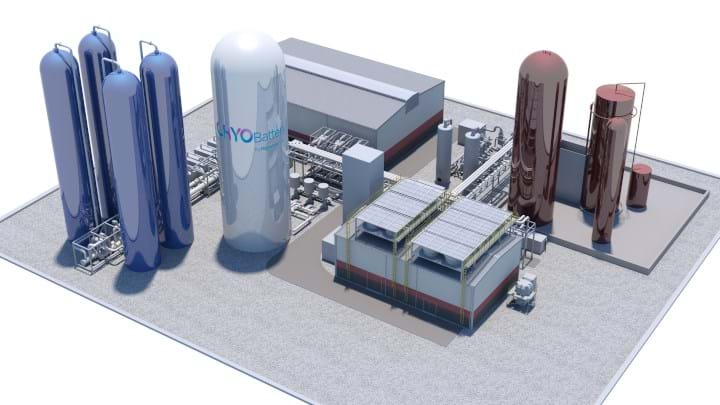 Highview Power
HIGHVIEW Power, a cryogenic energy storage company, has received £10m (US$12.3m) from the UK Government for a 50 MW CRYOBattery facility (with a minimum output of 250 MWh), to help the country achieve its decarbonisation goals. It will be the UK's first commercial cryogenic energy storage facility.
CRYOBattery technology uses off-peak or excess energy to clean, compress, and cool air to -196°C, and the liquified air is then stored in insulated tanks at low pressure. When energy is needed the liquid air is drawn from tanks and pumped to high pressure, reheated, and expanded, resulting in a high-pressure gas which is used to drive turbines to generate energy. The process does not use combustion and does not produce emissions. Additionally, waste cold and waste heat are captured for use, increasing efficiency.
The new cryogenic energy storage plant will be built and operated as a joint venture between Highview Power and Carlton Power, a UK power station developer. It will supply clean, reliable, and cost-efficient long-duration energy storage. CRYOBattery is a locatable technology which offers multi-GWh storage, representing weeks' worth of energy storage.
As previously reported, the commercial facility is also expected to provide grid services to help integrate renewable energy, stabilise the regional electrical grid, and ensure future energy security during blackouts and other disruptions. According to Highview, gigascale CRYOBatteries paired with renewables are equivalent to – and could replace – thermal and nuclear baseload power, and could support electricity transmission and distribution systems whilst providing additional supply security.
In addition to the grant from the UK Government, the development of this project will be funded by part of a £35m investment given to Highview by heavy machinery manufacturer Sumitomo Heavy Industries. The investment was intended to accelerate the global growth and development of CRYOBattery technology.
The facility will be located at Trafford Energy Park in Carrington Village, Greater Manchester, UK. It will use existing substation and transmission infrastructure. The plant will be one of Europe's largest battery storage systems.
Construction of the facility is expected to begin later this year, with commercial operation to come in 2022.
Javier Cavada, CEO of Highview Power, said: "This new cryogenic energy storage plant will deliver much needed long-duration energy storage and provide valuable services to the National Grid. We are delighted to have been chosen to assist the UK in achieving its goal of a 100% clean, carbon-free energy future."
Kwasi Kwarteng, UK Minister for Business, Energy and Clean Growth, said: "This revolutionary new CRYOBattery facility will form a key part of our push towards net zero, bringing greater flexibility to Britain's electricity grid and creating green collar jobs in Greater Manchester. Projects like these will help us realise the full value of our world-class renewables, ensuring homes and businesses can still be powered by green energy, even when the sun is not shining and the wind not blowing."
The £10m grant was awarded to Highview by the UK's Department of Business, Energy & Industrial Storage as a winner of the Storage at Scale competition. According to Highview Power, it was the only electricity energy storage technology to be awarded. Other competition winners have not yet been announced.
Highview and Carlton intend to develop four additional CRYOBattery projects in the UK, totalling 1 GWh.