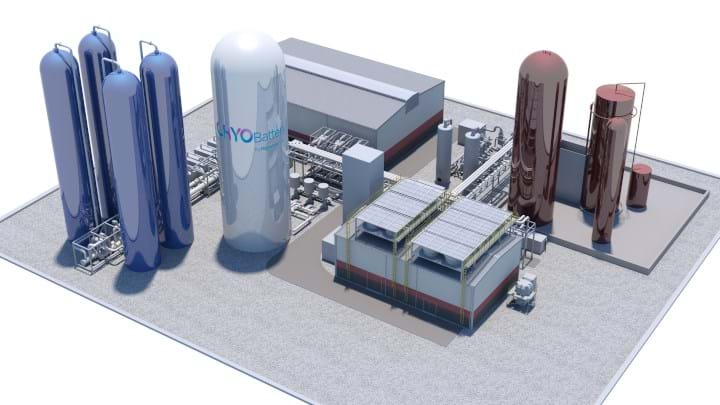 Highview Power
HIGHVIEW Power, the designer and developer of the CRYOBattery, is to build what it claims will be Europe's largest battery storage system, in the North of England. The project will also be the UK's first commercial cryogenic energy storage facility at large scale.
The 50 MW/250 MWh clean energy storage facility could help the UK to achieve its goal of decarbonising industry, heat, power, and transport, as CRYOBattery emits zero emissions and could dramatically contribute to emissions savings compared to fossil fuel plants.
Previously known as liquid air energy storage, Highview's technology employs liquid air as a storage medium. The system uses off-peak or excess energy to clean, compress, and cool air to -196°C, and the liquified air is then stored in insulated tanks at low pressure. When energy is needed the liquid air is drawn from the tanks and pumped to high pressure, reheated, and expanded – resulting in a high-pressure gas which is used to drive turbines to generate energy.
The process does not use combustion and does not produce any emissions. Additionally, waste cold and waste heat are captured for use, increasing efficiency.
The new facility will supply energy storage, and also provide services to the National Grid to help it to "integrate renewables, stabilise the electrical grid, and ensure future energy security".
Highview is currently in talks with potential offtakers.
In addition to its first large-scale facility, Highview is developing a portfolio of UK projects and is in the process of securing sites to develop similar large-scale, CRYOBattery projects across Europe. The projects are expected to further the UK's movement towards its clean energy goals and help it to meet expected demand for energy storage.
According to early findings of the Storage and Flexibility Model (SFM) launched by the Energy Systems Catapult (ESC), to achieve an 80% reduction in CO2 emissions by 2050 compared to 1990 levels by 2050 the UK would need nearly 1,400 GWh of electric and thermal storage volume. The ESC was set up to accelerate the transformation on the UK energy system, and ensure businesses and consumers capture clean growth opportunities.  
The Climate Change Act 2008 committed the UK to reducing net emissions by 80% from 1990 levels by 2050. Earlier this year, then UK Prime Minster Theresa May announced that the UK would strengthen its targets by reducing CO2 emissions to net zero by 2050.
According to research services company BloombergNEF (BNEF), globally, energy storage installations are to multiply exponentially, reaching 1,095 GW/2,850 GWh by 2040. To achieve this, US$662bn of investments will be required, according to BNEF's estimates.  
The CRYOBattery facility is to be built at the site of a decommissioned thermal power plant in the North of England. No precise location was given.
Javier Cavada, CEO of Highview Power, said: "This plant will provide the critical services needed to help maintain a stable and reliable grid."
"Long-duration, giga-scale energy storage is the necessary foundation to enable baseload renewable energy and will be key to a 100% carbon-free future."
The system can store energy for weeks and the company claims it offers the lowest cost clean energy storage solution for large-scale, long-duration applications.
CRYOBattery is easily scalable and once built more capacity can be added by adding more tanks. Any CRYOBattery plant can be scaled to GW levels to liver capacity as needed.
The proprietary technology has a lifespan of 30–40 years.
Highview pioneered its CRYOBattery technology at a pilot plant in Slough. It then evolved at a demonstration plant in Pilsworth, Greater Manchester, UK, which has been successfully operating since 2018. The Pilsworth plant was the first in the world to demonstrate cryogenic energy storage technology at grid scale.