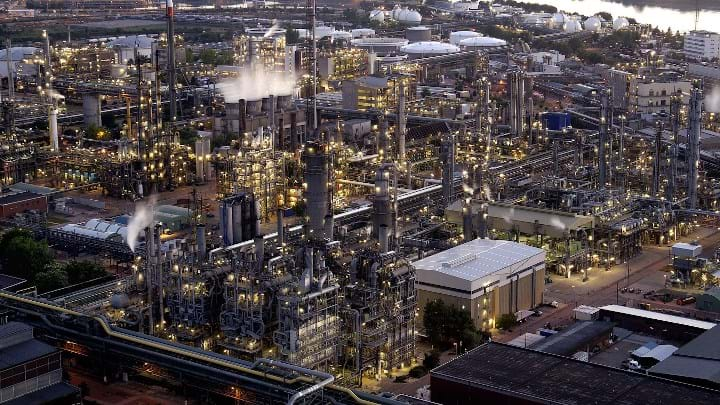 BASF
BASF, SABIC and Linde aim to construct a multi-megawatt plant to demonstrate that steam crackers can be heated by electricity rather than fossil fuels, in a move that could eliminate 90% of emissions from the heart of chemicals processing.
Steam crackers must reach temperatures of 850°C to break down naphtha into the olefins and aromatics used as building blocks in chemicals supply chains. The partners say they have applied for funding support from the EU and German Government to build a demonstration plant at BASF's Ludwigshafen chemicals complex in Germany. If approved they could start operations at the plant in 2023 in a bid to show that chemicals can be cracked in a greener way using renewable power.
BASF announced plans for so-called E-furnaces at a research conference in 2019 and said it aimed to develop the world's first electrical heating concept for steam crackers within five years. Challenges in developing the technology include selecting metallic materials that can withstand high electrical currents.
In the new partnership announced today, BASF and SABIC will combine their experience on developing chemical processes and operating steam crackers, and Linde will contribute its expertise in developing and building steam cracking furnace technologies.
Juergen Nowicki, CEO of Linde Engineering, said: "With this project we are singling out a particular industrial CO2 producer. Cracking furnaces are one of the largest CO2 emission sources in the whole petrochemical value chain. This is a time-tested, optimised technology that we are now putting on a completely new footing, not in the laboratory, but on a large industrial scale. The effect this project will have is significant."
Martin Brudermüller, Chairman of BASF, said: "This technology leap will be a milestone on the path to a low-emission chemical industry. We have not only developed the world's first electrical heating concepts for steam crackers, but also want to demonstrate the reliability of key components for use in this type of high-temperature reactor."
BASF has said if the technology is successful, it could be transferred to other processes and reactions that require heat input.
The partnership is part of a wider effort by chemical companies to develop greener methods for cracking chemicals. In 2019, BASF and SABIC formed The Cracker of the Future Consortium along with BP, Borealis, LyondellBasell and Total. In 2020, Dow and Shell announced they too are working together to develop 'E-cracker' technology.