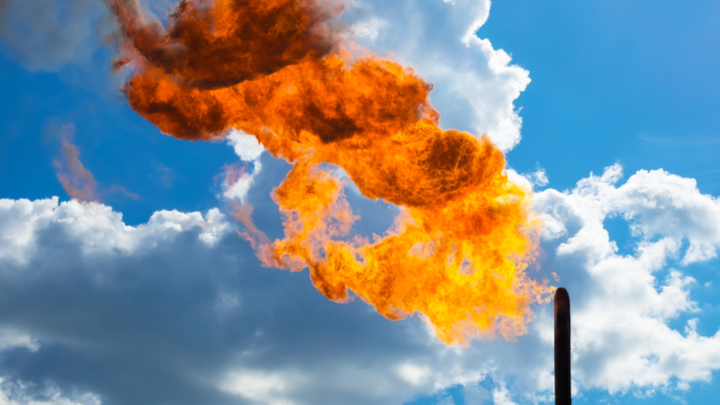 THE Trump administration has rolled back two Obama-era laws on reducing methane emissions in the oil and gas industry.
Two separate rules were brought in by the Obama administration in 2016 with the aim to cut methane emissions associated with oil and gas production; one by the Bureau of Land Management (BLM) and one by the Environmental Protection Agency (EPA). Both rules were rescinded within a week of each other by the Trump administration in September 2018.
Methane is short-lived in the atmosphere but more potent than carbon dioxide. For the first 20 years it is 86 times more powerful than CO2 at trapping heat, and it is still 25 times more powerful after 100 years. Methane accounts for around 10% of greenhouse gas emissions.
Reducing flares and leaks
The BLM Waste Prevention Rule aimed to reduce waste and pollution from oil and gas facilities on federal and tribal lands by replacing legislation which had last been updated in 1979. It required the industry to use cost-effective technologies to reduce venting and flaring. Operators were also required to regularly inspect sites for leaks using an instrument-based approach. The rule limited venting to cases of emergencies and required operators to capture a proportion of flared gas for sale. It was estimated that methane emissions would have been reduced by around 35% from 2014 values.
The 2016 Obama-era rule never went into effect as it was contested by the Trump administration, and on 18 September interior secretary Ryan Zinke finalised amendments to the BLM rule in order to "reduce unnecessary compliance burdens". The BLM determined that the previous administration had underestimated the costs of the 2016 rule. The finalisation of the revisions effectively reinstate most of the 1979 guidelines.
"Sadly, the flawed 2016 rule was a radical assertion of legal authority that stood in stark contrast to the longstanding understanding of Interior's own lawyers," said deputy secretary David Bernhardt. "The Trump Administration is committed to innovative regulatory improvement and environmental stewardship, while appropriately respecting the clear and distinct authorities of the states, tribes, as well as the direction we receive from Congress."
The states of California and New Mexico are suing the Trump administration over the regulations, which will come into effect in November unless the appeal is successful. "We've sued the administration before over the illegal delay and suspension of this rule and will continue doing everything in our power to hold them accountable for the sake of our people and planet," said Xavier Becerra, California attorney general.
"We support smart, cost effective BLM regulations that focus on prevention of waste and the conservation of resources," said Erik Milito, American Petroleum Institute upstream and industry operations group director. "As a result of continued industry innovation across the US oil and natural gas industry, methane emissions have plummeted 14% since 1990 during the same period that natural gas production has increased more than 50%. Driven by greater use of natural gas, emissions from power generation continue to decline and air quality continues to improve."
"Secretary Zinke is once again putting the interests of the most poorly-operated oil and gas companies ahead of the American taxpayer," said Matt Watson, associate vice president for energy at Environmental Defense Fund. "By his agency's own analysis, this move will cost more than 299bn ft3 in wasted natural gas, representing lost revenue for local needs like roads and schools and more pollution for impacted communities."
"We are relieved that BLM's final rule has been released and that it actually addresses waste prevention," said Kathleen Sgamma, president of Western Energy Alliance. "The late 2016 Obama Administration rule was all about regulating air quality, which is the job of EPA and the states under the Clean Air Act, not BLM which has no air quality expertise or authority. The new regulation restores the rule of law while reducing waste of natural gas, which was supposed to be the intent of the original rule in the first place."
Degrading air quality
The EPA announced on 11 September a proposal to repeal key parts of a separate ruling on curbing methane emissions that was implemented in 2016. The original EPA rule under the Obama administration aimed to reduce methane and other air pollutants from oil and gas facilities. It required leak inspections on drilling equipment to be carried out every six months, inspections on natural gas compression equipment every three months, and leaks to be repaired within 30 days. The proposed amendment would decrease the frequency of inspections to once a year or once every two years for low producing wells, inspections on natural gas equipment would take place every six months, and leaks wouldn't have to be repaired for 60 days. The changes would also eliminate the requirement that vent systems are certified by professional engineers.
Current US methane emissions are calculated by the EPA to be around 8m t/y, however a study published in Science earlier this year determined that the EPA values had been underestimated by 60% and that emission rates are actually at 13m t/y.
The EPA acknowledged that the proposal would allow additional methane emissions of 380,000 t between 2019 and 2025 which may degrade air quality and adversely affect health and welfare.
"With this methane safeguard rollback president Trump's EPA just sacrificed public health and climate for oil and gas industry profits. And he did so despite some of the world's largest oil and gas companies endorsing the need for methane rules," said Lauren Pagel, policy director at Earthworks.
The BLM final rule and the EPA's proposal are in stark contrast to the recent commitments of several major oil and gas companies to reduce their methane emissions. ExxonMobil said in a statement that the EPA's proposal wouldn't change the company's commitments to reduce methane emissions. "Any potential regulatory adjustments won't alter our stated commitment to reduce methane emissions in our operations and throughout the industry. We will continue to manage our environmental footprint responsibly, regardless of regulatory requirements. And we encourage others to do the same."