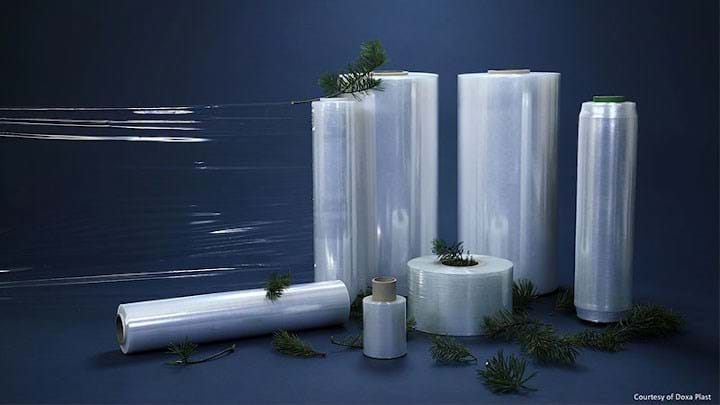 Doxa Plast
DOXA Plast, a stretch film manufacturing company, is commercialising a family of bio-based high performance stretch films that employ a sustainable polyethylene (PE) resin. The resin, provided by materials company Dow, is made using waste material from the paper industry.  
Stretch films, commonly made from linear low-density polyethylene (LLDPE), are used to wrap products on pallets, securing them to each other and the pallet to protect objects during transport and storage. This helps to reduce product loss, discourage load tampering, and reduce worker injury.
The stretch films in Doxa's Reborn product range are made using Dow's LLPDE, ELITE  5230GC R Enhanced Polyethylene Resin, produced using renewable feedstock. The LLDPE is manufactured using bio-naphtha from tall oil, a byproduct of paper pulp production. The wood for paper production is sourced from sustainably managed forests in Finland. The bio-based feedstock enables a lower carbon footprint compared to fossil-derived PE resins, and the alternative feedstock does not compete with the human food chain, unlike other renewable alternatives such as such as sugar cane, sugar beet, and wheat grain.
The films are produced at Doxa's factory in Sweden, and the short supply chain further contributes to reducing the carbon footprint.
Additionally, the new bio-based films are optimised for downgauging – making the films thinner – without compromising on functionality.
Dow's bio-based PE resin production is certified by International Sustainability & Carbon Certification (ISCC) based on the mass balance approach of tracking the amount and sustainability of bio-based content in the value chain. ISCC works to enable fully traceable and deforestation-free supply chains.