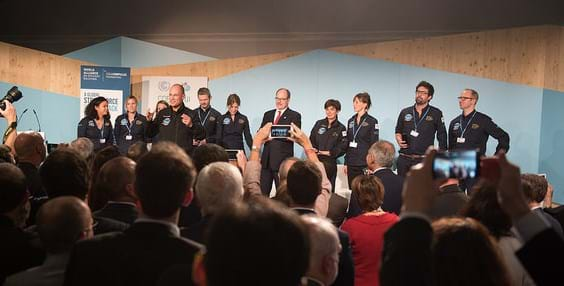 THE Solar Impulse Foundation has established a new alliance, which plans to find 1,000 profitable solutions to tackle climate change.
Members of the World Alliance for Efficient Solutions convened at COP23, currently being held in Bonn, Germany. The Solar Impulse Foundation plans to present the 1,000 solutions at COP24 in 2018, with the aim of encouraging world leaders to adopt more ambitious environmental targets and policies. The Alliance is the second major initiative from the Solar Impulse Foundation, following the success of the Solar Impulse 2 round-the-world solar flight.
The Alliance was first announced at COP22 in Marrakesh, Morocco, as the World Alliance for Clean Technologies. However, the name has since been changed to include all solutions for climate change, such as products, services and processes, not just clean technologies. The 1,000 solutions must be profitable and sustain economic growth, while protecting the environment and optimising the use of natural resources.
Already, 474 members have joined the Alliance, covering around 500 potential climate change solutions. The meeting at COP23 was the constituent assembly, in which all the current members met to accept the Alliance's constitution and formally establish it.
The 500 potential projects submitted by Alliance members include deepwater offshore turbines, solar desalination plants, containers to transform organic waste into energy, air filters that capture CO2 emissions and produce fuels, hydrogen-based devices to increase the fuel efficiency of cars, and free electric car chargers. The projects will be assessed over the coming year by independent scientific and financial experts.
The launch ceremony was attended by HSH Prince Albert II of Monaco, who began the countdown to COP24, and actor and former governor of California Arnold Schwarzenegger, who is the new patron of the initiative. Government ministers and representatives of many high level institutions also attended the launch, including Patricia Espinosa, executive secretary of UNFCCC, Maroš Šefčovič, vice-president of the European Commission, Laura Tuck, vice president sustainable development, World Bank and Erik Solheim, executive director of UN Environment.
"Doom and gloom won't to get us anywhere, and let's not forget that climate change is a problem that we can innovate our way out of. What we need are concrete solutions that can be applied at scale. These solutions are already out there, but many are hidden -- in places like research labs and small start-ups, or otherwise as pilot projects that never made it to scale. It's important now more than ever to put these solutions in the limelight and show what is possible when we embrace positive change," said Solheim.
Šefčovič said that he "can guarantee" the full support of the European Commission for the Alliance.
Espinosa said: "Initiatives like the World Alliance and its goal of selecting 1,000 efficient solutions, are exactly what we need to further enable investors, governments, cities and citizens to harvest the rich variety of clean technologies that already exist or are under development, and accomplish the goals of the Paris Climate Change Agreement and all the Sustainable Development Goals to catalyse a healthy and prosperous future for all."