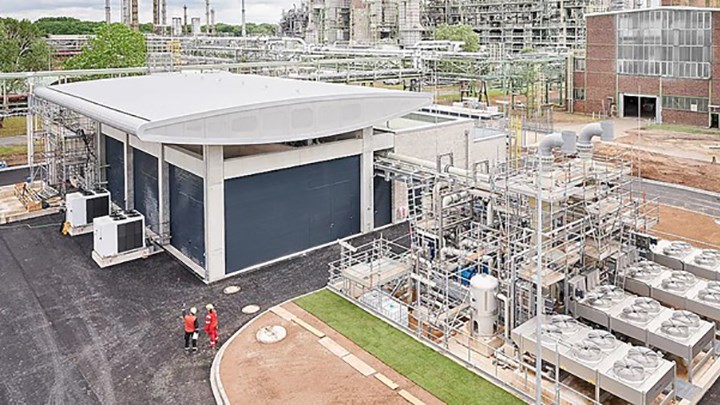 Shell
SHELL has started operations at what it claims is Europe's largest polymer electrolyte membrane (PEM) electrolyser, producing "green" hydrogen at its Energy and Chemicals Park Rheinland, in Germany.
PEM electrolysers are more compact than conventional alkaline electrolysers. They are suited to working with renewable energy sources as they can operate dynamically using varying loads of electricity, which allows operations when wind and solar energy are cheapest.
Known as the Refhyne project, the 10 MW electrolyser will produce up to 1,300 t/y of green hydrogen, which is generated using renewable energy sources. This will initially be used for fuels with reduced carbon intensity. Shell aims to reduce production of traditional fuels by 55% by 2030. The hydrogen will also contribute to decarbonising other industries.
The project is expected to accelerate hydrogen production and contribute to Europe's goal of carbon neutrality. Refhyne is at the forefront of green hydrogen efforts in Europe, say the consortium partners. The European consortium backing the project includes ITM Power, which manufactured the electrolyser in Sheffield, UK.
According to collaborators, the electrolyser is the first to use this technology at such a large scale in a refinery, and plans are already underway to increase the electrolyser to 100 MW.
Huibert Vigeveno, Downstream Director at Shell, said that the project is a model of lower-carbon energy production that can be replicated worldwide.
Bart Biebuyck, Executive Director of Fuel Cells and Hydrogen Joint Undertaking (FCH JU), said: "In order to achieve climate neutrality by 2050, we need to fundamentally reshape our energy system. Clean hydrogen will play a key role in e-mobility and in industry, as it has great potential for decarbonising sectors where direct use of renewable energy is not possible. Accordingly, we want to accelerate the market launch of fuel cells and hydrogen technology and tap into their advantages in Europe."
The European Commission funded the Refhyne project through FCH JU, investing €10m (US$11.9m). The total investment in the project was about €20m. FCH JU is a public private partnership, supporting research, development and demonstration activities of fuel cell and hydrogen energy technologies in Europe.
The project was announced in 2018 as what would be the world's largest hydrogen electrolysis plant. Since then, larger projects have been announced and constructed, including Linde's 24 MW proton exchange membrane (PEM) electrolyser plant expected to be operational in Germany by 2022, and a 20 MW PEM which Air Liquide constructed in Canada. The terms polymer electrolyte membrane and proton exchange membrane are generally used interchangeably. Proton exchange membranes are a type of polymer electrolyte membrane.
Shell aims to become a net-zero energy business by 2050. The company's Powering Progress strategy, which it announced in February, involves transforming its refinery footprint to five core energy and chemical parks, aiming to reduce traditional fuel production by 55%, by 2030. Shell says its energy and chemical parks will be highly integrated with chemical parks to make them more efficient in producing low-carbon and synthetic fuels, as well as high-value products such as bitumen, lubricants, and chemicals.