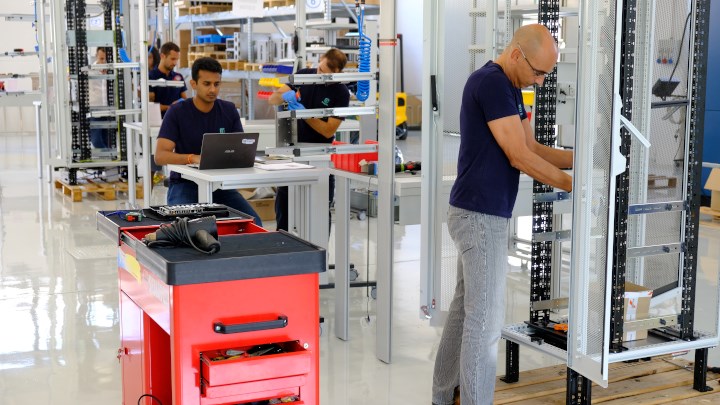 ENAPTER, which manufactures modular hydrogen electrolysers, has unveiled a new serial fabrication facility, located in Pisa, Italy, that will increase production capacity and reduce costs.
Hydrogen production could play a key role in the clean energy transition, but it has been limited by cost and scalability. Enapter's EL 2.0 electrolyser addresses these issues through its patented anion exchange membrane (AEM) technology which uses simple balance of plant and doesn't require noble metals, increasing lifetime performance and reducing costs.
The new facility uses a "revamped" manufacturing process which will increase Enapter's production capacity eight-fold and reduce electrolyser costs by more than 20%.
The improved process could make onsite hydrogen production affordable for a range of applications, including energy storage, backup power, power-to-heat, industrial hydrogen production, and hydrogen-based mobility.
Enapter's electrolysers are currently used in a range of applications around the world, including energy storage in the Alps, residential heating in the Netherlands, renewable methane production in Australia, nitrogen purification in Portugal, and fuel cell drones in China.
According to Sebastian-Justus Schmidt, Chairman of Enapter, the new facility marks a major milestone for the company.
"Our mission is to make green hydrogen generation cheaper than fossil fuels. As we look ahead, this process will help us mass produce our electrolysers for projects around the world. This is a crucial step into making hydrogen electrolysers into a standardised, valuable commodity that can compete with outdated legacy energy sources."