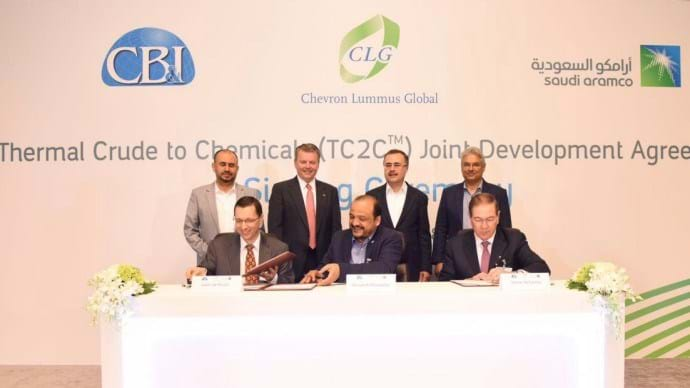 SAUDI ARAMCO, CB&I and Chevron Lummus Global (CLG) have signed a joint development agreement (JDA) to scale up Saudi Aramco's Thermal Crude to Chemicals (TC2C) technology.
The proprietary TC2C process produces high value chemicals from crude oil at higher yields than has previously been possible. The technique uses a direct conversion process, bypassing conventional refining steps. Saudi Aramco has been developing the technology at its research and development centre but is now seeking to commercialise it.
CB&I will provide its ethylene cracker technology. CLG, a joint venture between Chevron and CB&I, will contribute its hydroprocessing technologies. CLG specialises in upgrading heavy oil residues.
"We are delighted to be working with our partners to fully realise the immense potential of this groundbreaking technology. This partnership will enable us to leverage the unique strengths of our companies to accelerate the scale-up and de-risking of the technology, while reiterating Saudi Arabia's global leadership in crude oil and commodities production," said Saudi Aramco chief technology officer, Ahmad Khowaiter.