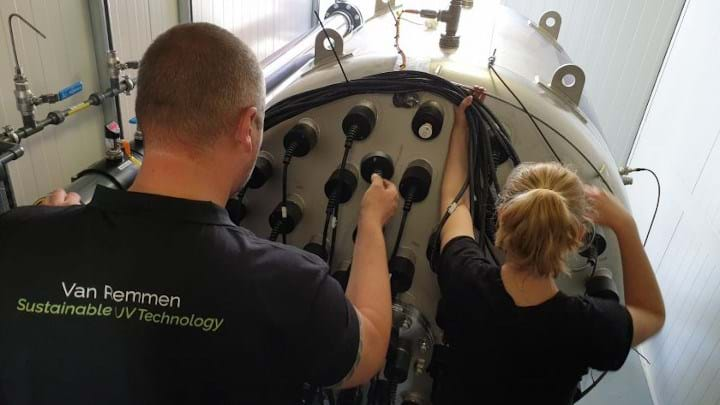 Van Remmen UV Technology
NOURYON and Van Remmen UV Technology have teamed up to combine their technologies to remove pharmaceutical pollution from wastewater. The novel process is expected to remove more than 90% of pharmaceutical residues.
As the population grows so is the demand for drugs. These can end up in wastewater treatment plants (WWTPs) due to excretion from the body (because of chemical and/or metabolic stability), as well as improper disposal into sinks and toilets. Wastewater treatments are not designed specifically for removing pharmaceuticals and have shown efficacies ranging between less than 20% to greater than 90%, according to a 2012 report by the World Health Organisation.
Persistent pharmaceuticals which remain in the water released from WWTPs escape into the environment where they can spread through water and soil or accumulate in plants and wildlife. Studies have shown that exposure to even the low concentrations of drug found in water and soil can affect wildlife physiology and behaviour. Additionally, pharmaceuticals in the environment may contribute to antimicrobial resistance.
The process created by the partners combines specialty chemicals company Nouryon's MicrOx hydrogen peroxide (H2O2), with the Advanox ultraviolet (UV) technology of disinfection technology company Van Remmen. It could help prevent persistent pharmaceuticals from slipping through.
In the advanced oxidation process, H2O2 is dosed into the wastewater flow and injected into an Advanox reactor. The UV light breaks down H2O2 into a very reactive form of oxygen, the hydroxyl radical (•OH), which breaks down organic pollutants in less than a millisecond. This removes micropollutants, such as hormones, medicines, and other persistent compounds.
Additionally, the high UV dose helps to kills bacteria in the water that might develop antibiotic resistance.
Once the water is treated and pharmaceutical-free it could then be discharged in water bodies, such as lakes and rivers.
The process could help to safeguard water quality, prevent or reduce antibiotic resistance, protect the environment and aquatic life, and avoid contamination of soil and underground reservoirs.
Currently, the process is being tested in a pilot-scale feasibility study, at a WWTP in Växjö, Sweden.
Niek Stapel, Managing Director of Pulp and Performance Chemicals at Nouryon, said: "Growing global pharmaceutical use is creating a significant pollution problem for urban wastewater treatment systems."
"With this advanced water treatment concept, customers in the water treatment market will have access to two proven technologies that together enable measurement, monitoring and means to control micropollutants in wastewater streams."
Regulation in this area is improving. For example, in Europe, the Water Framework Directive adopted in 2000 aims to protect and improve water-quality.
Furthermore, in 2013, the European Union adopted legislation requiring the European Commission (EC) to develop a strategic approach to pharmaceuticals in the environment. In March of this year, the EC fulfilled the requirement by adopting the Strategic Approach to Pharmaceuticals in the Environment, which addresses pharmaceutical pollution and also contributes to tackling the issue of antimicrobial resistance.