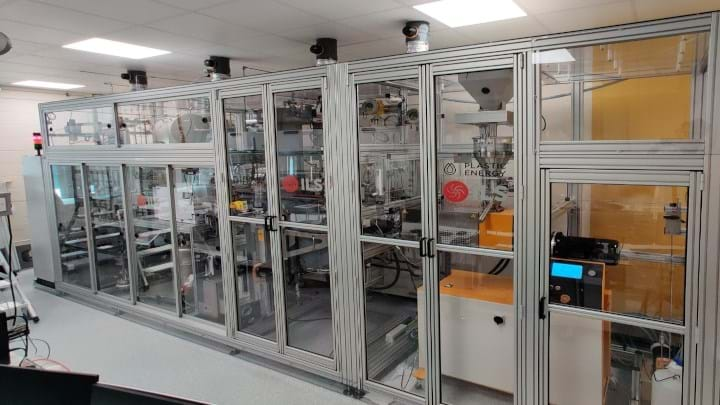 CHEMICAL recycling firm Plastic Energy has commissioned a new pilot plant to further develop and optimise its unique chemical recycling technology at its research and development labs in Loughborough University Science and Enterprise Park (LUSEP) in the UK.  
The new state-of-the-art pilot plant will use Plastic Energy's patented TAC (Thermal Anaerobic Conversion) recycling technology which heats plastic waste that cannot be mechanically recycled, in the absence of oxygen to form hydrocarbon vapours. The focus will be on refining the end stage of the technology, the TACOIL process. 
The TACOIL stage condenses the vapours through a series of separators and filtration steps into a recycled oil which is used as a replacement for fossil oils in the creation of new plastics. Having the ability to make adjustments within the pilot plant will make it easier to optimise the efficiency and design of Plastic Energy's new projects going forward, the firm said. 
In parallel, Plastic Energy has also been leading work on a digital twin of the pilot plant, helping the team to gather data on the performance of recycling plants currently under construction.   
The firm, which won IChemE's top honour at its annual Global Awards in 2020 for its TAC technology, has been based at the University of Loughborough for over a decade and opened new labs in November last year.  
With an aim to process up to 5m t/y of plastic waste across Europe, Asia and the US by 2030, Plastic Energy said its research and development labs act as an important catalyst in the scale-up of Plastic Energy's projects from the laboratory to commercial scale. The firm also owns and operates two chemical recycling plants in Almeria and Seville, Spain. 
David McNamara, chief technology officer at Plastic Energy, said: "Commissioning our first-ever pilot plant at our R&D labs in Loughborough is an important milestone for the company. As Plastic Energy continues to expand globally, the pilot plant will be instrumental in helping Plastic Energy to test new feedstocks, further scale up its process, and optimise our chemical recycling technology."