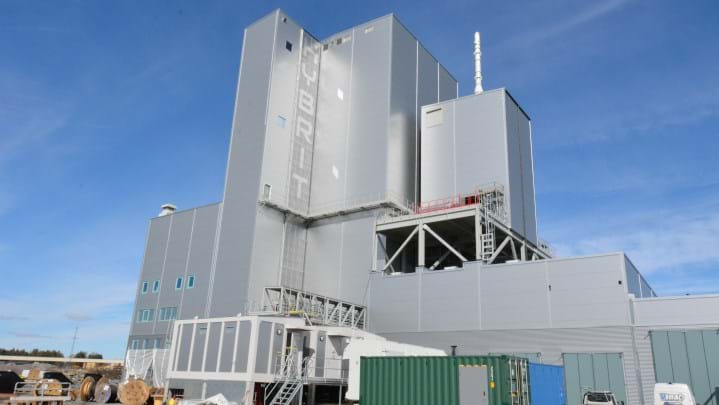 Hybrit / Åsa Bäcklin
THE Hybrit initiative has taken another step towards the production of fossil-free steel in Sweden by announcing that preparations are now underway for a demonstration plant.
Hybrit is a joint venture between mining company LKAB, steel manufacturer SSAB, and energy company Vattenfall to decarbonise steel production in Sweden. It aims to replace coking coal with hydrogen generated from renewable electricity, which will have a byproduct of water rather than carbon dioxide. The partners have now announced that plans are underway for the construction of a demonstration plant on an industrial scale in Norrbotten, Sweden.
Hybrit is currently in the process of selecting a location for the demonstration plant and is performing consultations at Vitåfors industrial estate in Gällivare Municipality and the Svartön industrial estate in Luleå. Consultations will conclude in September.
The pilot phase of the project is currently due to be completed in Luleå soon, and will run in parallel with the demonstration phase. Hybrit is also constructing a pilot plant in Malmberget which will produce fossil-free iron pellets.
Martin Pei, Chief Technical Officer at SSAB and Chairman of Hybrit, said: ""We want to build the plant in Norrbotten. There's good access to fossil-free electricity and competence here, as well as close collaboration with academia and the community."
Markus Petäjäniemi, Senior Vice President Market and Technology at LKAB, said: "For LKAB, Hybrit is an important piece of the jigsaw puzzle in a green transition, in which we want to climate-optimise the whole chain from mine to finished steel by the year 2045. We want Norrbotten to be a world-leading arena for innovation and a centre of knowledge for the global mining and minerals sector."
Andreas Regnell, Senior Vice President Strategic Development at Vattenfall, said: "It's very positive that Vattenfall, together with our partners, is continuing to take clear steps forward with Hybrit. Electrification with fossil-free electricity and hydrogen means that fossil-free steel will be making a very important contribution to our fossil-free future."
Construction is expected to start in 2023, with the demonstration plant being operational in 2025. The aim is to produce 1m t/y of iron to demonstrate full-scale production.